Young, fruity wines, healthy lake fish, mineral mountain waters and a boom in wellness hotels. Charlotte Lyon finds everything you need to relax and rejuvenate at the serene town of Bardolino  on Lake Garda…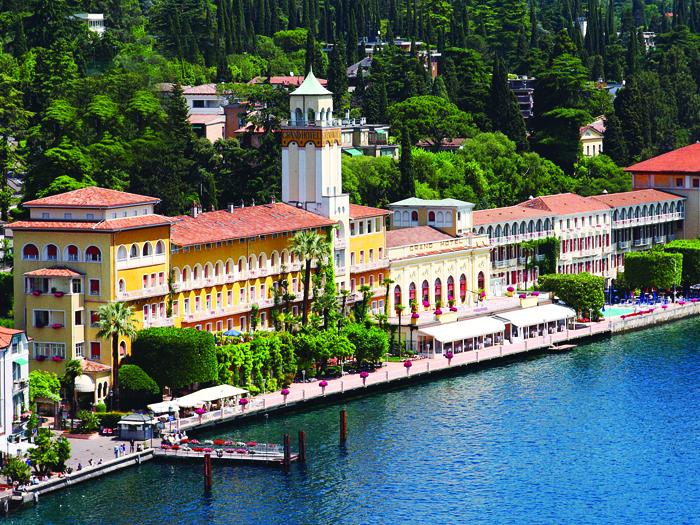 Looking into the bathroom mirror as I step off the three-hour flight from Gatwick to Verona, I do a double-take. Is that really me? The pallid skin, unsightly static hair and black-as-night eye bags. Drained from a non-stop day job and tricky home renovations, I look at least three years older than I did last month. There are only two things I want to get out of my short break to Bardolino right now, and that's respite and rejuvenation. 
I've come to the right place. Two thousand years ago the Romans toiled and struggled to build baths with magnificent architectural detail around the Italian thermal springs they believed to have healing properties. Now, in the 21st century, a boom in spa hotels in the region proves the trend for wellness is resurging. In Bardolino, not only do you have the calming Lake Garda to help wash your worries away, you have spa hotels that use water originating from the mountains at the north of the lake to help restore your energy levels.
I check in to the Hotel Caesius Thermae and Spa Resort, situated just back from the lake and a short walk to the centre. I spend a wonderful hour indulging in the heated indoor pool, then the outdoor pool, and let the jets pump life back into my tired limbs.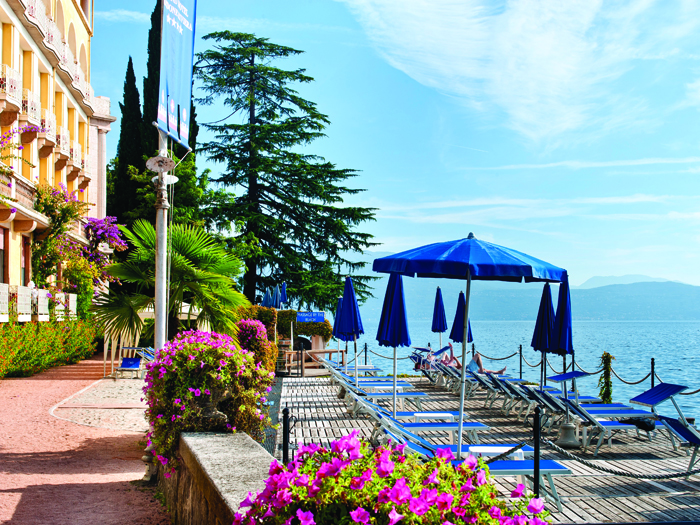 A beautiful setting  
Situated on the east shore of Lake Garda, just at the top of the bulge, Bardolino is a small, picturesque resort town. It's a popular destination for tourists as well as holidaying locals, and even though in high season the resort throngs with modern-day holidaymakers, you can still trip back in time admiring the Romanesque church of San Severo and the town's old fortifications. The boats in the small harbour laze and glint in the sun.
With my re-energised limbs, I decide to do a little exploring further afield. And there's no better way to discover the shores of the lake on a breezy afternoon than on a bike. With over 400km of cycle paths stretching east from Lake Garda, and a lot of them on purpose-built flat tarmac with only gentle slopes, it's a positively lovely way to get around. You can even cycle to Verona from Bardolino. But I'm not feeling that energetic, yet. So I head northwards on the stretch that runs from Lazise to Garda.
What a wonderfully refined ride! I take in the local tanned youngsters relaxing on the jetties, older fishermen with rods in hand, ever-hopeful for the bite of a carp or other meaty lake fish. The lake's waters stretch out forever to my left, glistening and tempting me in for a dip. And just as thirst starts to get the better of me, I arrive in beautiful Garda. Now, what to drink to quench my thirst in this region…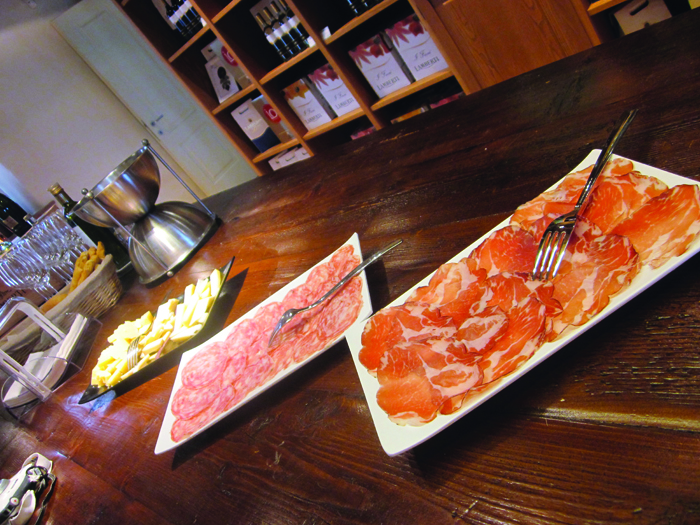 A ripe harvest 
Bardolino red wines are renowned for being light and fruity – perfect for drinking with light meals. The Garda area also has Custoza, a light white wine also good to drink young, and Lugana, from the south of the lake. 
As I make the return trip on my bike, I come to the decision that I'm keen to get more of a handle on these local wines, and so I decide to join a group driving to the Lamberti Bardolino vineyard for a tasting.
Manager Giuseppe Roncoletta greets us at the door and, with his wiry frame, frenzied gesticulations and unparalleled energy, he's just the perfect person to get us excited about the region's produce.
"The Bardolino Classico, produced in the Bardolino area, is fresh and young," he explains. "I love to drink it with light food like salmon, some lightly fried lake fish, maybe pasta with a ragù, or perhaps a risotto, or even with a fresh salad."
Giuseppe continues reeling off lists of his favourite accompaniments to the Bardolino Classico as he marches us through the 27 hectares of vineyard. We're all starting to get hungry.
Luckily, as we sit down for the tasting, he brings out huge platters of local salami, made without garlic, and special local mountain cheeses like Piave Vecchio, a cow's-milk cheese that's hard and flavourful, and Ubriaco cheese, a semi-hard cheese that's matured with red grape skins. 
Delicious as the wine is, and as merry and youthful as I am starting to feel, I begin realising that my quest for rejuvenation isn't really going to be achieved by sampling any more. However, there is a commodity that the Italians swear helps keep your heart healthy and your cholesterol low, and that's olive oil. So I book in to a tasting and tour at the famous Turri olive mill the next day.
"Factors like low acidity and digestibility make the cold-pressed, extra-virgin olive oil from the area renowned for its anti-inflammatory properties," explains Valentina Turri as we arrive. Her grandfather set up the business in 1951. The Turri mill turns out over one million bottles of olive oil a year – some blends, but a lot pressed from the Casaliva olive tree in Turri's groves. The oil in this region is "sweet and delicate and lightly piquant," explains Valentina, and amazingly is still harvested by hand because the hilly terrain of this area is not suitable for machines.
"It's great for dressing fish and other delicately flavoured dishes," she goes on to explain. And I stuff another bottle into my basket in the mill shop, vowing to ditch butter completely when I get home, and use this divine elixir instead.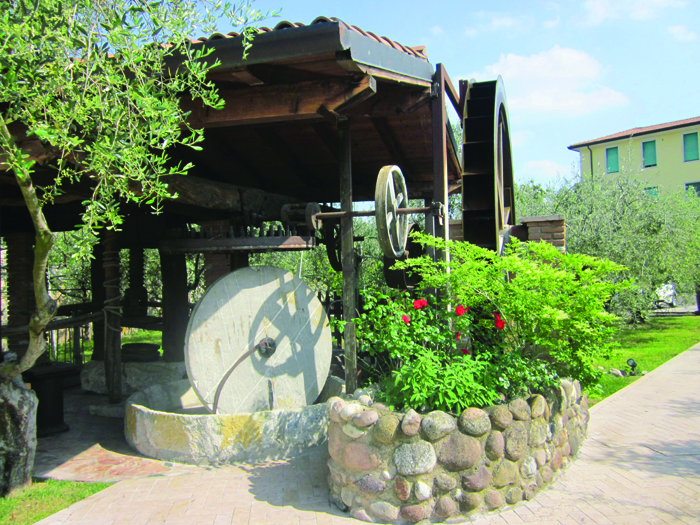 Land ahoy! 
Bardolino is small, but, if you're a rover, like me, it's the perfect place from which to explore other towns on the lake. The ferry will take you south to, among others, Sirmione and Desenzano, or north to Gardone Riviera, Lazise or Cisano.
After a relaxing crossing on the deck (in the height of summer be quick to make sure you nab a seat up-top), we arrive at Gardone Riviera. As we pull up to the shore, we spy the stately Grand Hotel, positioned to the right of the jetty. It was the epitome of elegance and style when it was built in 1884, and today, stepping into the hotel is like stepping back in time, to a more refined era.
We sit down in the beautiful veranda restaurant, and reminded by the serene view of the glistening lake, of what a wealth of produce it has to offer, I decide to try some of the area's fish specialities.
I kick start my lunch with smoked trout, the outer edges flavoured with fragrant herbs. I follow it with bigoli al torchio with lake sardines and pine nuts. It is oily and salty and extremely delicious. For my main course I opt for breaded perch fillets with lemon and thyme – a tasty, light course after some rich appetisers.
As with all breaks to Italy, the eating goes on in much a similar vein for the remaining days of my trip, but on the day I leave I look at myself again in the bathroom mirror. Magically, my muscles feel more toned from wheeling from hotel to shore to bar on my hired bike, and I feel stronger; my skin looks healthy from the sun and plump from the gallons of water I've been drinking to rehydrate; my hair is beautifully soft from the natural waters.
It may all be superficial, but as I check in my bag filled with Garda olive oil, I pray the youthful edge Bardolino has given me will last long after my flight lands back in the UK.