Delicious Sardinia is an unspoilt beach paradise where electric-hued water meets pristine clean sand. Fleur Kinson identifies the best places to be…
Without a doubt, the island of Sardinia is home to some of the very best beaches in the Mediterranean. Crystalline waters of dazzling turquoise, cobalt or emerald lap shores of white or golden sand – variously backed by fragrant pinewoods, plunging rocks or charming small towns.
With more than 1,000 kilometres of coastline, a list of the island's 'best' beaches could easily run into the hundreds. And who can arbitrate on 'best' anyway, given that tastes vary so much on what makes a beach perfect?
To some, it's seclusion and an air of exclusivity – a tiny, private-feeling cove flanked by sculptural rocks and pretty vegetation, with not a sunlounger or snack-bar in sight. To others, it's a huge expanse of soft, strollable sand with wide views to distant islets and a cute nearby fishing village full of cafés and restaurants. Needless to say, Sardinia offers plenty of beaches like these, and more. You'll always be spoilt for choice on this island, but here are some ideas on where you might start…
1. Sinis Peninsula,  West Sardinia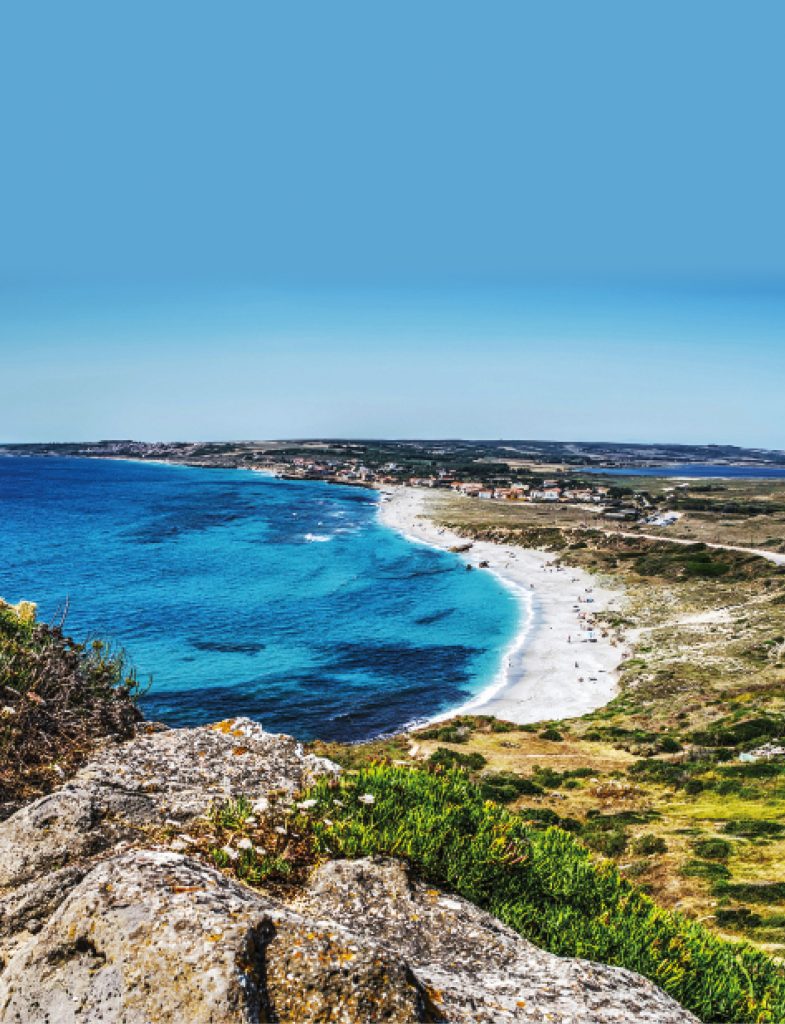 Wild, undeveloped, windswept and dramatic, the coastline of the Sinis Peninsula is a protected wonderland of colourful landscapes. There are stubby cliffs, shapely sweeps of low-lying land, sleepy lagoons, reefs, gleaming beaches, miniature deserts of dunes, Greek ruins and even a small, cracked volcano.
Uncrowded and entirely unspoilt, this is a wonderful area to bask in the elements, and to surf, cycle or snorkel. Two beaches you should include on your itinerary are San Giovanni di Sinis – a long gentle arc of pale sand overlooked by an old watchtower – and Is Arutas – where the sand is fine pieces of quartz, like shiny multi-coloured grains of rice. The nearby provincial capital, Oristano, is a handsome place and a good base from which to explore the peninsula.
2. 
Archipelago di La Maddalena, N

ortheastern tip of Sardinia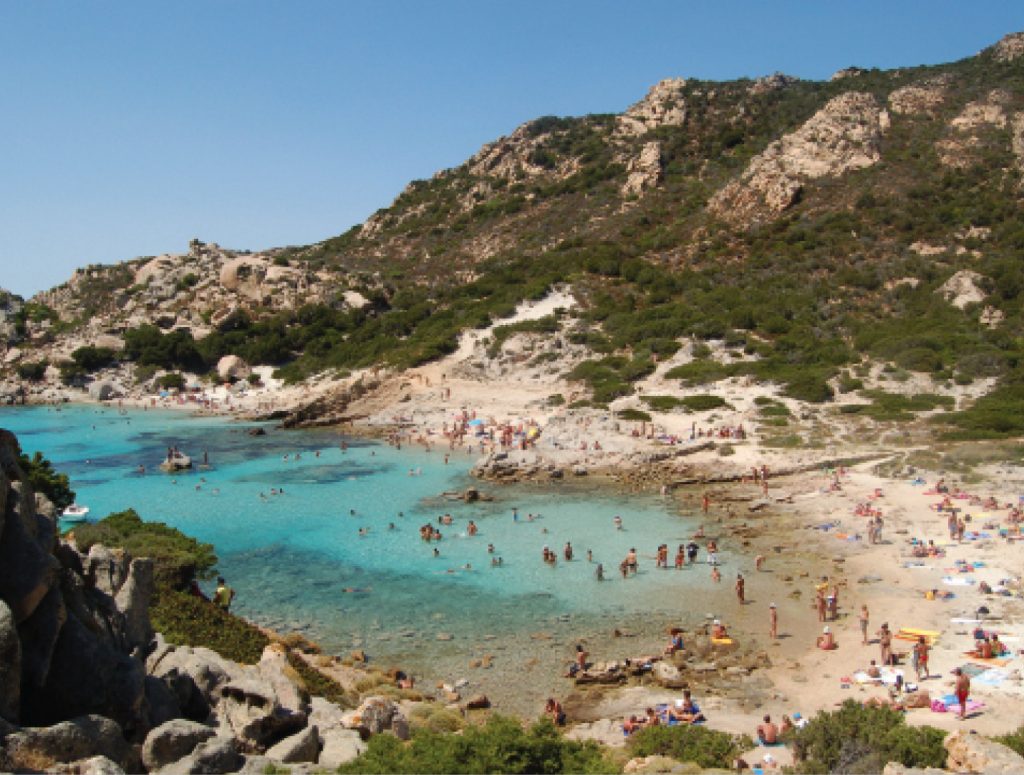 The Maddalena archipelago is a protected geomarine National Park comprising seven agonisingly beautiful islands – four of them uninhabited – plus innumerable tiny islets. Entirely unspoilt, it's an aquatic Eden, with white sand, wind-sculpted rocks and dazzlingly clear water in barely credible shades of blue and green. Among the best beaches are the white-sand Cala Corsara on the isle of Spargi and the pink – yes, pink – Spiaggia Rosa on Budelli. Getting to and around the archipelago requires planning. From mainland Sardinia, you can embark from Santa Teresa di Gallura, Porto Pozzo, Palau or Cannigione. La Maddalena is the largest of the islands and there is some accommodation available in its eponymous town.
3. 
Costa Smeralda, N

ortheast Sardinia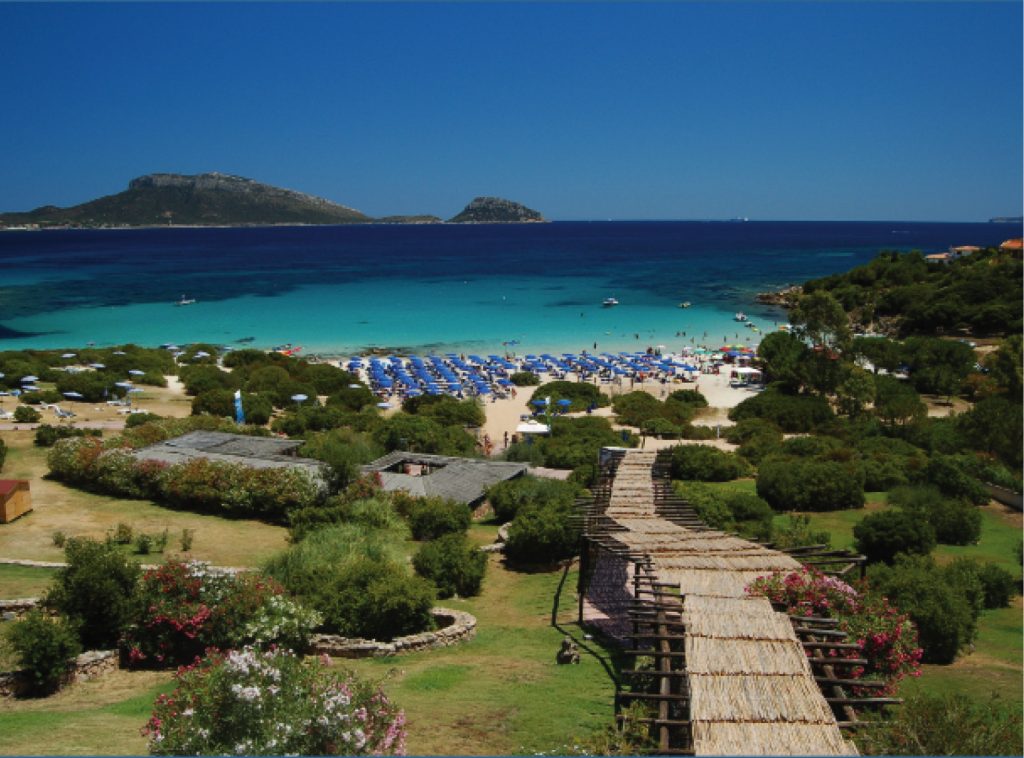 This 50km stretch of heart-meltingly lovely coast was first developed as a luxury destination for the yacht-and-jet-set in the 1960s by none other than the Aga Khan (the man who sent the fictional Marie-Claire a racehorse for Christmas in the Peter Sarstedt song Where Do You Go To My Lovely?). It's a paradise of pale golden sand, smooth amber rocks, fragrant trees and the astonishing liquid-emerald seawater that gives the coast its name. The contenders for best beach here include: the two at Pevero, 3km south of Porto Cervo – with typically vivid water, soft sand and sumptuous surrounding villas and gardens; the long, dreamy Liscia Ruja beach near Portisco; and the glorious Spiaggia del Principe near Cala di Volpe – which was apparently the Aga Khan's favourite.
4. L
a Pelosa, N

orthwestern tip of Sardinia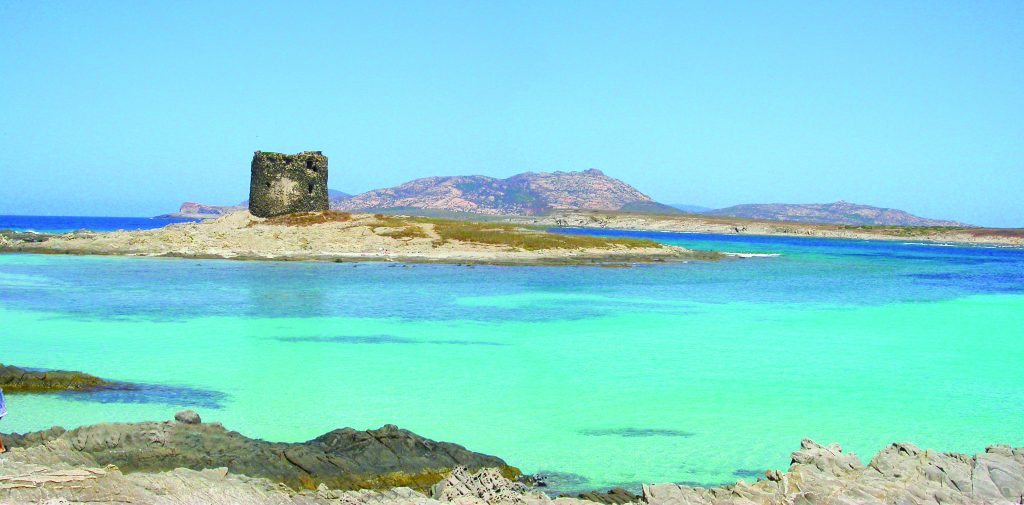 This staggeringly gorgeous salt-white beach melts into luminous pale turquoise shallows. You can deliriously wade far out, with warm, limpid water lapping your thighs as you admire the sensuous rises of surrounding land and the old round watchtower brooding from one of two nearby islets. The beach itself is 300m long and 60m wide at its broadest, and such size is useful in July and August when the charm of La Pelosa proves irresistible to large numbers of visitors. Come outside these months if you want more of this exquisite place to yourself. Diving, surfing, canoeing and windsurfing are all catered for in the area, and the charming little town of Stintino is only 2km away.
5. C
hia, S

outh Sardinia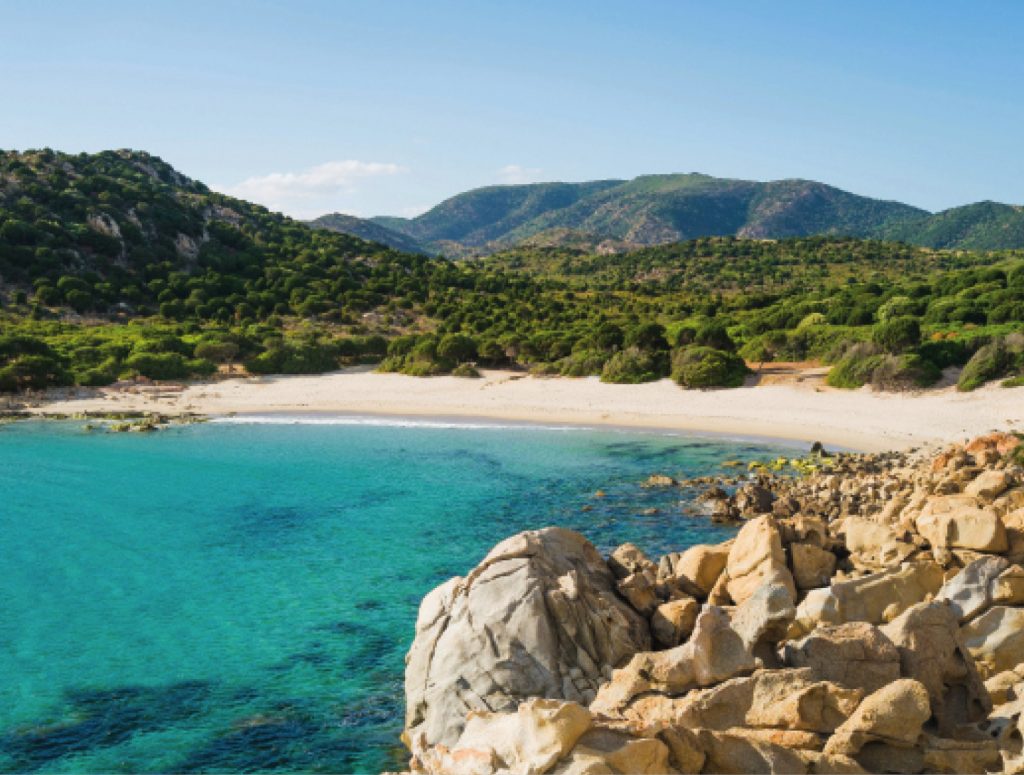 This rightly celebrated beach sits on a pristine bay backed by juniper-covered dunes which obscure the view of nearby buildings. And behind the dunes, there's a lagoon where flamingos breed. The sand is pale peach, and the sea is Sardinia's trademark bright turquoise. An old tower decorates a nearby promontory and there are two offshore islets you can wade out to (take sandals with you to climb onto their rocks). Chia beach is nearly 1km long and 90m wide, but despite such size it can feel quite busy in July and August. If you come between April and June, you might catch the various excitements of the Chia Classic – an annual surfing, windsurfing and kitesurfing event.
6. 
Costa Verde, S

outhwest Sardinia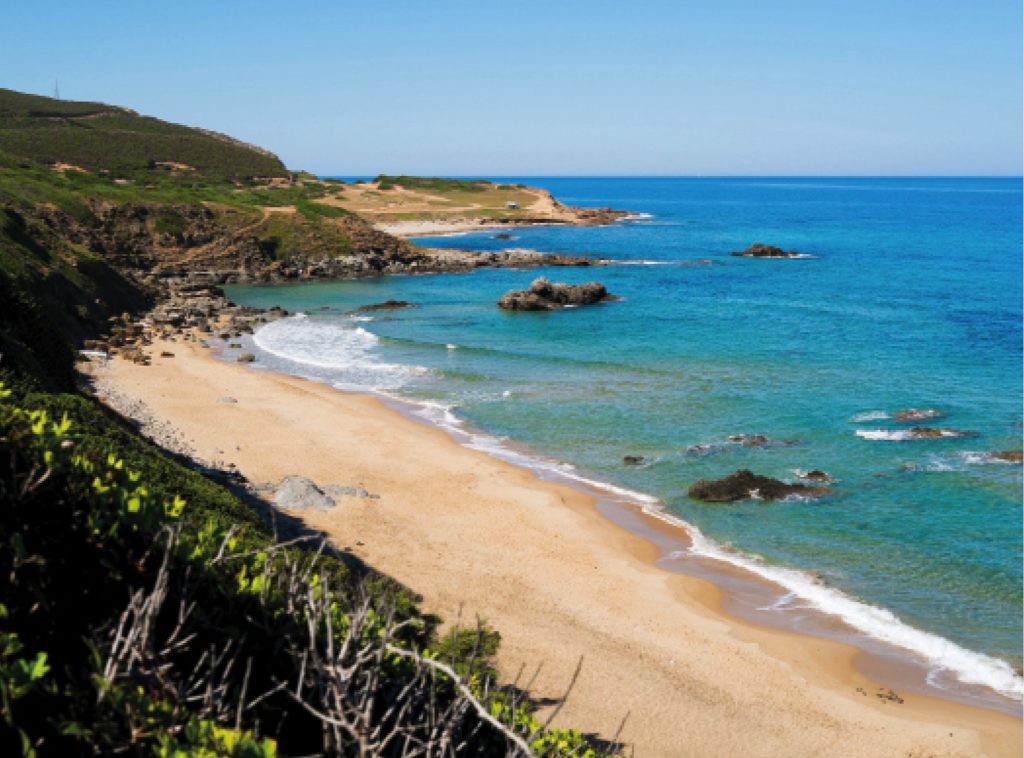 If you want truly wild and untouched beaches, head south from the Sinis Peninsula to the magnificent Costa Verde coastline – so-named for its abundance of fragrant vegetation. This is a profoundly elemental place where you might have a spectacular beach all to yourself, even in the middle of August. Stretching for 47km, the Costa Verde takes in a diverse range of landscapes – from wind-sculpted hills to towering amber cliffs, from high sand dunes to bushy swathes of green, and from small rocky bays to huge, expansive golden beaches. It is with this latter that the Costa Verde particularly excels. Three vast and beautiful beaches perfect for long walks flanked by dunes, hills and the vibrant-coloured sea are Scivu, Mezzo and Pistis.
7. 
Costa Rei, S

outheast Sardinia
Situated about 50km east of the Sardinian capital, Cagliari, the Costa Rei offers a beautiful 8km-long white beach fronted by crystalline seawater. It's a nice mixture of unspoilt and modestly developed, with good facilities but an over-riding sense of space. Tourism reached southern Sardinia much later than it did the north, and there's still a sense of up-and-coming in these parts. The geography is wonderful – with rolling hills and sea-smoothed boulders, nearby lakes and bird reserves – and there are facilities for all the usual seaside fun and games, such as volleyball, motorboats, pedalos, surfing and scuba diving. There are trampolines and carousels for children, and buzzing nightlife for adults. Plenty of restaurants offer views across the sand.
8. 
Cala Goloritzé, 

East Sardinia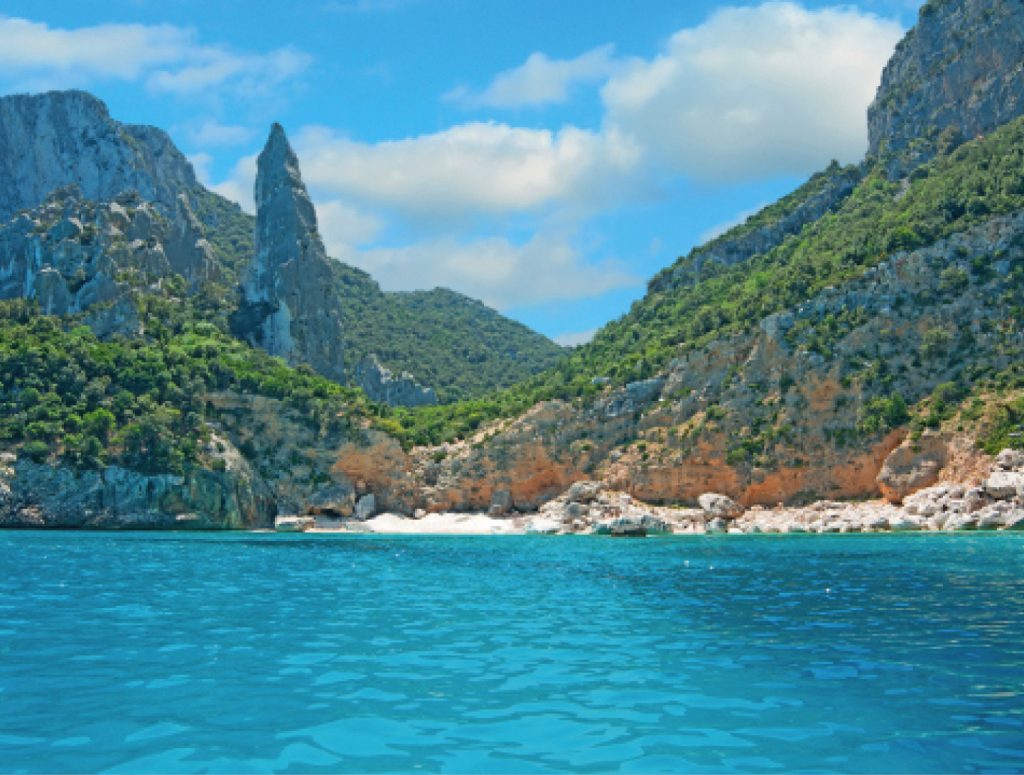 This is one of Sardinia's most fantastical places, and it requires an appropriately fantastical journey to reach it. Besides arrestingly vivid blue water, a secluded cove of tiny bone-white pebbles is backed by otherworldly pinnacles of rock resembling gigantic, snaggly teeth. The tallest, dubbed the Aguglia and beloved of rock-climbers, rises 148m above the beach. Such geological drama is only rivalled by the natural stone arch that sits on the right of the bay. The only way to reach this stupendous place is by boat (you can hire one from Arbatax or Santa Maria Navarrese) or to hike for an hour through a dramatic, bush-lined limestone canyon full of impressive rock formations. Either way, it's unforgettable stuff from start to finish!
9. C
ala Mariolu, E

ast Sardinia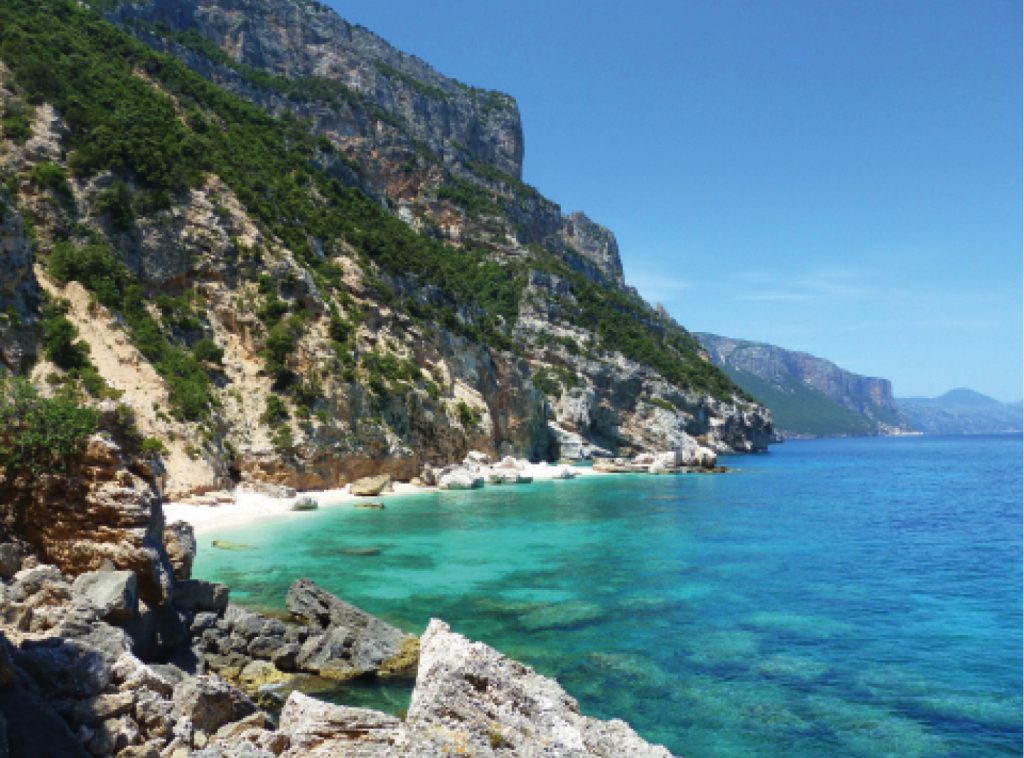 And if Cala Goloritzé has whetted your appetite for hard-to-reach beauty spots, then it's time to check out the spectacular Cala Mariolu, not far to Goloritzé's north. But come here first, in the morning, before the vertical chalky rocks that surround the exquisite beach plunge it into shade for the afternoon. Access is by boat only, or along a challenging 6km hiking trail. The beach itself is a sensuous spill of white sand and pale pink pebbles, enlivened with rocks that emerge from the sea to form tiny peninsula-islets. The water is shallow, safe and luminous. Snorkellers and scuba-divers love the place. There are no facilities nor any accommodation nearby, but despite this and the difficulty of access, the spot is so stunning that it's usually well-visited.
10. 
Golfo Aranci, N

ortheast Sardinia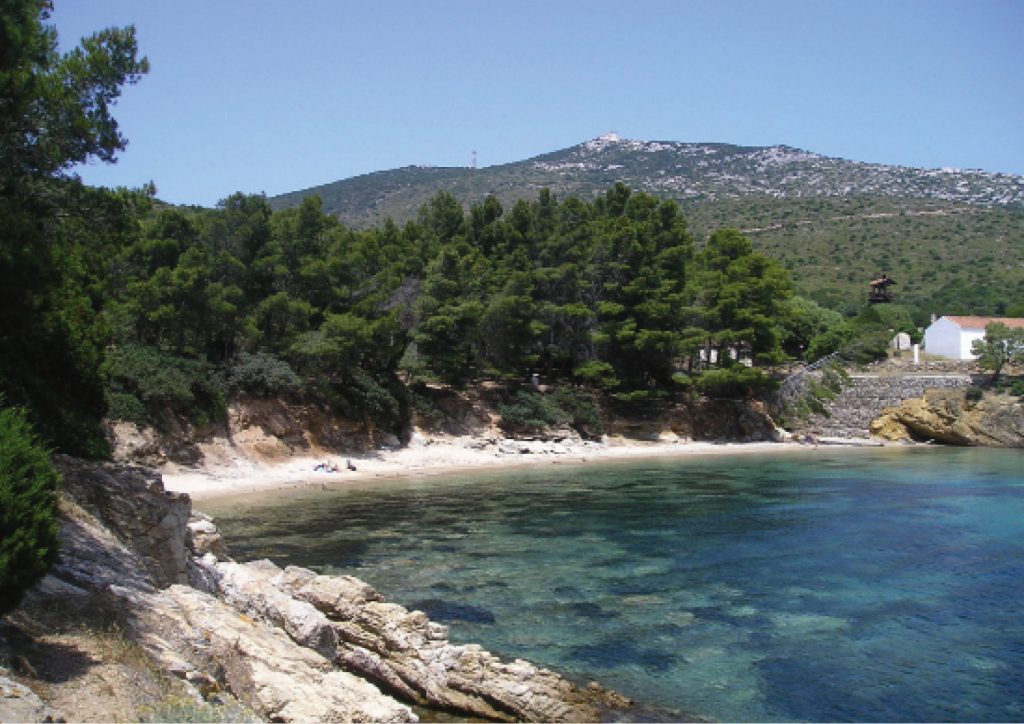 Lying on a dramatic outflung trill of coastline just beyond the official limits of the Costa Smeralda, Golfo Aranci has a glorious sense of scale and space – with views of bold hillsides and a steep tabletop of rock offshore. It has a grand, curving white beach, another rather straighter one, and all the arresting brightly coloured seawater you could want. Golfo Aranci is easy to reach by road or rail, and there's abundant accommodation available in every price range. Some say the name is a corruption of 'Gulfu di li Ranci' (gulf of the crabs), while others swear it comes from a historical incident when a ship carrying a cargo of oranges ('aranci') sank in the bay and filled it with thousands of bobbing citrus spheres.