Adrian Mourby takes a tour of Apulia – Puglia – to explore its culinary traditions and the land that produces its varied, and often vegetarian, foods…
Photos by Kate Tadman-Mourby unless otherwise stated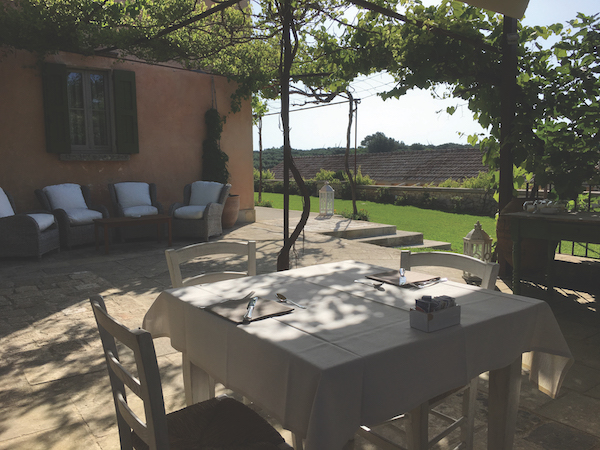 When I wake up, the view outside our room is fields of lavender, then a meadow peppered with bright crimson poppies and, finally, olive trees stretching to the horizon. Here, south of Lecce in the heel of Italy's "boot", Domenico Scordari bought an 18th-century masseria for its fields. Domenico planted the masseria's 13 hectares to grow crops for N&B, his natural cosmetics company, but after a while he started using the old single rooms – constructed for farm-workers – to house guests visiting his factory. Recently however, he's opened Naturalis up as one of Apulia's many masseria resorts.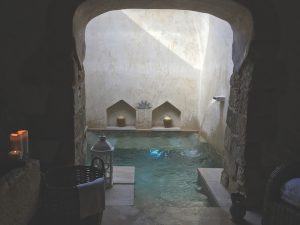 Naturalis Resort sits on a low ridge overlooking the fields that contribute so much to the company's range of organic cosmetics. My wife and I enjoy the view over our breakfast and then she off goes for a spa treatment in what was once a toolshed but is now a hammam and treatment area. While I am walking the fields with Domenico, Kate is having what she later describes as one of the best massages of her life with Anna, the spa manager.
As Domenico and I inspect the aloe vera – what aggressive looking plants they are! – I chew various leaves that I've picked: sage, four kinds of mint and wild fennel. The flavours are so strong that each is a meal in itself. There are a few other guests lazing around the pool on huge muslin-draped daybeds. There are cats too for petting, although they soon run away if one of the masseria staff comes by. 
A trellis of vines
In the afternoon we meet up with Kathrin and Livio, whose company, Zest of Italy organised this part of my trip. We have lunch outside under a trellis of vines eating traditional Salento dishes, which means a lot of vegetables – burratine (cheese), organic peppers, zucchini with eggs, and maccheroncini (pasta) with tomatoes and peppers. We also eat cialledda, which, I'm told, is a traditional way of reviving old dry bread with olive oil and tomatoes. Everything is washed down with the estate's own red wine, named Sire 1 in honour of Domenico's father.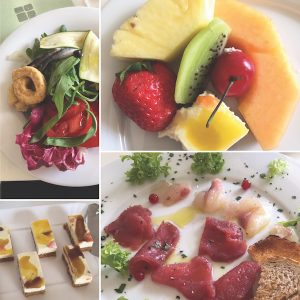 Livio tells me about the important role of the masserias in the development of Apulia. "Many of them began 2,000 years ago as Roman outposts on the Via Appia and Via Traiana. Over the centuries they became checkpoints and retirement homes for centurions and their families. And in medieval times they developed as farms growing grapes, almonds and olives. Pilgrims needed food on their journey through Apulia and the masserias were able to provide this."
Kathrin sees these masserias – and trattorias – continuing Apulia's culinary traditions today. "Now that home food is becoming junk food in Italy these places are even more important. And they are aiding the rise of Apulia as a food destination."
 In the afternoon Kate and I drive north of Lecce to a very different kind of masseria. In 2015 Australian Rob Potter-Sanders transformed this derelict 16th-century farmhouse-fortress, Masseria Trapanà, into the kind of location that gets hired for photo-shoots. Stone walls were replaced by glass, and massive low coffee tables were imported to create a chic, minimalist modern space. 
Today the only splashes of colour come from enormous scatter cushions. There's a long modern pool in the orchard but the masseria's best feature is the old well in the garden, converted into an amphitheatre-like firepit where guests mingle in the evening on gigantic cushions. Yet despite the glamour of his masseria and its shiny new kitchen, Rob is very committed to cucina povera, local dishes made with whatever comes to hand. Tonight that means fish. You don't find much meat this far south.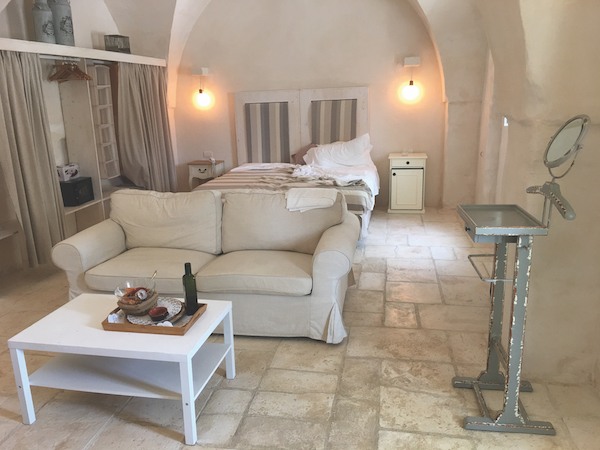 Brilliant sunshine
The following day there is no let-up in Apulia's brilliant sunshine as I drive Kate to Brindisi airport. My plan is to head steadily north but the weekend is now over and so my working wife jets back to Heathrow while my GPS and I seek out Masseria Le Carrube. The GPS-lady who gives directions from inside my phone has an even worse Italian accent than mine. Every road is described as the kind of Via you get in Viagra.
Le Carrube is one of Apulia's few masserias on high ground. It sits in undulating farmland to the west of the shining white city of Ostuni. Le Carrube is a quiet, white-washed 18th-century farmstead with the feel of a monastery. Even the two swimming pools around which the 19 suites and bedrooms are tucked is silent in the afternoon sun. 
Le Carrube is also famously vegetarian. Every evening chef Massimo Santoro puts together a new tasting-menu of local dishes. The printed menu arrives at my table in the courtyard tied up with string while swifts swirl and screech through the rafters above. I lose track of how many courses there are but all are wholly senza carne. After dinner I wander to the gate of the masseria, past the carob trees that give it its name, and discover that I can see the moon glinting on the distant Adriatic.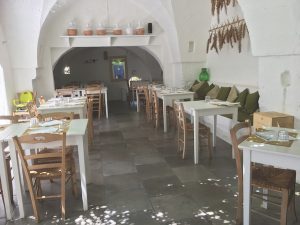 Poplar trees
So far my food pilgrimage has been conducted through masserias but the next morning I contact Kathrin and Livio and ask them to recommend a local restaurant for me where Apulian families go for lunch. Straight away they come back with il Cortiletto in Speziale, only ten minutes away down a rigidly straight Roman road lined with poplar trees. When I arrive, there is just an old sign "Trattoria" on the front of a blunt single-story building standing on a crossroads. 
Entering through old-fashioned beaded curtains, I find Rosario, sister of the owner, busy in a beautiful white-washed courtyard decorated with flat-bottomed orcio bottles and splashes of blue paint. I order the nine-course Degustazione di antipasti with a pasta course to follow, and Rosario informs me proudly that all the pasta is still made by her mother. There are a few meatballs and some prosciutto in the dazzling display of local dishes on offer, but I can tell I'm still in terra senza carne.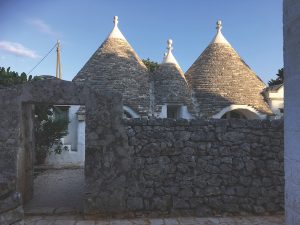 Agriturismo
In the afternoon I motor to Masseria Camarda. Ten years ago Cesare Fiorio, head of Formula One in Italy, retired to this 27-hectare masseria to devote himself to agriturismo. Today his organic olive oil is sold all over Italy. Cesare assigns me to one of the six conical stone trulli where farmworkers used to live.
Later his loyal band of rescue dogs accompany us as we walk the farm and Cesare tells me that everything I will eat at La Camarda is made on the farm or made nearby with produce from his farm. There is very good cheese and yoghurt and I notice ham for the first time. There are pigs and cattle in the fields nearby: I'm reaching the meat-rich north of Apulia now.
Cherry festival
Soon my pilgrimage has to end at Bari airport, but there's time for one last stop. I arrive at Borgo Egnazia in time for its riotously noisy Cherry Festival. This is a new event that only started in 2018, but then Borgo Egnazia is itself a modern invention. It opened in 2010, having been built from scratch by Aldo Melpignano. 
Aldo's mother, Marisa created Apulia's first luxury masseria in 1996 when she turned the family's historic estate and farm into a hotel. Masseria San Domenico proved such a success that the Melpignanos decided to create this huge, purpose-built resort nearby. Behind the main building a borgo (village) of traditional houses was built, each serving as a guest room. Today Borgo Egnazia is a resort that can sleep 500 people. It has four swimming pools and some excellent restaurants, including Due Camini, where I am going to end my pilgrimage.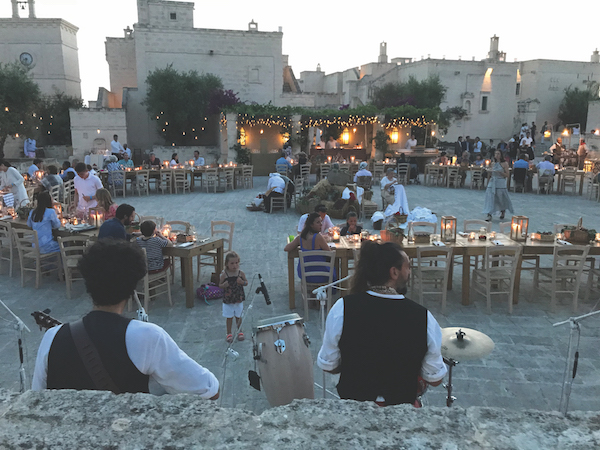 First though, I go into the bar, where Dario, the new manager, greets me enthusiastically. The last time I saw Dario was in the exclusive Ceresio 7 in Milan, so it was quite a surprise to find him preparing Apulian versions of classic cocktails here. A martini made with Vallombrosa gin is gentler than the martinis of Milan, and the Apulian Negroni uses Dario's own bitters instead of Campari. The bar is alive with people who've come for the cherry festival, which ends tonight, with all the guests – except those of us dining – dancing excitedly round the village square at 11pm.
But my day ends quietly at Due Camini, a candlelit gourmet restaurant that keeps close to its Apulian roots. Sixty per cent of the food served here comes from the estate attached to Borgo Egnazia or from local fishermen. I'm very pleased to recognise cialledda when it is presented to me. This was the dish Livio had described to me as a typical example of Apulian recupero, "where old, crisp bread is "recovered" using olive oil or chopped tomatoes in a dish". 
The waitress quietly confirms that I'm right. Excellent. I feel quite proud. I am about to leave Apulia, but finally I really think I'm beginning to get a handle on the food of the Boot. 
For more on Adrian's travels in Puglia – or Apulia – check his Puglia dining & accommodation guide 
You'll find more Apulia travel features here