Having previously visited the Dolomites on an adventure holiday with a friend, Jon Bickley returns with his family to see how his two young teenagers would take to mountain views and 'nothing to do'…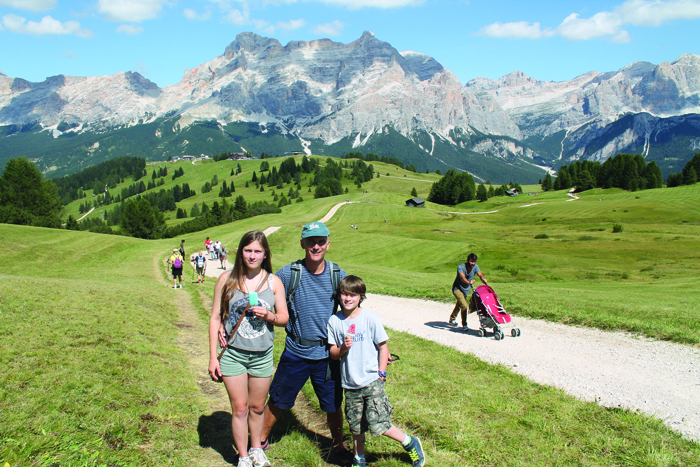 Two years ago I was privileged to have an adventurous weekend in the Dolomite region of Alta Badia – the principal focus of which was a slightly hair-raising climb up the Tridentina via Ferrata. In the company of my good friend Dave, I conquered the mountain, fell in love with the area and was determined to come back with my wife and family to share this discovery. But the question that troubled me was, how would my increasingly teenage kids react to four days in the mountains, remote from all urban distractions or seaside entertainment?
Alta Badia is a delightful valley some 200km north of Venice comprised of six pristine villages. It's reached by a choice of routes via the chic ski resort of Cortina, or from the east via Bolzano. Either way, brace yourself for some steep climbs and nervy switchbacks. Along with neighbouring Val Gardena, Alta Badia is notable for its Ladin identity. Boasting its own distinct Ladin language – and the consequently humbling multi-lingual ability of many residents – the area is hugely proud of its unique culture, with thriving festivals and celebrations throughout the year.
We arrived at the charming Hotel Antines to be met by the manageress, Sarah, who winningly remembered me from my previous visit. The medium-sized hotel sits in the centre of La Villa within minutes' walk of the town's main ski lifts. Staff wear traditional Ladin dress and the hotel is timbered throughout, giving you real sense of place, with interconnecting rooms and balconies looking out at the mountains.
So, what to do of a summer's day in a ski resort? Well, in common with many other resorts, Alta Badia has long understood the benefits of its infrastructure, even if attracting visitors is less easy over the snow-free months. We hopped on a gondola lift and ascended to Piz La Ila, where we found a recently built adventure playground and slack-lining course. While Ben and Amy are at an age when playgrounds are for hanging out at best, the slack-lining – tightropes that aren't tight – was enticing both to my gymnastic son and me. A few tumbles later and we set off for our Peaks of Gastronomy walk, licking our wounds.
As well as lifts, ski-resorts enjoy a preponderance of eating and drinking stations. Alta Badia has been pioneering in creatively elevating these establishments through the introduction of Michelin-starred dishes at each restaurant. The walking gourmand can choose between nine different mountain huts, each offering its own distinctive picnic. With teenagers already bemoaning each step on the hot mountain trail, we opted for the nearby Utia de Bioch. Our smiling host Markus brought out two huge hampers of local delicacies including pickled catfish, local speck, artisan breads and cooling Tyrolean wine: a treat for Cath and I, while the kids tucked into schnitzel and chips with undisguised relish.
Evening took us up the valley to San Cassiano for its first ever Candle Lights event. Ever imaginative, the locals have created an evening without electricity. Street lights and even restaurant lights are doused, roads are closed and acoustic entertainment is laid on, lit by glowing braziers. It was tempting to lament that this might never happen in Health & Safety Britain, but more satisfying just to relax and enjoy the magical atmosphere. A snatched bar snack and shot of grappa helped us on our way as we took in assorted troubadours entertaining us against a backdrop of starlit mountains.
If you have been to the Dolomites you will know how truly beautiful and beguiling these mountains are. An early start the next morning gave me the chance to take a dawn stroll around La Villa, photographing the peaks as the sun rose and chronicling the changing colours that played across the village. Particularly entrancing was the church and graveyard. A pause for reflection on the unfeasibly narrow pews in the church gave me cause to imagine residents driven to an early grave by crippling back pain, but at least the exotic gravestones provide worthy testaments to those sufferers.
Returning to the hotel it was time to make another attempt at getting the kids to embrace the outdoors. With bikes generously loaned by the hotel, we set off on what I thought was a gentle ride along the valley floor. The sky was blue, the going easy and the scenery magnificent – perfect conditions for a family outing. But each turn of the pedal soon became an exercise in the grinding agony of adolescent resentment. If it wasn't one, it was the other feigning inability to change gears, expressing bewilderment as to why we were there, and displaying a soul-crushing determination to turn pedals at a speed known only to sloths. Only muttered threats of no more holidays could coax us, sweaty and frustrated, to Corvara and its outdoor lido.
Is it only children who can change their moods so dramatically in the space of minutes? Having parked our bikes and quickly changed, we were soon pushing ourselves to take the plunge in the chilly mountain-stream fed pool. With yelps and screams, splashes and dive-bombs, Amy and Ben shrugged off the past hour's torture and played like travel brochure kids. Whether these were healing waters or not, Cath and I were thrilled with the transformation, and the four of us whiled away a delightful afternoon of swimming, sunbathing, hot chocolate and snacks before enjoying a breezy freewheel back home at the end of the day. Kids, eh?
We were only in La Villa for four nights, but we packed a lot in. As well as the hike and bike trips, we also found the high ropes course in Colfosco. Similar to our 'Go Ape' courses, the Adventure Park offers five routes around rope courses strung as high as 60 feet above the forest floor. Although both are nervous of heights, Cath and Amy felt secure enough with harnesses, karabiners and 30 seconds of instruction to make their way around the courses and complete the jaunt with a screamy whisk down the zip wire.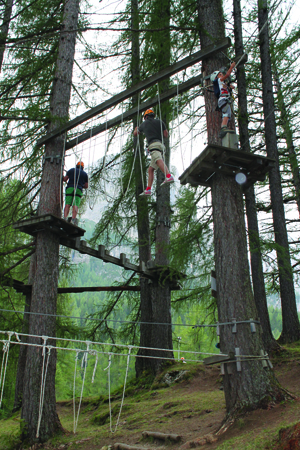 On another morning I left the family to their own devices and went to the hire shop to pick up a downhill mountain bike. Clad in full protective gear, I found the chairlift and headed up the mountain the easy way. This was my unspoken agenda: unfinished business. A specially laid out downhill trail combined with effortless assents is the closest you can get to fully exploiting the sporting possibility of a summer ski resort, but last time out I'd been restricted to pleasant touring around rolling pastures. Not this time. It was just like skiing. A gentle ride up the mountain admiring the view, resting limbs and catching breath, followed by a madcap descent, picking lines, dodging obstacles, attempting jumps and taking the odd tumble. Then repeat. And again.
Our final night saw another special Ladin moment. After a delicious dinner in the hotel featuring tuna medallions and pasta with fresh sauces personally cooked by chef Patrick, we strolled the 20 metres to the town square, where the local choir was to perform a selection of traditional and contemporary songs. This didn't seem an event that would obviously entertain us all, but somehow each little occasion in Alta Badia takes on a special charm. Spotting our friendly tourist bureau hostess, Nicole, among the choir increased our interest, while the freely distributed shots of grappa among the audience increased Cath's and my warm glow.
Packed and ready to leave the next morning I had pause for thought. Alta Badia is an outdoorsy playground that I could happily live in, but had I imposed my ideal on the family? Cath certainly embraced the experience and took pleasure in the constantly evolving mountain views, as well as the activities and tasty dining. The kids? Well, the exuberance of Ben performing somersaults into the nippy mountain pool at Corvara and the satisfaction of Amy beating her nerves to circumnavigate the high ropes are both etched firmly in my memory. As for their opinions? You try asking a teenager!