Sarah Rodrigues discovers a world of relaxation and hospitality at the Verdura Resort near Agrigento in Sicily…
Photos by Verdura Resort and Sarah Rodrigues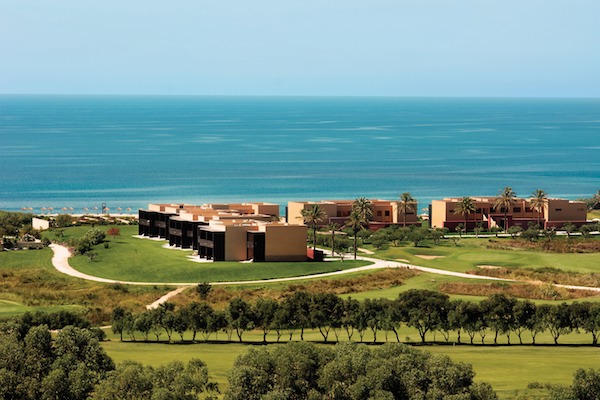 Standing atop a look-out point surveying the Verdura Resort, it's striking how insignificant the construction seems in the context of its expansive, 230-acre grounds; the roofs are a mere smudge on undulations of green, edged by beach and magnificent rocky coastline. 
It's quite a testament to the approach taken in the development of the resort – one that's deeply attuned to the beauty of this natural environment. What better way to admire this on our first morning here than in the company of a fitness expert? Clad in whites as dazzling as his teeth, he takes us on a vigorous hike around the area, navigating the rugged coastline on our way up to the lookout from which the built area of the resort has become visually insignificant. 
From here, we wend our way downwards, along the borders of vegetable plots and rows of sunflowers. Not only does this produce find its way into the food served at the resort, but each bathroom has a single sunflower placed by its basin, a quiet symbol of Verdura's commitment to local products and sustainable tourism. Eventually, we find ourselves in greener territory, walking along the riverbank with eucalyptus arching above us and hills folded upon one another in the distance. Our guide is at pains to ensure that we're not exhausted, and the hike is invigorating rather than tiring – though by the time we emerge by the coast again, the six or so miles we've clocked up have definitely given us an appetite. 
Cooking lesson
We're in for a treat, because the on-site cooking lesson we're about to experience is being fronted by Fulvio Pierangelini, the chef and director of food for Rocco Forte Hotels. Renowned in Italy and beyond for his honest and robust approach to cooking, Pierangelini, a bear of a man, once owned and ran one of the most celebrated restaurants in the country, the two-Michelin-starred Gambero Rosso in San Vincenzo, Tuscany.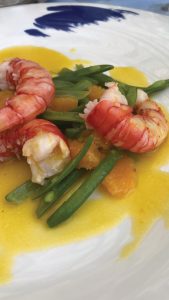 "If you can't take the heat, stay out of the kitchen," – that's how the saying goes, but our lesson takes place in the beachfront Amare restaurant, with the welcome ruffle of sea breeze cooling our cheeks when we're (frequently) mortified by our ineptitude. Who knew that peeling an orange could be such a precise exercise?
Capitano Pierangelini – he dislikes being called 'chef', insisting that he is a 'cook', so, because of his love of the sea, this is the appellation we devise for him – is patient, but teasing with it; indeed, there is talk of us 'massacring' his recipes. I've made risotto – or perhaps a bloodbath version of the dish – many a time, but the Capitano shows us how it must be nurtured to get the best from it. 
"A risotto is like a scornful girl," he once wrote. "It demands care, watching, savoir-faire, skilled hands, attention, respect, sweet gestures that make you feel love and affection. As soon as you neglect her, just like a risotto, she abandons you, or she changes; she becomes something else, she loses the magic and enchantment." 
I can't claim that the resulting meal – a salad of orange, green bean and red shrimp, and a simple vegetable risotto – is nearly as elegant and well presented as it was intended to be, but it's almost ludicrously delicious. 
Golf lesson
Having worked our legs so thoroughly that morning, it seems only fitting that we give our torsos something to think about: after some basic putting practice, a private golf lesson with the resort's instructor sees us squinting into the middle distance and firing balls off tees with impressive force, if not always accuracy. And with a whole body workout now achieved, we're able to ease any aching muscles during a lazy afternoon session in and around the spa.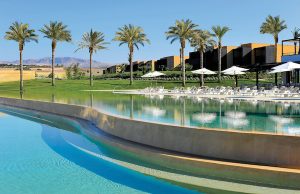 With a spa philosophy based on Sebastian Kneipp's five pillars – water, plants, exercise, nutrition and balance – many of the spa's rituals and body treatments use the brand's own exclusive Forte Organics beauty line, harnessing authentic Sicilian ceramics and aromas; there's also a Spa Bar with nourishing smoothies and juices made from ingredients grown on-site. Inside, flowing script adorns a wall with these wise words for a healthy, natural life: 'The best six doctors anywhere, And no one can deny it, Are sunshine, water, rest and air, Exercise and diet.' 
There is a deep commitment to every aspect of wellness, with diet, fitness and relaxation all addressed in the hotel and spa's varied offerings. Yet, as the spa manager readily admits, there's no major reinvention of the wheel here: the facilities are as multifaceted and as soothing as you'd expect from any five star resort, with pavilions arranged around an open air courtyard containing innumerable treatment rooms, an indoor swimming pool and a steam room, plus Finnish and infrared saunas. The real point of difference? The surroundings: luxuriating in the four outdoor thalassotherapy pools, each heated to a different temperature and containing varying concoctions of salt, minerals and organisms, it's difficult to determine what's more responsible for that feeling of zoned-out bliss: is it the waters, plus the various hose and jet pressures, or the utter peacefulness of resting one's arms on the side of a pool and staring vacantly at the painterly scene of sun bleached hills, end-of-summer greenery and twisted trees? Occasionally, a cyclist, on one of the resort's free-to-use bikes, traverses the scenery, with a sense of joy and freedom that's palpable, even from this distance. 

Juicing bar
Every room and villa at the resort faces the sea, over which the sun sets in a ball of orange so fulsome that you'd think you could reach out and squeeze it for your breakfast. In fact, there is a DIY juicing bar at the breakfast buffet at Buongiorno Restaurant each morning, but the perfect accompaniment to this evening spectacle is a glass of cold, moisture-beaded white wine alongside the complimentary fruit platter from my room, taken on my terrace. Rousing myself for dinner is not the easiest of tasks, especially when the room and furnishings are so outrageously comfortable, but it's worth it, since we're lucky enough for our visit to have coincided with a special 'Six Hands' dinner event, at which our earlier instructor Fulvio Pierangelini – alongside Nicholas Pourcheresse of Lille's Le Vagabond restaurant and Stefano Ciotti of Nostrano in Pesaro – creates a seven-course meal to celebrate the bounty of the island. We feast on creamed raw anchovies with basil granita, ricotta cheese ravioli and red prawns, chickpeas, swordfish and clams, red mullet and aubergine. Every mouthful is exquisite. 
Verdura Spa is about an hour's drive from Palermo; remote and vast as it is, it would be easy enough to spend all of one's time within its acreage, and there's certainly more than enough to keep you occupied. Even shopaholics aren't denied a retail fix, with a number of boutiques to visit, including Mariù, which stocks a beguiling collection of dresses, caftans and swimsuits, all guaranteed to make you live your best poolside life, and designed by Aliai Forte herself. Italian linen for both men and women is the order of the day at 100% Capri, while A Putìa holds Sicilian Ortigia products, plus magazines, souvenirs and books – look out for novels by celebrated local crime writer Andrea Camilleri, known to Brits as the writer behind the BBC's Inspector Montalbano series. As well as the nine-hole course and two 18-hole championship courses, there are also six clay tennis courts; kids aren't neglected either, with Verdùland Kids' Club and a daily Junior Tennis Academy. There's also a weekly activity schedule with the likes of free fitness classes and live music for guests to enjoy. 
The surrounding area
Despite these on-site temptations, it would be shame not to take the opportunity to explore the surrounding area. The Valle dei Templi (Valley of the Temples), in nearby Agrigento was listed as a UNESCO World Heritage site in 1997; the site contains no fewer than seven ancient Greek temples dating back to the 6th and 5th centuries BC. (Find out more on page 51.) Although visitors are free to roam unaccompanied among the ruins, some of which are quite marvellously well-preserved, the services of a guide really brought the site to life for our group, weaving fact and belief through their towering Doric columns. 
Spring must be an astonishingly beautiful time of year to visit, when the multitude of almond trees around the site are in scented bloom: a celebratory festival starts off with the lighting of a torch in front of the Temple of Concordia and continues with a parade around this valley of archaeological marvels. Even so, the late summer sunshine casts a warm glow over the sandstone temples, from which the outer stucco has mostly long since crumbled away. Evening openings in the summer months facilitate avoidance of the searing heat; visitors need to be aware that the site provides no shade and few places to be seated.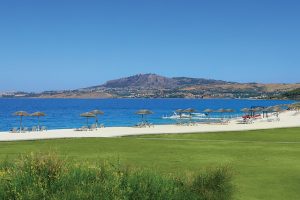 Standing on the outer limit of the site, the views out to the sea beyond are quite staggering. You can absolutely see why the ancient Sicilians may have believed their glorious island to represent the very edge of the world; easier still to see why modern Sicilians might hold it to be the very centre. 
Don't miss: Blue seas and blue skies are something Sicily does extraordinarily well, and in few places is this shown to such dazzling effect as at the Scala dei Turchi, the Turkish Steps. Over countless millennia, the elements have carved a natural staircase into the white cliffs, a whiteness that is made even more dazzling by the sunshine and by the blueness of their surroundings. Join locals sunbathing on these chiselled ledges, or simply admire the cliffs at a distance from one of the adjoining beaches. 
But how did the Turkish Steps get their name? More than just a beautiful spectacle, the Turkish Steps also hold a significant place in local legend, with the folk memory (quite possibly based in truth) that Saracen pirates once moored their ships in the waters protected by the 'steps'
and then made use of them to gain access to the clifftop and plunder the local villages.
More information
Verdura Resort in Siacca, southern Sicily, offers rooms starting from €240 per night in a Deluxe Room on B&B basis. For more information, visit the website.
For more Sicily features, check out our archive