Sally FitzGerald discovers Castello del Nero, the perfect Tuscan hideaway just off the road between Florence and Siena.
When a hotel is voted as having 'The Most Beautiful Bathroom in The World' by Harper's Bazaar, you head along with a certain level of expectation.
The bathroom in question belongs to Castello del Nero, a 12th-century castello now transformed into a luxury hotel in the heart of Tuscany. Positioned half an hour from Florence and half an hour from Siena, and surrounded by the Chianti wine region, the location could hardly be more perfect and, I was soon to find out, the hotel couldn't either.
Sadly I wasn't lucky enough to be bestowed with the world's most beautiful bathroom, but as I was handed over the key to my Double Deluxe room, I went to explore how my offering compared.
Granted, I was missing the walls adorned with original frescoes, but what I did have was a truly elegant rolltop bath and the most incredible view I have ever encountered looking out of a bathroom window. The window itself was oval and slightly reminiscent of a ship porthole, but through it you could see the hotel's acres of land, filled with patchwork lines of vines and olive trees, broken only by the rolling hills in the distance. It really was as pretty as a picture, and could easily have been mistaken as one.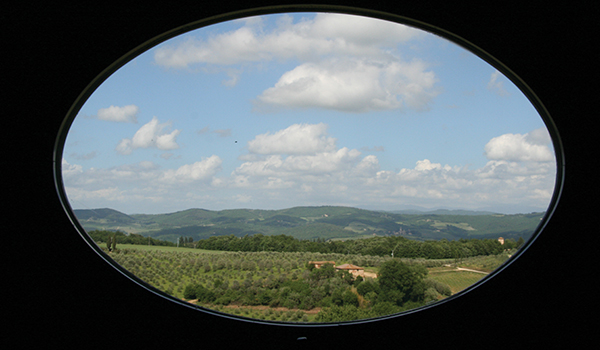 The hotel is set within 740 acres of grounds, the main building at the top of a hill offering panoramic views from every room. The grounds are open to guests to explore with two hiking paths, a picturesque lake, tennis courts, a forest with hidden gardens and six smaller medieval villas.
These are slowly being renovated into residences for families and couples preferring a little more privacy and self-sufficiency, a chance to holiday away from the main hotel. While Castello del Nero already produces wines and olive oil from the crops growing on the estate, it hopes one day to also turn one of the old buildings into a traditional Tuscan shop packed with even more Castello del Nero products, from locally milled pasta to honey collected from the hotel's newly installed hives. Just a note, the 'hiking' trails are misleadingly named as they actually allow for a fairly gentle, relaxing stroll on a sunny day, so no walking boots needed – just beware the wild boar roaming the area!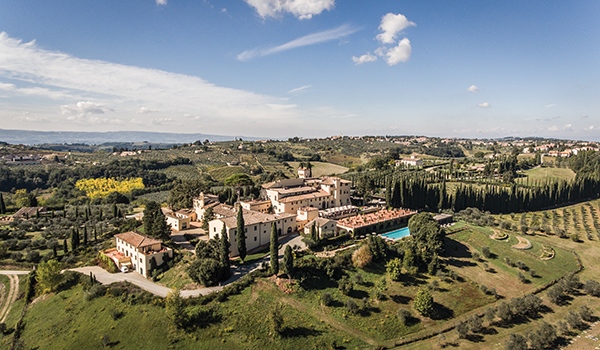 An activity for everyone
While the hotel runs shuttle buses to Florence four times a week and Siena three times a week, if you're looking for a more relaxing break, there's no real reason to leave the hotel. The main building of the Castello is definitely worth exploring, thanks to the still vibrant original frescoes and fascinating rooms. Some of the suites have bathrooms or walk-in wardrobes hidden behind panels in the walls, which give a real sense of the Castello's history and the stories of past intrigue and secrets said walls could bestow, if only they could talk.
If you're partial to sampling local wines, the hotel offers wine tasting sessions in the incredibly well stocked cellar! Surrounded by an extensive selection of wines – some of which cost as much as most people earn in a month – the sommelier will guide you through a range of Super Tuscan, Chianti Classico, or Brunello wines, explaining how to taste them properly, and how to spot a good one from an impostor!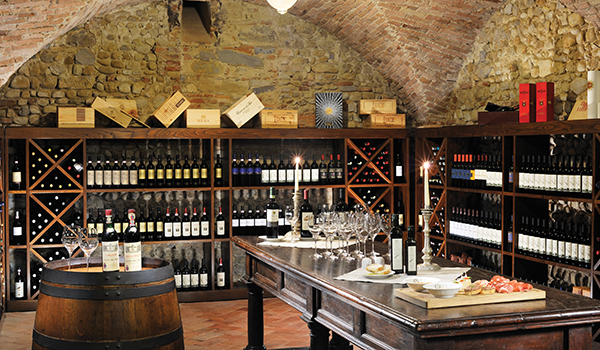 Then there's the ESPA spa. Hidden under the breakfast terrace, it's truly a haven of tranquillity. There are separate male and female areas, with each having its own experience showers, ice fountain, caldarium (aromatic Turkish bath that only the brave can tolerate for more than five minutes at a time), and laconium (a more gentle dry heat sauna with long seats that curve around your body).
The only shared areas are the relaxation lounge and the jacuzzi. The jacuzzi has four different types of jet – one that gently bubbles around you while you sit and relax, one that focuses on your feet, another with a wide spout that pours down over your shoulders like a waterfall and a final one that should be approached with caution! The water shoots out so quickly and at such a force it actually takes your breath away, but if you can bear the initial discomfort to stand against the water for a few minutes the result is a shoulder massage with the same force of a sports massage! I definitely came away with fewer knots after a couple of times under that!
The spa also offers many different treatments, all using ESPA products. One of the most popular packages at the moment is the Mindfulness Package, which is designed to help improve sleep and includes treatments at the spa but also sees colouring books and pencils left in your room in the evening to help you relax and unwind during your stay. This can be combined with yoga sessions, and the hotel can even arrange pottery classes in the local village to add to the experience.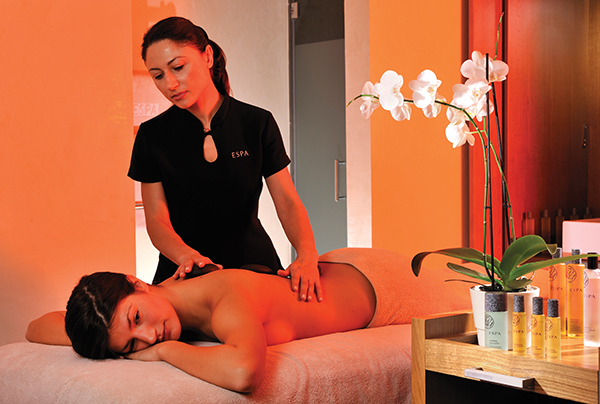 I opted for the personalised facial. A popular choice for many, this is always made more difficult for me as I have a slightly inconvenient allergy to lavender. But the staff were fantastic, first checking every product to rule out any that contained the offending ingredient, then putting together the perfect selection to suit my needs. Three cleansers, a scrub, a face mask and a lot of moisturising later, I felt thoroughly clean and also very relaxed thanks to the neck, shoulder and scalp massage that accompanied the treatment. But one thing that really makes this facial stand out from most is that the therapist also identifies your skin type and any potential problem areas with the help of an infrared lamp. Mirror in hand so she can show you what she's talking about, she highlights where the skin is healthy, where it's dry and where there are any imperfections, all highlighted by different coloured lights. Fascinating!
A taste of Tuscany
When it comes to food, Hotel del Nero cannot be rivalled. Embracing its Tuscan roots, the La Taverna restaurant is located in the Castello's former kitchen in the winter and in the summer is moved to a more picturesque poolside location. The perfect place to head for a pizza at lunch, in the evening La Taverna offers the ultimate traditional Tuscan dining experience.
Sitting under the safety of the restaurant's covers, we listened to thunder rolling around the surrounding hill and watched the rain bounce of the surface of the pool, while enjoying a glass of the hotel's own rich Pieve del Nero red wine and working our way through a true Tuscan feast. Baked courgette tart with a deep tomato voluté was followed by hand-rolled pici pasta enrobed in a hearty duck ragù with local cardoncelli mushrooms.
In this region steak reigns supreme, so thick slices of perfectly grilled Tuscan steak made up our main course, accompanied by roasted vegetables brushed with the hotel's intensely flavoured olive oil. When we thought we could eat no more, we were presented with zuccotto fiorentina, a light chocolate ricotta dessert centre covered in sponge and chocolate glaze. Tradition at its finest.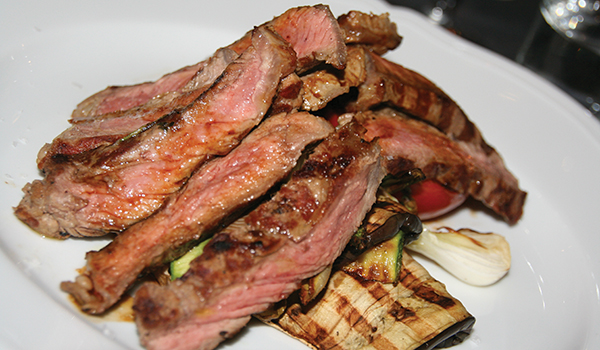 Castello del Nero's other restaurant is its true pride and joy. Three years ago, the La Torre restaurant was awarded its first Michelin star, and it's managed to keep hold of it ever since! The hotel worked hard to get it in the first place, with the star awarded not just for the food but for the selection of wine on offer (hence the now impressively stocked cellar), and for impeccable service. One of these can't be present without the rest. So if you're marking a special occasion, I would highly recommend experiencing La Torre at least once during your stay.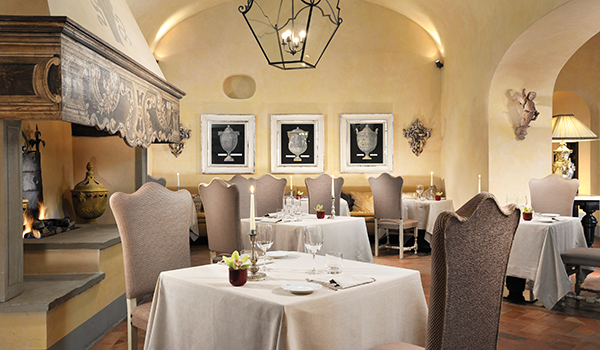 The night we visited, the menu was celebrating the hotel's recent partnership with Ferrari. No, not the car manufacturer – I know what you're thinking – but the masters of sparkling wine. So the menu was based on creative ways to enjoy fish, each of the five courses served with a different sparkling white wine.
As we traversed the seas from scallops served in a creamy soup with squid ink bread through to the most tenderly roasted octopus I've ever tasted, followed by black garlic spaghetti with scampi and caviar and then roasted turbot with red prawns from Santo Stefano in a tangy ginger sauce, I finally saw why people rave so much about Michelin-starred food! Even the bread rolls were a revelation – after much deliberation I opted for blueberry with poppy seed, and pecorino with salami.
But the creativity really came to a head with the dessert, which echoed the red, white and green of the Italian flag in its olive oil and basil cake served with strawberry mousse and creamy buffalo ice cream. And just as we thought we'd sampled our fill of fine food, out was wheeled the chocolate cart, followed by a tray of macaroons, and a beautiful box of mini pastries. It was the experience of a lifetime.
So if you're looking for a Tuscan holiday to remember, I can't recommend Castello del Nero enough – and I didn't even get to see the World's Most Beautiful Bathroom. It's not just the grounds, the food, the facilities – it's the extra touches you get there too. The chocolate on your pillow at night accompanied by a card telling you what the weather is going to be like the next day. The fact that every member of staff knows your name and greets you with a welcoming smile. Even the little lizards that rustle in the bushes by the pool, poking their heads out occasionally to check what's going on. Many hotels offer luxury, but at Castello del Nero you get luxury with a heart, and I'm not sure you can put a price on that!