The only Italian region with no coastline and no bordering countries, Umbria, sitting at the heart of the boot, is picturesque, green and unique.
Slowing right down to walking and cycling pace is the perfect way to fully appreciate the charms, hidden treasures and distinctive character that makes this timeless part of Italy a mediaeval green masterpiece. So what is it that makes Umbria so special?
Fine food and wines
Food is a fundamental part of any holiday experience and the Umbrian people certainly know theirs. One of Italy's most fertile corners, its rich countryside is responsible for some of the country's finest food and drink. Delicacies include their highly-prized black truffles, fine olive oils and lenticchie di Castellucio (tiny, sweet lentils), along with tasty hams, wild boar, mountain sheep cheeses and many types of grains and beans. Not forgetting the Perugian chocolate and the chocolate festival. The region's wines are perfect for washing down local dishes, especially the famous wines of Montefalco, such as the fine red Sagrantino.
The 'green heart'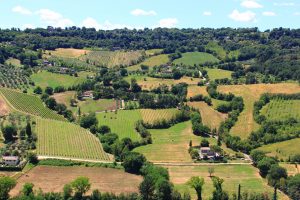 Umbria is a sun-drenched region of beautiful lush woodlands, winding valleys, rolling hills and mountains. You'll enjoy passing through olive groves, sunflower fields, vineyards and apricot orchards and admiring the dazzling views of majestic lakes and ancient villages. It's perfect for exploring on foot or by bike, so you can really appreciate the 'green heart' of the region and get up close with nature.
Art
Home to many talented artists throughout the centuries, it was an Umbrian art school that taught famous artists such as Raphael, della Francesca and Perugino. In quiet hilltop towns you'll marvel at old paintings and frescoes proudly hung on the walls of tiny churches. St Francis' Basilica in Assisi features a series of beautifully ornate frescoes and many museums are home to ancient and contemporary art.
Medieval towns and villages
Nestled amongst the luscious greenery is a host of historic hillside towns and villages, where you can meander through cobbled squares filled with traditional trattorie and imposing castles.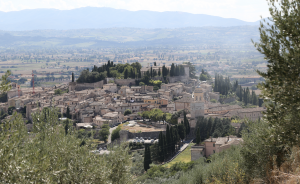 Assisi is the jewel in the Umbrian crown, home to stunning churches, a Roman arch, C14 aqueduct and other architecturally famous buildings. Spoleto's architecture includes a Roman amphitheatre, C10 church, C12 Duomo and 80m-high C14 aqueduct. 'The balcony of Umbria', Montefalco has fantastic wine-tasting and magnificent views. And the picturesque walled town of Spello is one of Italy's best preserved mediaeval towns that comes alive in summer with vibrant floral displays.
Pilgrimages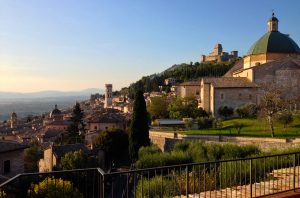 St Francis Way is a pilgrimage that spans around 350km, covering the places that St Francis visited during his life. Millions pass through the valleys and mountains of Umbria, as well as the small town of Assisi, which is one of the most important pilgrimage sites because of its Basilica di San Francesco. Perhaps take in the sacred woodland that for years has been tended and cared for by the Franciscan monks and re-trace St Francis' steps on his last visit to the town in 1226. At dusk in Assisi, the town is pretty in pink and almost silent – this is the time when you can sense the true spirit of St Francis.
Music
Although Umbria is a relatively small region, it is jam-packed with musical events and festivals, one of the most famous being the Umbria Jazz Festival that has been held in Perugia every July since 1973. Spoleto is also famous for its Two Worlds Festival that celebrates classical and opera music.
Above all, one of the most endearing qualities of this region is the people. They are charming and friendly, and will welcome you into their landlocked region with open arms. They're a sociable bunch too; la passeggiata is a tradition where the locals walk slowly of an evening in Perugia catching up with others and proudly displaying themselves and their families. Single? A good opportunity for flirting and 'courting' too!
This story was written by Charlotte Hudson at Headwater Holidays. They are all about getting under the skin of the place that you want to visit and, they want you travel through the countryside at your own pace, and under your own steam, this way you discover more about the people, customs, history, culture and natural beauty than you ever could on an ordinary holiday.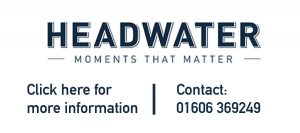 Tags:
Headwater