Mario Matassa spends a packed weekend discovering a captivating world of fine food, elegant locals and compelling history right on his doorstep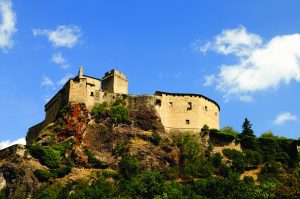 Everyone knows Parma. Or, to put it another way, everyone, at some point, has tasted a little slice of Parma. It is a city whose reputation precedes it, synonymous throughout the world with la buona tavola. The names Parmigiano Reggiano and Prosciutto di Parma conjure an ideal of good food; products that have withstood the test of time and are testament to the gustatory principles of tradition, provenance and healthy eating. But there's more to Parma than just ham and cheese – lots more.
Think Culatello di Zibello, Felino Salami, the black truffles of Fragno and the porcini mushrooms of Borgotaro and you'll begin to understand why gastronomes make regular pilgrimages to the so-called 'Italian Food Valley'. I made mine four years ago and I still haven't been able to bring myself to leave!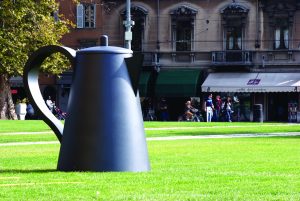 But, matters of the stomach aside (just for a moment), there's another side to Parma that really is worth getting to know. In fact, as far as Italian cities are concerned, there's something special about Parma. My friend, Carlo Marchionni summed it up in a nutshell: "elegance". Parma is without doubt one of the most elegant Italian cities that I have visited. It's elegant to the point where for a moment you might be tempted to sit down at one of the many charming little side-street cafés and order a spot of afternoon tea. But then hopefully, of course, you come to your senses (the Italians really don't know how to do tea), and you order an espresso instead – or an aperitivo, depending what time it is – to sit and watch the (always) elegant Parmigiani go about their business.
Decisions, decisions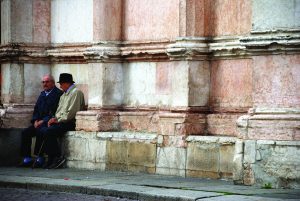 Living so close to Parma, it is easy to take for granted what is literally on my doorstep. Yet, anyone who has visited the city and the surrounding province will know that a problem to be faced, when time is a factor, is not so much deciding what to do as what to fit in within the time available. Many of the tourists that come here do so with a specific agenda in mind. The gastro-tourist, for example, will no doubt spend some time in the city and then venture further afield on one of the many local taste trails. A visit to the cheese museum housed in the 19th-century cheese factory in Soragna, stopping in at the castle before finding a local restaurant for lunch, for example, would make for a fascinating morning. Then, one can make the decision either to head north towards the River Po, Zibello and the trail of the famed Culatello or instead turn south, into the foothills of the Apennines and towards Langhirano, the capital of Prosciutto. Note, however, that should you opt for Langhirano, the Felino Salami Museum, which is on the route, is well worth a visit – if you have time to squeeze it in, of course!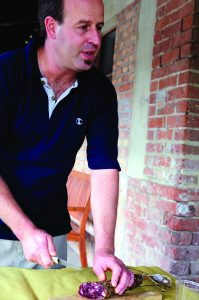 Music lovers have the same problem. A good place to start your tour is the Palazzo della Pilotta, which houses the Farnese theatre, a structure made almost entirely of wood and inaugurated in 1628 to mark the occasion of the wedding of Margherita de' Medici and Duke Odoardo Farnese. Alternatively, you can stroll up the street to the Regio Theatre, built by order of Marie Louise, which was inaugurated in 1829 and now houses the city's opera season and Verdi festival. The theatre is renowned for its discriminating audience. It is considered the birthplace of Italian melodrama, and short of throwing rotten eggs to signify displeasure, pretty much anything goes here. Also – as any music aficionado will tell you – the world-class conductor Arturo Toscanini was born in the city in 1867. Dedicated fans make their way to the House of Music in the old Cusani Palace, which was recently restored to celebrate the conductor.
But again, just like the gastro-tourist, at some point a decision will have to be made. That's because, if you head northwest of the city, you'll eventually come to Verdi country. The province's most famous son, maestro Giuseppe Verdi was born in Roncole Verdi. The nearby Villa Verdi in Sant'Agata, where the composer lived out his last days is a must-stop on the tour as, of course, is the Verdian town of Busseto, with its main square, town hall and theatre all dedicated to Verdi. In fact, Verdi's footprints can be traced everywhere in the area. Several months back I was sharing a bottle of wine with the owner of a local pizzeria in Busseto. Knowing my line of work, he took me upstairs through a most inconspicuous entrance to an apartment where, you guessed it, Verdi had once resided. There was even a decrepit sign that said so! Once grand, the palace had fallen into serious ruin. There was a 'For Sale' sign nailed to the door but the owner, I was told, had little chance of a sale. Despite the fame of its former inhabitant, he was asking far too much for the place!
A bit of background
Unlike many Italian cities, Parma's history is comparatively straightforward. In 1545 it was annexed to the States of the Church, together with its neighbour, Piacenza, and was formed into a Duchy. For the next 200 years the Farnese family governed as the Grand Dukes of Parma. With the end of the male line the Duchy passed in 1731 to the Bourbons of Spain and then to the Austrians. After Napoleon's defeat at Waterloo, Parma was placed in the capable hands of his second wife, Marie Louise – she is still remembered today with affection by the people of Parma.
While the province covers some 260 kilometres, with attractions equitably distributed throughout, Parma city, fortunately, is much more navigable. It's a relatively small city harbouring a mere 180,000 inhabitants. This no doubt explains why Parma seldom seems too congested or crowded – except during the biannual international food festival, when its numbers swell considerably. Its air of tranquility also has something to do with the fact that the main tourist centre is mostly given over to pedestrians and bicycles. So it's a pleasure simply to stroll and take in the sights.


The first time I visited the city I was accompanied by my good friend, and regular travel companion, Carlo the dentist. Carlo is no stranger to the city, having lived in the neighbouring province his whole life. So naturally there was a lot he wanted to show me. I had made some hard decisions the night before and had an agenda of my own. The National Gallery, the archaeological museum, the Regio Theatre, Il Castello dei Burattini (the puppet museum) were all on my wish-list. Also, of course, Parma's spectacular Piazza Duomo, a must-see for visitors.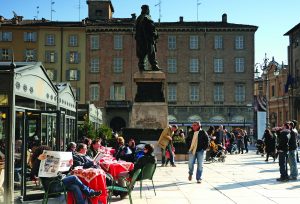 In fact, this piazza is a good place to start. The odd thing about Parma, however, is that its most attractive piazza is not the main one. Nor is it in the centre of town. The main piazza is Piazza Garibaldi, with its numerous finely decorated cafés – a great place to be if you have pasticceria in mind. Piazza Duomo is a more austere affair, housing the 12th-century cathedral, the 13th-century campanile and the 12th-13th century baptistry. With no porch, the cathedral façade looks somewhat bare. However, looks can be deceiving which, in this case, is an understatement. When Carlo isn't at his surgery, he's often out sightseeing. He's an amateur, but enthusiastic, local historian. So, unsurprisingly, he was excited to show me the interior of the cathedral, pulling me inside before I'd had a proper chance to take in the distinctive pink and white marble baptistry towering to my right. Of course, he wanted to show me Parma's famous dome, frescoed by Correggio – another native of the province – between 1525 and 1530, with the Assumption of the Virgin surrounded by an entanglement of angels. The explicitness of the work caused quite a stir in its day, and still does. Someone likened it to a "hash of frogs" but it is, as far as I'm concerned, one of the most impressive examples of its kind in Italy. Carlo agreed: "Reverse the cupola, and fill it with gold, and that will not be its money's worth," he said. I was impressed. I had never heard him be quite so poetic – but, as it turned out, he was quoting Titian.
Once outside, there was finally an opportunity to take in the baptistry. Or so I thought. We'd spent so much time inside the cathedral that Carlo was already making his way towards a trattoria, where he had booked a table for lunch. For once, I didn't argue – after all, it wasn't going anywhere and it's rude to be late!
Eating out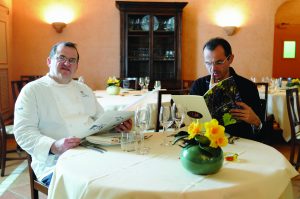 Whatever your preferred itinerary, in Parma, food is invariably always going to be central to it. It's hard to find a bad restaurant here. Yet you do need to be careful as some of the restaurants are, in my view, a little overpriced. Carlo informed me that it wasn't always this way and that prices jumped about five years ago – opportunism, he says, after the city's 2004 appointment as the headquarters of the European Food Safety Authority (EFSA). Ever since, Parma has taken on a much more cosmopolitan air – with prices to match. Incidentally, other major food multinationals in the area include the pasta giant, Barilla and the dairy producer Parmalat.
In Parma, unless you opt for a panino or slice of pizza on the hop, lunch is usually a long, but almost always, pleasurable experience. The Parmigiani take their food very seriously. Like everything else in the city, the restaurants are elegant, the majority – no surprise – serving typical local dishes using typical local products. After a bowl of anolini in broth followed by spalla cotta (a cooked ham) with vegetables, all washed down with just a little too much dry sparkling Lambrusco, a distinguished wine of the province.
It was time, finally, to have a peek inside the baptistry. Lunch had taken a respectable three hours and as the light was receding I wanted to take a few photos of the piazza for my scrapbook before we went inside. As I was composing the scene a woman appeared from the door behind me and engaged in conversation with Carlo. They appeared to know each other. Then, before I had a chance to protest, I was being ushered inside.
I had been dragged into Parma's oldest pharmacy. It was opened in 1201 and was the only one in Parma until the 18th century. Carlo, having trained as a doctor before converting to dentistry, had a professional interest in visiting. But he was also insistent that I too saw the ancient apothecary. I wasn't disappointed. The inside, which is now a museum, remains pretty much as it was for centuries. It's a library of pharmaceuticals, and the walnut shelves are jam-packed with a bewildering array of blue and white jars bearing all manner of inscriptions. Chemist shops just aren't what they used to be, I thought.
By the time we came out, the baptistry was closing for the evening. So too, no doubt, were all the other places I had intended to visit. But that's the advantage of living nearby – there would be other visits… next time, however, I would come alone.
In my mind, Parma is one of Italy's most overlooked cities. With all the fanfare accorded to Parma's cheese and cured ham, the place itself is often neglected. Yet this just makes it all the more special. I've revisited the city on numerous occasions and
I never tire of it. Piazza Duomo, tucked away from the crowds, is still a place to wander and reflect. It's perfect in its elegance and I just can't imagine Parma any other way.
Tags:
Parma