Luckily, though, unlike some regional neighbours, Lucca has managed to avoid turning into an over-commercialised tourist trap.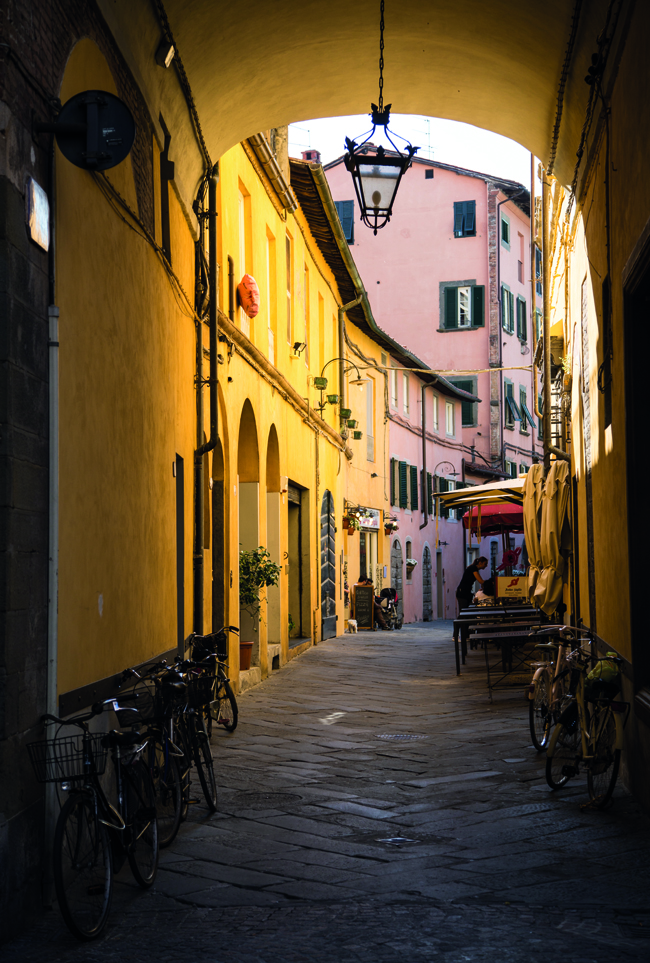 Lucca has been a thriving community since Roman times and before. It was, in fact, such an important centre for the Romans that in 56BC Caesar, Pompey and Crassius met here for their historic pow-wow, which culminated in them setting up the first ruling Triumvirate. Nowadays the Tuscan town has lost much of its political influence, but as a holiday destination it's going strong.
Lucca today, within its extraordinary, perfectly-maintained 17th century walls, is a curious cocktail of the everyday and the unique. Its traffic-free centre is busy and bustling – a tangle of alleys, courtyards and squares.
Once known as the 'town of the hundred churches', central Lucca's architecture covers a myriad of different styles that bring echoes from ancient Rome to the Renaissance. Being around a quarter of an hour's drive from such diverse places as Pisa and its leaning tower, the beaches of the Tuscan coast and the beautiful hills and valleys of the Garfagnana area, makes Lucca a fabulous base for exploring this colourful corner of northwest Tuscany.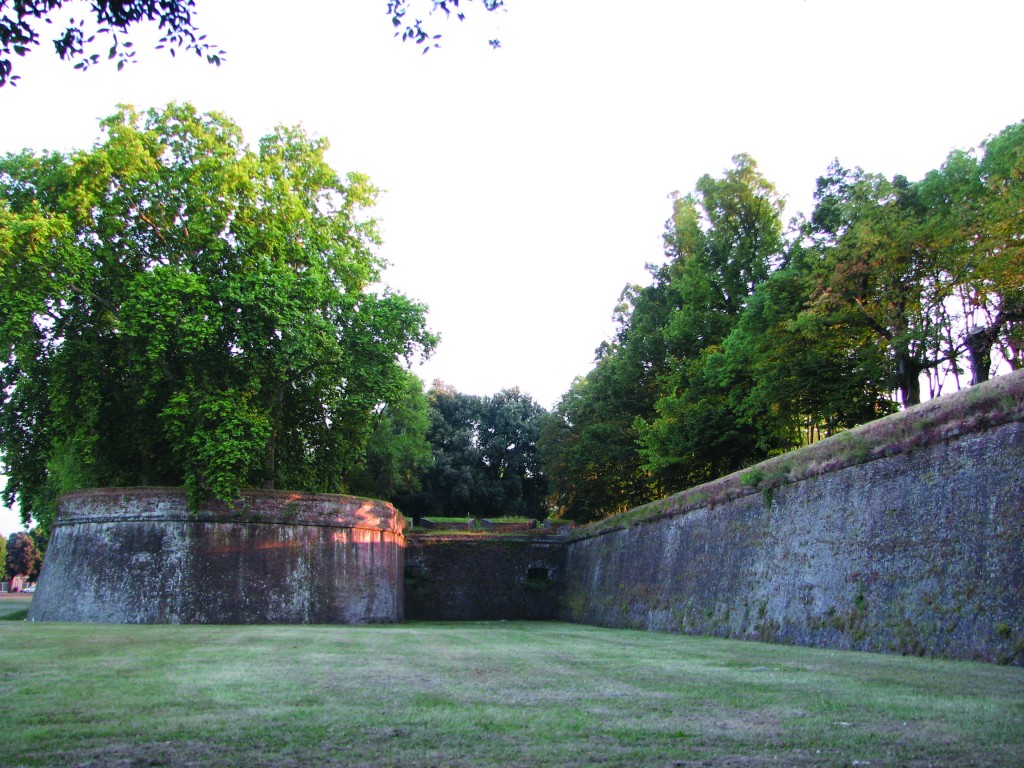 This was my second visit to Lucca, but memories were vague and, whilst recalling the unique surrounding walls, I had forgotten the feeling of entering another world you get when you pass through the town's gateways. Six city gates, as well as passageways through about twice that number of bulging ramparts, lead into the old town centre with its remarkably relaxing, but energy-spiked atmosphere.
Setting off to discover the town, Malaga and I decided to make our first stop the bar-lined Piazza Napoleone. As it was July, the square was dominated by a temporary stage for the summer rock festival, which attracts big names each year – including the likes of Eric Clapton.
Changing faces
Piazza Napoleone was created by Napoleon's sister, Elisa Baciocchi, to open up the view from her impressive home in the Ducal Palace, where she'd been installed to govern the town in 1805 by her French emperor brother. The palace dates from 1578 and today is home to the provincial government and police headquarters. Elisa did a lot to change the face of Lucca – knocking down houses to create this grand square and having it lined with trees for a start. As was his habit, Napoleon made sure to destroy as many churches as possible, virtually halving the original count of 98 – they had never quite reached the hypothetical hundred of the town's moniker.
Through the centuries, Lucca had nearly always managed to maintain its independent status – the fact that the town is the only part of Tuscany never to have been taken over by Florence, the regional superpower, continues to be a source of local pride.
Freedom came to an end, though, when Napoleon annexed the town for his sister and brother-in-law, Elisa and Felice, to rule. They were succeeded by the Bourbons, with Marie-Louise and her son Carlo Ludovico finishing off many of the urban planning projects that had been started, to give Lucca the face it has today. During the 14th century Pisa managed to take control, but Lucca fought back and later returned the favour.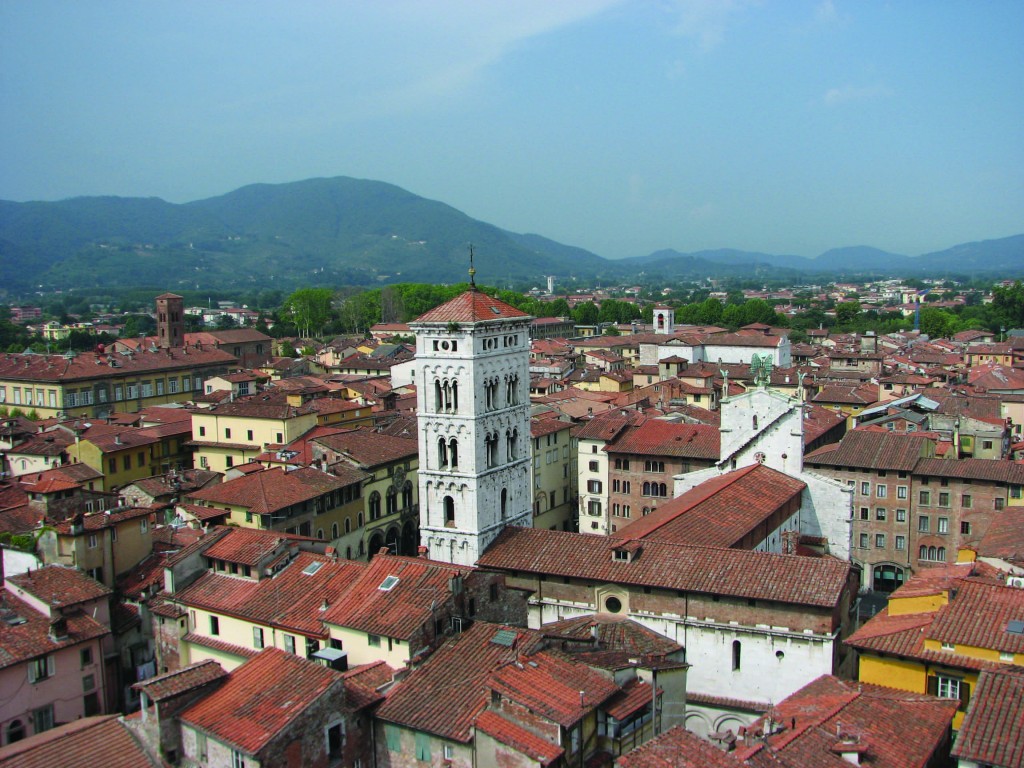 To get our bearings, we decided to climb one of Lucca's two medieval towers for a bird's eye view. Being much of a height – 200-odd steps and over 40 metres high – and quite close together, the fabulous views from the top of the two towers are quite similar, but we went up both during the weekend, as each has its own peculiarity. Torre Guinigi is the more striking of the two, and a definite landmark, with its surprising tuft of trees – seven holm oaks – growing on its summit. After climbing up there on a hot summer's afternoon, the shade of the trees was certainly welcome. Torre delle Ore, on the other hand, is fascinating to climb, as you walk up beside the machinery that works the clock. And once at the top you get to experience the vibrations of the bells ringing out each quarter of an hour.
Back with our feet on the ground, we headed for Lucca's main square, Piazza San Michele in Foro, originally site of the Roman forum. The intricate façade of San Michele church – built over a period of 300 years spanning the 11th to 13th centuries – is made from a bright white limestone, and its tier-after-tier of stonework decorations, interspersed with rows of animal designs, are delightful. The Gothic-influenced interior has some interesting features, including what is reckoned to be medieval graffiti on several of the columns.
Vital victuals
Behind the church we popped into the Massagli Pharmacy to find out more about their unusual claim to fame. This fairly ordinary-looking pharmacy is famous for two different varieties of liqueur – the Elixir di China and Biadina di Lucca – both originally made on the premises by Dr. Massagli, who first brewed them in 1850. The strong alcoholic drinks supposedly have digestive qualities, but it's hard to find them on sale, even in Lucca itself.
Later on we tracked down the Elixir at the Antica Drogheria bar-pizzeria in Via Elisa – the taste is quite similar to the widespread Montenegro amaro. Right next door to the pharmacy is another historic shop – Taddeucci the baker, well known for baking Lucca's delicious speciality sweet loaf, buccellato, made with sultanas and aniseed. This too is only found in Lucca itself.
From San Michele we headed straight to Piazza dell'Anfiteatro, Lucca's most striking legacy of Roman civilisation. Last time I'd been here this amazing square was stunning, packed solid with plant and flower stalls for the week-long Santa Zita festival at the end of April, but it wasn't until this visit that we could see clearly how the smooth oval shape follows the lines of the original 10,000 capacity Roman amphitheatre, built in the 2nd century AD and destroyed a few centuries later.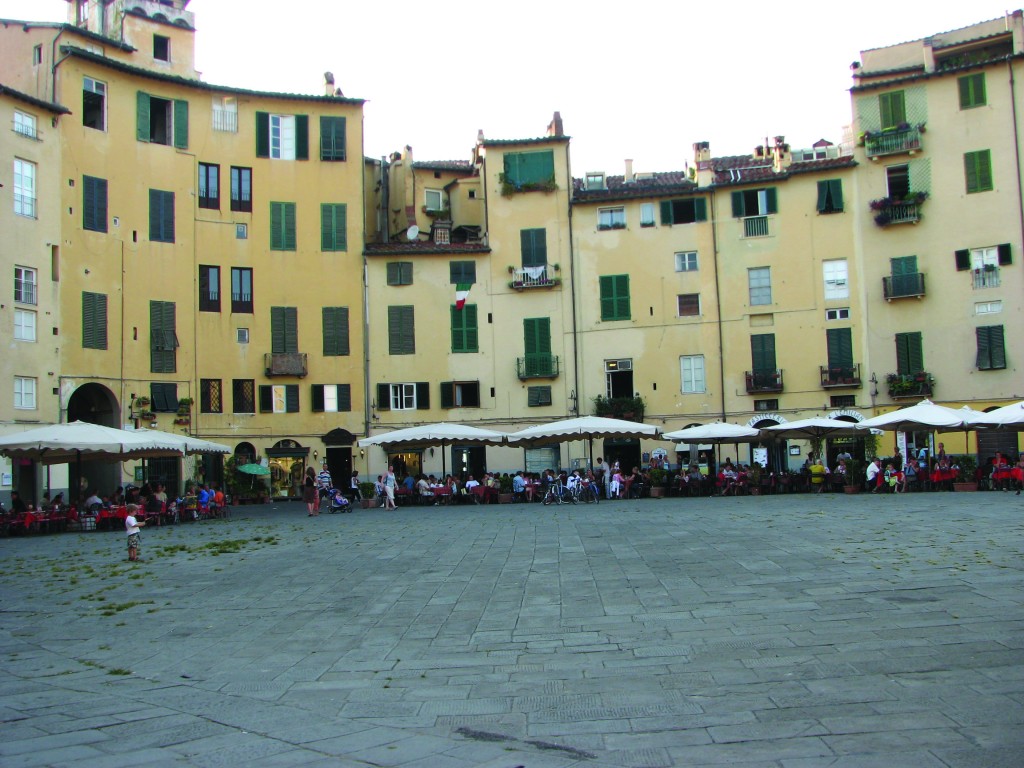 Even more picturesque than the April flower festival is perhaps the candle-lit procession that takes place in mid-September. All electric lights are switched off in the centre and residents and shopkeepers illuminate their windows and doors with thousands of candles, while the procession escorting Lucca's venerated Volto Santo crucifix winds around the town. Legend has it that the large wooden crucifix was sculpted by Nicodemus just a few days after the Crucifixion; scientists, however, have dated the statue at around 1100. See the sculpture in San Martino cathedral, but before going in don't miss one of Lucca's best-known symbols – the stunningly simple labyrinth design carved into the stone to the right of the cathedral entrance.
If antiques are your thing go for a stroll just north of the cathedral, down Via del Battistero, known by the locals as Via dell'Antiquariato – it's choc-a-block with antique dealers who all agreed to move into premises along the same road some years ago. Even better, why not make your visit coincide with the major antiques market held in Lucca during the third weekend of each month.
After a delicious and relaxed late lunch on the shady terrace at Da Francesco – one of the many family-run trattorias in central Lucca – Malaga and I forwent the siesta option, borrowed bikes at our hotel and set off to cycle around the town walls. These really are Lucca's top feature and cycling is by far the best way to see them.
Made into a public park by Bourbon ruler Marie-Louise, the walls – originally built in the 17th century – were never put to the test by invaders. Whether or not they were intimidating enough to dissuade potential invaders, or they were just completed a bit too late to be of any practical use, is a debating point. Lucca's medieval walls, dating from the 13th century, had been greatly outgrown – you can still see a couple of the gatehouses incorporated into buildings. Nothing remains of Lucca's original walls, built in the 2nd or 3rd century BC by the Romans.
A wall with a view
From the wide, tree-lined avenue that runs the full 4.2km around the top of the walls you get a great view down into various parts of town. No motor traffic is allowed up here and it's a favourite place to exercise or relax among locals and tourists alike. Pedalling round, I certainly enjoyed myself, but, as cycling is my major method of transport back home in Bologna, it wasn't the novelty for me that it was for Malaga, who hadn't cycled since he was about 14.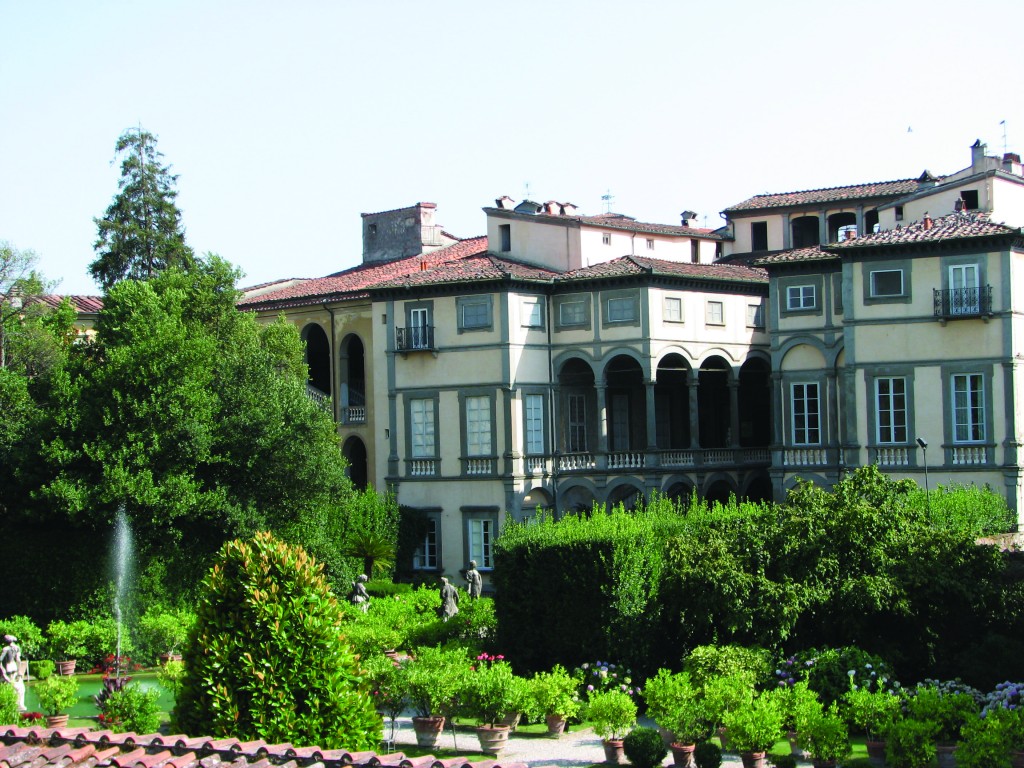 Up here you can see down over the house and gardens of Palazzo Pfanner. The 17th century palace is one of a clutch of stately homes in and around Lucca that are open to the public. Palazzo Pfanner houses a silk museum, celebrating the trade that made Lucca rich. We didn't have time to visit the museum, but from the walls we had a good look into the garden. If you've seen the film Portrait of a Lady you'll recognise its fountain, orangerie and imposing line-up of statues.
Another former film location we saw was Carli the jewellers, established in 1655 and still giving the impression of being from another age. The current Signora Carli told us proudly how, in her father's time, Italian film-makers used the jeweller's to shoot a scene with Italian star Gina Lollobrigida, and it was the shopkeeper himself who appeared in the film playing the jeweller.
Piano man
Almost directly opposite Carli's is the historic café, De Simo, famous for having been frequented by Lucca-born composer Giacomo Puccini, who even used to play piano here. Puccini is Lucca's most celebrated local hero, and names relating to him and his work are a recurring theme around town – we found a pizza 'La Bohème', a cocktail called 'Turandot' and a 'Madame Butterfly' ice-cream, as well as several Puccini bars. The house in central Lucca where the composer was born in 1858 is open to the public and has an interesting collection of his personal and professional belongings.
Hilltop havens
We'd heard that the hills around Lucca are particularly beautiful, and the next day we decided to explore the beautiful Garfagnana area – just to the north of the town – before carrying on through the Apennines on our way back to Bologna. A foray into the Garfagnana is a definite must if you have time and transport while in Lucca. It's sensationally scenic, with beautiful rivers, a wealth of fascinating castles, picturesque hilltop villages, caves and lakes, as well as great opportunities for walking, cycling, climbing and kayaking.
I was curious to see the medieval hilltop town of Barga. Winner of an award for tourism, it's got a lot in common with other idyllic Tuscan towns – winding alleys scattered with artists' workshops and a beautiful Romanesque cathedral looking out over the valley from a commanding position at the top of the hill.
After our busy day exploring this historic town we ended up where we'd started, in Piazza Napoleone, and decided to relax for a while at Bar Gino. After a weekend here – enjoying the sights, sounds and flavours of Lucca – I bet you, like us, will find yourself wanting to come back to Lucca time and time again.
Get some more holiday and travel inspiration by following our instagram:
https://www.instagram.com/italia_magazine/