The city of Milan is readying itself for the festive period, and its shops and gallerias are a glittering display of opulence. Lorenza Bacino goes shopping…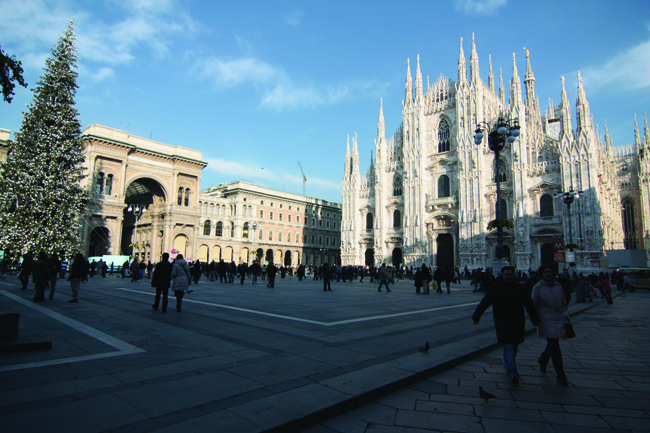 Here I am spending a winter weekend in Milan, Italy's hub of design, fashion and culture, and I can't wait to visit the luxurious Rinascente department store and savour the delights within this 'Harrods' of the Piazza del Duomo… But my host, and long-term Milan resident, Alex Roe has other ideas. As it's a clear and crisp morning in the city, we have to go to the top of Duomo. This gargantuan Gothic wedding cake of a cathedral is an ornate ode to Christianity that took six centuries to build and was only finished in 1965. The nave is about 45 metres high, which makes this the tallest Gothic church ever built, and houses 40 huge pillars. I'm impressed as I crane my neck upwards and I'm eager to climb to the roof which, I'm reliably informed, offers wondrous views over the city and far beyond on a clear day.
We ascend and I lose myself in a forest of pinnacles, spires and sculptures. There are 135 spires and more than 3,000 statues up here, and on this fine day I'm greeted by gorgeous views of the snow-capped Alps in the distance. I can see why Alex insisted on dragging me up here first. And from my privileged position on the rooftop, I can see a sea of roofs, roof terraces and Milan's gleaming modern skyscrapers along the horizon. (See www.duomomilano.it/en for information on events, prices and opening times.)
Smug about my cultural exploits, I feel entitled to a bit of retail therapy and we make a beeline for the elegant Rinascente store on the Piazza. I love it, and with a nimble step I enter this Aladdin's treasure cave. Alex is lumbering at the rear – he is a reluctant shopper at the best of times. Even he perks up though, to enjoy the displays of designer coffee machines and other beautiful objects. I later find him admiring various unidentifiable yet beautiful designer gadgets in the 'Home and Design' section.
I highly recommend a visit to the Bar Milano in la Rinascente. It's elegant and slick – a tad too nippy for the outside terrace at this time of year, but if your scarf is warm enough, you could brave the cold and take a whipped cream-topped hot chocolate out there (for €8). The rooftop terrace offers spectacular views and a fun juxtaposition of styles to the Gothic Duomo next door. After a spot of shopping, we stroll through Milan's other place of worship, the Galleria Vittorio Emanuele II, which links the Piazza Duomo with the Piazza della Scala.
The Galleria is one of the oldest and most beautiful shopping arcades in the world. Built in 1877, its glass and cast-iron vaulted ceilings are reminiscent of other 19th century arcades, like Burlington Arcade in London. Even my reluctant shopper, who's seen it a thousand times, agrees it's gorgeous. The Galleria is the place to see and be seen in Milan, and it is where business and other affairs are discussed in its bars, cafés and restaurants. In fact, it's known as 'Il Salotto di Milano', (Milan's drawing room) and is a monumental celebration of design, fashion and business.
It doesn't really help me with my Christmas list as it's pretty high end, but I thoroughly enjoy perusing and stopping to admire the lovely bookshops (and Prada). Alex runs a mile though, when I find the mosaic of the bull and insist on spinning on its balls! Tradition has it that for good luck you dig your heel in and spin backwards on the bull's balls three times. No bulls are harmed in the process and I'll keep you posted.
We emerge from the Galleria onto another of Milan's must-see landmarks, the Piazza della Scala, with its statue of Leonardo da Vinci and the world famous Teatro alla Scala – www.teatroallascala.org/en.  If you check the Scala website, you'll discover that there is plenty to enjoy in terms of opera, ballet, recitals and even cinema. And the museum, which is inside the Teatro is a baroque extravaganza in itself. I have to make do with a cursory look as I don't have time on my side on this trip, but I do make a mental note to be more organised next time and book in an evening's opera experience.
The rest of the afternoon, much to Alex's exasperation, is taken up with more shopping, or window-shopping at least! I drag my somewhat unwilling guide towards Via Montenapoleone, which is perfect for the discerning shopper and the most famous in Milan's Quadrilatero della moda, and then there's the gorgeously elegant Via della Spiga.
After Via Montenapoleone, we zigzag our way towards Via Broletto, and Via Moscova with its upmarket shops and funky bars. The Bialetti moka shop is great fun and well worth a look, especially if you are after a little Christmas present inspiration for your favourite coffee lover. We stopped in a creperia in the area too and indulged in a pancake with nutella and whipped cream before heading down Corso Garibaldi, as Alex skilfully guides me towards Eataly (his stomach is never too far from his thoughts), which is filled with delicious Italian specialities. I have to limit myself to a handful of delicacies elegantly packaged for Christmas, but ooh, the temptation…
Porta Nuova is the main business district for the city, and looks much renovated since my last visit. I love the daring new buildings and modern architecture. Oh, and did I mention that there are some interesting shops there too?
Alex took me to Corso Como for an evening out, as his beloved Eataly is nearby, and insisted I partake in a selection of Italian goodies. We enjoyed the fritto misto for around €15, all washed down of course with copious quantities of prosecco! My second day dawns a bit grey and drizzly, but no matter. Alex and I head out to the huge medieval renaissance Sforza Castle, the Castello Sforzesco, which is great place to spend some time when the weather isn't so good.
The Castello also houses some of the city's main art collections and exhibitions, as well as the Pinacoteca del Castello. Here you can see Michelangelo's last sculpture, the Rondanini Pietà. We spent a pleasant morning mooching around, but if you have more time you can also visit the Museum of Ancient Art, The Furniture Museum and the Museum of Modern Instruments. (See the website at www.milanocastello.com/ing/permanenti for details of prices
and opening times.)
Another highlight from my whirlwind weekend visit is the almost bohemian zone in the southwest part of the city known as the Navigli canal area. Only three canals survive from this former 150km-long water way, which was used for irrigation and transportation as far back as the Middle Ages. Thanks to these canals, Milan is linked to the Adriatic. In the 1980s houses began to be renovated and artists moved in, breathing much needed life into the neighbourhood. Now the canals are peppered with bars and restaurants and there are several antique and design stores along its banks. I find it utterly charming and relish nosing about amongst the flea markets and stalls.
Alex is off photographing some romantic-looking barges which now house restaurants and trendy cafés that spring into life at aperitif time, (around 7.30pm). "Oh, and you can also find bargain second-hand clothing including shoes and handbags at the Saturday market," he adds, almost ruefully, knowing I'll find this snippet of significant interest!
Tags:
Culture
,
Milan
,
Photos