Sara Scarpa flies south to visit a unique town in Basilicata that lives in the imagination of all Italians…
Photos by Iain Reid unless otherwise stated
Lots has been written about this mystical and historic town in the otherwise little-known and rarely visited region of Basilicata. Part grotto, part subterranean wonderland (it is known as the Città Sotterranea, the Underground City) and fully beautiful and unique, the town and its long and chequered past have been part of my consciousness for as long as I can remember. And now I was finally going to travel to the far south of Italy to search for the answers to all the questions I have had about the place.
We flew to Bari, where we were warmly met by our prearranged driver, Davide. Matera is sixty kilometres from Bari so you have the pleasant experience of travelling through Puglia before you cross the border into Basilicata and arrive at your destination. Though much of the Puglian landscape is dry and barren it is picturesque as the terrain is littered with gnarled olive trees growing a bright orange soil. Surprisingly to us, however – and mortifyingly so for Davide – the weather had taken a turn for the worse. There was a heavy storm blowing, which for us only gave a more eerie feel to the contorted and crooked countryside.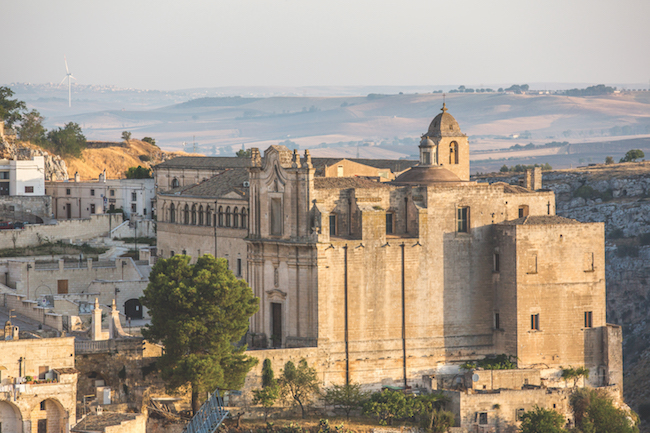 Hell or Paradise?
We were promised by Davide that the uncharacteristic weather would be fleeting, and his company and knowledge of the region we were driving through made for an interesting journey anyway. Davide is not just a driver, you see. He knows Matera and its surroundings like the inside of his pockets. He has lived through its history and problems and, like so many Materani, he is passionate when it comes to the subject of his city.
"Hell or Paradise?" I asked Davide with a cheeky smile. I was intrigued to know what he and
the older generations from Matera really thought of the place.
Davide was refreshingly honest in his reply. He could see both sides of the city. He reminded
us that during the 1950s Matera was called the "shame of Italy". People lived in overcrowded caves they often still shared with their animals; plumbing and electricity were non-existent; there was no natural light, ventilation or running water. Malaria, dysentery and malnutrition were rife.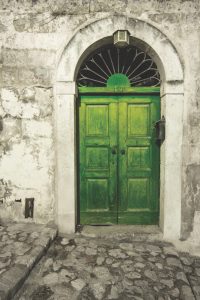 It is from that period of poverty that Matera's notoriety comes, and the many comparisons to the Dantean conditions of Hell. (These awful conditions are well described by Carlo Levi in his book Christ Stopped at Eboli.) Because of these extreme conditions, in 1952 a law forced people to abandon i Sassi (the Stones) and for the following 40 years the part of the town for which it is famous, or notorious, stood entirely empty; a city of ghosts.
But for many people i Sassi were never forgotten and in the 1990s a phase of restoration began. Matera, now rejuvenated, yet always in keeping with its natural surroundings, is now on the brink of international celebrity status as it will be the European Capital of Culture in 2019.  To Davide and to his family, the Stones are not the symbol of the underdevelopment of southern Italy, as they have often been described in the past. On the contrary, they represent a miracle. "They are the living symbol of the determination and skills of the men and women who in a few years turned them into elegant and comfortable dwellings."
It is extraordinary to think that this big complex of dwellings – which are in part natural caves that have been extended and in part man-made caves dug into the rock – extends back many thousands of years. Indeed, Matera is recognised as being one of the oldest continuous settlements in the world.
From a distance the city looks like a complex abstract sculpture. In a wild landscape, some 1,500 caves honeycomb around the flanks of a deep and steep ravine formed by the action of the river and the fractures of the earth.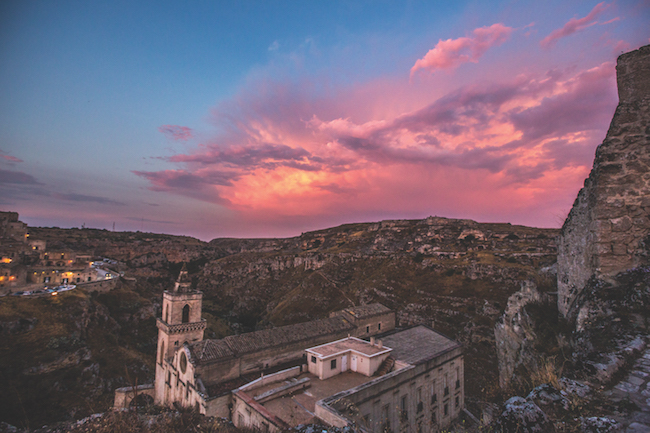 Peace and quiet
As soon as we arrived in Matera the rain stopped, so after dropping our luggage off at the hotel we immediately set out to explore the ancient part of the city, which is composed of the two Sassi – Sassi Barisano and Sassi Caveoso. Quiet narrow alleyways, archways, old stone staircases, little courtyards… Almost no trees or grass anywhere, just rocks and some bright green prickly pear cacti; the odd person walking around – and lots of skinny cats wandering in search for food, and. Despite the redevelopment, the ancient part of Matera is still quiet, eerie perhaps, but peaceful.
In the evening, with all the pretty lights that come on, the place resembles a magical nativity scene. No wonder it was chosen as the set for Mel Gibson's The Passion of the Christ. In fact, it has doubled as Jerusalem or Nazareth in numerous film and TV productions.
What you are able to take in, however, is just a small percentage of Matera as most of it is still hidden. The rocks are riddled with tunnels, caves and subterranean cisterns. More than 150 rupestrian churches are dotted around the area; most go back to the 8th and 9th centuries and have fantastic frescoes in the Byzantine style.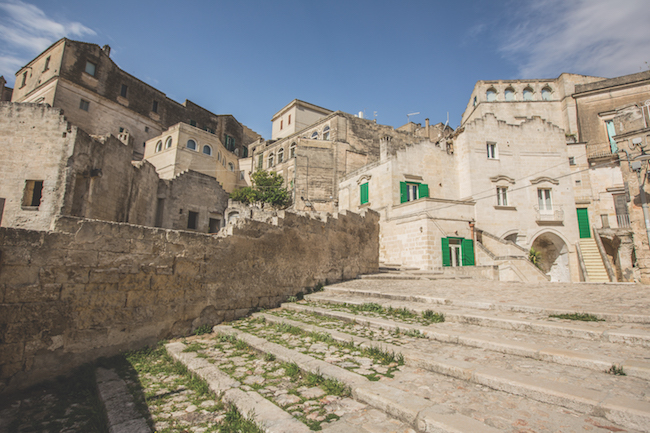 Pane di Matera
After visiting the churches of Santa Maria de Idris and Santa Lucia alle Malve, we headed down towards the main street. We liked the look of an unassuming restaurant that reminded us of the entrance to a Venetian osteria. Outside, on a wooden table, a huge loaf of Materan bread was on display. Curious, we stopped to take a photo of the bread and Silvio came out. After introducing himself as the owner of Pane & Pomodoro he explained that this bread, which bore an IGP mark (PGI, Protected Geographical Indication) is the symbol of the city. Its taste and its shape (it resembles a chain of hills much like the Murgian landscape) are a centuries-old tradition. Until the 1950s all families in Matera, including Silvio's, shared the town's wood ovens and had to mark their bread with their family's wooden stamp so that everyone knew which bread belonged to whom.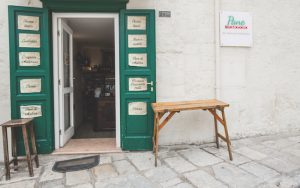 We decided to sit down for dinner. From Silvio's knowledgeable and enthusiastic conversation you get a strong sense of his love for Matera and for the local produce. He took us to his pretty roof terrace and sat us at a table next to a fig tree, with fruits overflowing as it was the end of the summer, and we started ordering some of the local specialities from his menu.
Our new friend joined us at the table for a chat while we waited for our food and told us about his family, who used to live in one of the nearby vicinati, small courtyards enclosed by houses where, in the past, people spent much of their communal life; they were places where three to five families lived like one big extended family.
Silvio offers us a bottle of Mathera, a great beer he produces locally with a friend. Soon Antonio, the young waiter, arrives with the starter, la cialledda. This is stale bread mixed with fresh chopped tomatoes, red onion, carosello (a local cucumber), oil and oregano. Like most typical food from Matera it is simple but divine. The cialledda comes from the verb 'to chat', referring to the fact that in the past people living in the vicinati used to all cook together and chat at the same time.
We then have a crapiata (a soup of legumes, cereals and potatoes) and a plate of strascinate with crema di fave e peperoni cruschi (a typical pasta with a purée of fava beans and local red pepper). To end our dinner we have a delicious dessert made with pistachios from Stigliano.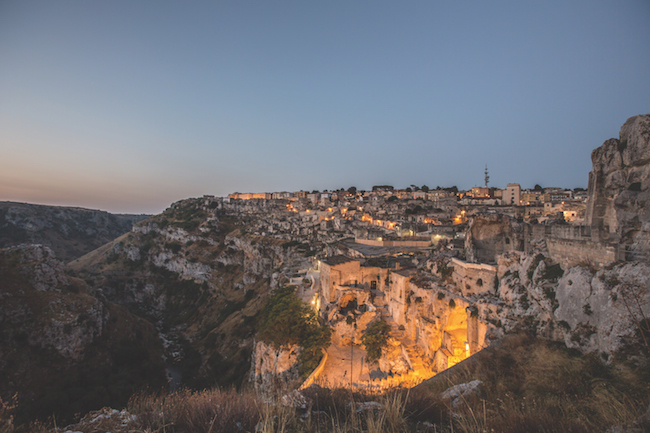 Sleeping in a cave
After this typical local dinner we headed to our hotel, excited to live the incredible experience of sleeping in a cave. I had in my mind something like a troglodyte cave but this place was not like that at all. It is stylish, with vaults and niches filled with candles, and has its own private terrace. It is the perfect place to switch off and relax in the dim light; to enjoy the tranquillity of the surroundings and feel the city's primitive spirituality.
We do need a good sleep as Iain has set the alarm for 5am so we can walk to the top of the hill and catch the sunrise over the city. I am not an early bird as a rule, so I really struggle, but the view we get really makes up for the extra effort. It is just beautiful. Like a child I admire the landscape around me. It is almost like being dropped in the middle of a Flintstones setting, a world from a different era, almost unreal. But you still have the awareness that nothing here is manufactured and that most of what we can see has been standing here for many centuries.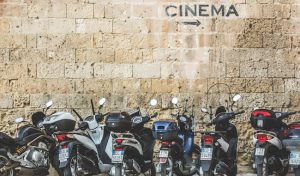 We then start walking towards the newest section of the city, looking for a strong coffee to wake us up and a substantial breakfast. We have a stroll. Piazza del Sedile and Piazza Vittorio Veneto is where all the local life and the buzz is taking place. The place is crowded with locals as Chiesa di Santa Chiara is just getting all set up for a wedding. Pretty flowers have been laid down at the entrance of the church as a path to welcome the bride, and everyone looks excited.
After trying some more delicious specialities at Trattoria del Caveoso, we pick up a cucù as a souvenir from one of the stalls. This is a local characteristic ceramic whistle made in the form of a rooster decorated in bright colours, and with a love story linked to it.
It is with sadness that we have to say goodbye to Matera and to the friends we have made along the way. This was our first visit to Basilicata and everything we have experienced means it won't be long before we return. On a positive side this is just our first stop before a long holiday in the nearby region of Puglia and we are quite content about the fact that we have managed to visit la Città dei Sassi while it is still relatively quiet, before it becomes European Capital of Culture in 2019. This is a unique and wonderful corner of Italy!
Click here for Sara's Matera travel guide.