From ancient to exotic, Cagliari has it all. Sardinian resident Heather Browne spends a weekend getting to grips with the island's colourful capital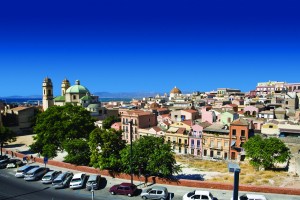 In attractive centre boasting vibrant culture and history? Check. A mild climate that regularly permits shirtsleeves in January? Check. One of Europe's longest beaches? Check. No, it's not Barcelona but Italy's latest contender for the year-round weekend destination crown – Cagliari. Sardinia's historic capital is situated on the south coast of the island, making it tantalisingly nearer to Africa than mainland Italy. Its location means that while summer temperatures soar to 35ºC, winter daytime averages are around 18ºC making it an enticing option for an out-of-season break.
Strange and wonderful
Its geographical setting also gives Cagliari a unique identity. When DH Lawrence visited in 1921 he observed: "It is strange and rather wonderful, not a bit like Italy… Lost between Africa and Europe, belonging to nowhere." While the city has changed dramatically in the last 80 years – not least due to Allied bombing during World War II – Cagliari maintains an exotic reputation. The vast Poetto beach, lagoons of flamingos and colourful past combine to lend it a seductive air.
Yet on an island better known for yachts, international celebrities and luxury living, it remains refreshingly down-to-earth. Established by the Phoenicians in the 8th century BC, this fast-growing city of 165,000 inhabitants is now looking to the future with exciting projects set to revamp the cultural and architectural landscape and encourage visitors.
There's a lot of local rivalry between Cagliari and Sardinia's second city, Sassari, where I have lived for three years. I decided it was time to take my boyfriend Marco to see how the city is changing; I wanted to see if it was still as "lost" as Lawrence suggested, and whether Sassari-born, Cagliari-loathing Marco would change his mind about his capital.
A warm welcome
We arrived on Friday afternoon and the wide avenues and spectacular views of the Mediterranean beyond immediately charmed me. In the passenger seat of my tiny Fiat, Marco was less impressed. "Sassari isn't this busy," he sighed as we struggled to find a parking space.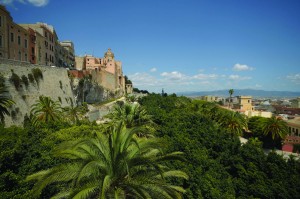 Cagliari's old centre is composed of four districts: Marina, Stampace, Villanova and Castello. From the port we trekked up the steep, warren-like streets of Castello – a medieval walled quarter built on a hill overlooking the sea. Lawrence likened it to Jerusalem and it retains a Middle Eastern charm. Walking along, we caught intimate glimpses – a lamp-lit window revealing a faded fresco, or a clothes airer displaying shirts and undies.
Sorry, did I mention the hill? By the time we arrived at Via Canelles we were out of breath. Thankfully, we received a warm welcome at Kastrum bed and breakfast by owner Valentino Sanna who took us up to the roof terrace for a cool drink. Our slog had been worth it. The B&B is on the top floor of a beautifully restored 18th-century townhouse, and the terrace's panorama stretches from the city's mountainous backdrop, past the port and centro storico rooftops and eastwards to the coast and pink-tinged lagoons. I could have stayed all day but Valentino encouraged us to visit the nearby highlights.
Opposite the B&B lies the 13th-century Cattedrale Santa Maria del Castello. Lawrence said it had gone through "the mincing machine of the ages", so mixed was its architecture. Ten years after the writer's visit it was re-minced and now has an attractive Romanesque façade. Next door, the neo-classical Palazzo Viceregio, once the official palace of Piedmontese kings, revealed a sumptuous interior contrasted with an exhibition of minimalist works by Sardinian sculptor Costantino Nivola.
After a sweaty hike, we arrived at the Cittadella dei Musei – a group of museums built on the site of the former Royal Arsenal. We popped into the Museo Archeologico – the island's best collection of remnants from its prehistoric, Phoenician, Carthaginian and Roman past. We both loved the bronze statues of warriors and nursing mothers from Sardinia's mysterious nuragic culture.
Following Valentino's advice we then scaled the Torre dell'Elefante – one of a pair of restored Pisan towers built in the 14th century to hold off invading Aragonese. The little white elephant sculpture on the side gives it its name and we were again rewarded with great views.
After so much physical exertion we stopped at L'Isola del Gelato on Piazza Yenne for a refreshing cone. The fluffy ice creams here have been produced by the Sicilian Giamberduca family for three generations – flavours include Nutella and prickly pear.
By then the sun was setting, so we hauled ourselves up the white steps of the Bastione di San Remy to watch the sky become a deep pink. On the huge terrace we found Cagliari's beating heart. People from all walks of life had gathered for sunset: children playing, tourists taking photos and teenagers gossiping under the palms.
We agreed it was a magical place as we headed to nearby Caffè degli Spiriti and settled down into one of the comfy sofas for an aperitivo overlooking the twinkling city lights. Then the bill came. "You'd never get charged that much in Sassari," Marco tutted. Oh dear.
Sensory awakening 
Saturday morning started with a sensory awakening at San Benedetto market. Cagliaritani from across the city come for fish, meat and more. The jostling crowds, stallholders' banter and towers of produce were wonderful, if a little overwhelming. The fish section is particularly fun with unusual goodies including razor clams, miniscule baby mullet called gianchetti, and bottarga – dried mullet roe, which is an island speciality.
Our heads spinning, we retired to the nearby T Hotel for some pampering. Once a derelict telecom tower, it recently became Cagliari's top hotel after an ultra-modern makeover by top Milanese architect Marco Piva. It forms part of the under-construction Music Park – a landmark development around the adjacent opera theatre, set to include one of the world's largest piazzas. The plush pool, Turkish bath and aromatherapy showers here are fit for the rich and famous, but for just €25 I enjoyed one of the most relaxing 90 minutes of my life. Even spa-virgin Marco was sold.
Refreshed and recharged, it was time to join the Italians at what they do best – lunch. Thankfully I'd booked ahead at Da Lillicu in the Marina quarter. We were the first to sit down but within ten minutes it was full and a queue snaked out the door. The family trattoria has been going since 1943 but the formula hasn't changed – simple surroundings and good Cagliaritani cuisine.
Rick Stein popped in during his BBC series Mediterranean Escapes and we quickly worked out why. Plate after plate of fresh fish antipasti whirled out of a hatch and onto the tables. The gianchetti I had discovered at the market reappeared in lightly battered clusters along with sardines with vinegary tomatoes, meaty chunks of tuna and delicate baby squid.
Stefano Zucca, who runs the trattoria with his three brothers, explained the secret: "We have no menu – it changes every day depending what we buy at market. We are by the sea here so naturally you won't find inland Sardinian classics like suckling pig. Here it's all about the freshest fish and red wine. Cagliaritani drink red wine with everything." Our chilled Monica was certainly a good match for the linguine with clams that followed.
Taking in the sights
After lunch we strolled under the porticos of Via Roma, Cagliari's main street that runs alongside the port. We wove past overpriced bars before turning up Largo Carlo Felice and along Via Manno for a spot of window-shopping. Caffè Tramer on Piazetta Martiri d'Italia was too tempting to miss – opened in 1857 it looks like a museum piece – the walls are decorated with original brown and white tiles and are lined with jars of sweets and spirits.
A strong espresso and a house special meringue (greedy, I know, but they looked so good) gave us the energy we needed to trek up to the Roman amphitheatre. Usually open to the public, it was irritatingly closed due to a pop concert that evening. However, peeking through the fence we got a glimpse of this arena cut out of solid rock in the second century AD. It's not quite as impressive as it was in its heyday as much of the stone was later used to build churches. But amongst the modern staging you still get a feel for its bloody history.
I had been keen to see the nearby Orto Botanico as it's said to be one of Italy's finest, and I wasn't disappointed. OK, it isn't Kew, but botanist Patrizio Gennaro's creation, begun in 1866, has grown into a cool oasis of shady ficus trees, pools of waterlilies and towering cactuses that mingle naturally with the ancient ruins dotting the site. Our guide Antonello led us through a passageway dug into the rock to a 100,000-litre water store excavated by the Carthaginians in 600 BC and used by the Romans to supply the amphitheatre. By the end of our tour we were both spellbound.
Back on the Bastione, the setting sun signalled party time and bar De Candia soon evolved into a pulsing milonga. With cocktail in hand, the tango beat drifting into the night sky, it was the perfect end to the day.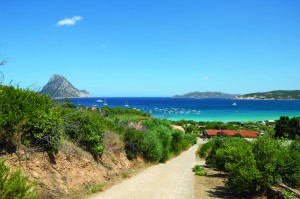 Sunday morning gave us a last chance to enjoy breakfast on the B&B's terrace before we set off for Cagliari's watery highlights. Driving east of the city we passed its most important religious site, the Santuario and Basilica di Bonaria. The sea briefly disappeared behind a modern sprawl including Cagliari's football stadium Sant'Elia, then suddenly the Med reappeared as Poetto; seven kilometres of sandy beach and azure waters, it is known as 'the living room' for a good reason – when the sun shines every self-respecting Cagliaritano comes here. Thankfully, it's so big that it's never really crowded. Marco was seriously impressed. "Platamona is nothing compared to this," he confessed in reference to Sassari's lido.
With appetites sharpened after a dip in the clear waters we lunched at Ricciomania – one of the kiosks serving local fish to crowds seated at plastic tables. The linguine ai ricci (sea urchin) were a bargain.
Seduced and converted
Our final stop was the Stagno di Molentargius where we watched flamingos serenely going about their business. The lagoons around the city are the second largest area in Europe (after France's Camargue) where these exotic birds have settled. As the flamingos took flight, so did we. But we were sad to go. In two days, the panoramas, diversity and great food had seduced me and converted Marco. Lawrence described Cagliari as "lost". With its ancient past, cosmopolitan outlook and neat combination of sea and sights, it won't stay that way for long.