Over forty years after he last went there, Sebastian Cresswell-Turner revisits Zia Teresa, the venerable Italian restaurant in the heart of London's Knightsbridge …
 
Long ago, when my family lived in Gloucestershire, London was a distant and exotic place which we visited once a year. For weeks before, my brothers and I would fantasise about the delights that lay in store, and the big day itself always followed the same pattern. Up early and into our best suits; then the long journey by car up to the almost mythical capital; several happy hours in the Natural History Museum; and then, unfailingly, lunch at Zia Teresa, the Italian restaurant immediately opposite the western flank of Harrods. This treat was all the greater in that we knew that it preceded a visit to the famous pink-bricked emporium itself where, in those days, it was not inconceivable that we might see the Queen shopping.
Zia Teresa was therefore a fixture of my childhood, the only restaurant in London that I knew, and a byword for excitement and adventure. I suppose that the last time I went there was in the early 1970s, and perhaps because one hesitates to test such memories, I never went there again – until last week, when I discovered that not only is this place still thriving, but that it is almost entirely unchanged.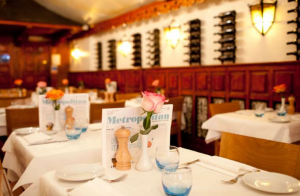 The high panelled dado, the bottles of wine in racks on the walls, the mosaic portrait of a reclining Roman goddess, the trompe-l'oeil clouds on a blue ceiling, the cast-iron chandelier … all this is just as it was forty years ago. Furthermore, by dint of the simple fact that it has not changed one jot for so long, Zia Teresa has become part of the gastronomic history of London; a journey back in time, almost.
We are welcomed by the friendly magager, Paolo Silini, who shows us to our table and produces glasses of aromatic prosecco and a bowl of huge and tender pale-green olives from Puglia. It emerges that this trattoria is now in the third generation of ownership by the same family from the north of Italy, and still serving very much the same clientèle as when I was a boy – shoppers from Harrods, a solid core of local regulars, and also visitors from outside the capital for whom this is their trusted London restaurant. Although it is a Wednesday night, the place is busy and clearly popular. There are white tablecloths and proper linen napkins … and – what a relief! – no music.
For the antipasto, my calamari fritti were just what I wanted, and fairly priced at £9.95; whereas although my dining companion's burrata was rich and creamy, the tomatos that accompanied it were the only outright disappointment of the evening, and the £16.95 price-tag was decidedly steep.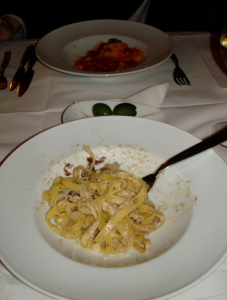 Luckily the restaurant redeemed itself immediately with the primi. My companion went for the fettucine della zia in a cream, truffle and radicchio sauce. This dish, the house speciality, was quite exquisite and also very fairly priced at £12.95. My straccetti alla Papa Sesto (£12.50) with tomato and Tuscan sausage sauce were delicious, too, although outclassed by Zia Teresa's own tried-and-tested favourite.
Our wines for the evening were a Greco di Tufo with excellent minerality, and a Chianti Classico that tasted like Tuscany in a bottle. At £42 and £47 respectively, they were an admittedly spoiling choice; but we noted that Zia Teresa's house wine costs an affordable £19.95 per bottle, both red and white. No problems there. Nor, indeed, with the 'express menu' for those in a hurry or on on a budget (two courses for £15.95 or three for £18.95).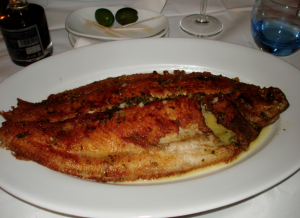 For the secondo, my companion had the sogliola alla mugnaia (£22.95), a huge great pan-fried lemon sole with lovely crispy skin, tender flesh, and done to perfection. This could easily have been a meal in itself. I had the ossobuco (£22.95), rich and delicious, and accompanied, rather to my surprise, by a risotto which was more than I could cope with, but which provided further confirmation that Zia Teresa is not the sort of place that serves up mean little designer portions.
By the time it came to the dolce, a shared tiramisù was quite enough. Plus, it was ten o'clock and this respectable family establishment was already almost empty. Time to go, and to reflect, as we left, that some childhood memories do in fact stand the test of time.
Zia Teresa … 6 Hans Road, London SW3 1RX … 020 7589 7634 … www.ziateresa.co.uk … open Monday to Saturday midday to 11pm; Sunday midday to 7pm.