Massimo Bottura is one the world's most famous chefs but do his abstract ideas pay off?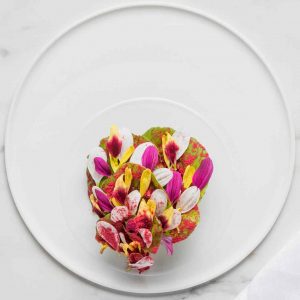 The restaurant Osteria Francescana, was named number one in the World's 50 Best Restaurants awards this year. It is located in Modena and native, Massimo Bottura owns and runs the show.
This foodie palace has been in the top five best restaurants in the world since 2011.  It is also, according to Michelin, the best restaurant in Europe.
Tanya Gold, a guardian writer, went to visit this place and experience it for herself to discover whether or not it really does live up to the claims.
Gold's first impressions are this – "the entrance is a glass door in a pink wall on a cobbled street. A brass plate with the outline of a chicken is pinned to the wall; for some reason, I like this chicken. It comforts me, for chickens are normal."
To be honest we would probably feel the same, wondering what minimalist food art is about to arrive on our plates and what's the price tag?
"A waiter, also one of three, brings water…We choose the seasonal tasting menu, for €250 each (about £215). The wine pairing menu is €130 extra, but I don't drink alcohol. Nothing else is offered, and this is not a place to order Sprite."
In the first year of opening the whole of Modena ate here, it is no longer that place, instead this is where comfortable, who spend their money on experiencing things come.
"I meet a young married couple from Houston, Texas. They have flown to Modena to eat here, and will fly away in the morning. They are happy. No, that is inaccurate: they are thrilled."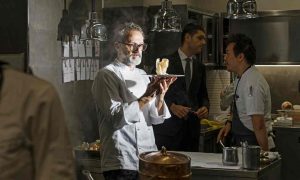 Bottura is one of the best amongst a group of chefs including Heston Blumenthal, René Redzepi of Noma, Thomas Keller in the US. They are all wondrous and ludicrous.
The restaurant is almost like an art gallery simply showing Bottura's obsession, which it really is, with art – one of his favourite artists is Damien Hirst and his work features in one of the rooms in the Modena restaurant.
One of Bottura's most famous dishes is 'The Five Ages Of Parmesan' and he probably deserves it as it has taken him two decades to perfect it. It is, as it says, five cheeses of different ages: a sauce, an "air", a demi-soufflé, a foam and a galette, which stands above the rest like a tiny spaceship. Tanya explains that "the description, again, is ludicrous – "the white on white monochrome is a portrait of the Modenese landscape covered in fog and silence".
Time for dessert, Gold took a mouthful of Bottura's finale called 'Oops, I Dropped The Lemon Tart!' It is served on a specific plate, which looks as though it's been dropped and put back together again. The dish, too, is a broken one: a splash of yellow; a broken biscuit; lemon; sugar. But this time Gold is impressed – 'It tastes superb.'
Massimo Bottura is surely one the greatest chefs and artists combined but this writer and critic says she does "not know if this is the best restaurant on Earth, or even if such a claim is possible."
These list are most likely put together for marketing, because the magazine that run the competition get global coverage. However,  Gold finally gives her verdict – "It is not my kind of food: too arch, too needy. But I can tell you, having eaten here, that Massimo Bottura is an artist, and that artists must be allowed to succeed, and to fail."
This feature first appeared on The Guardian