These Risotto Stuffed Tomatoes by Lakeland are the perfect summer starter!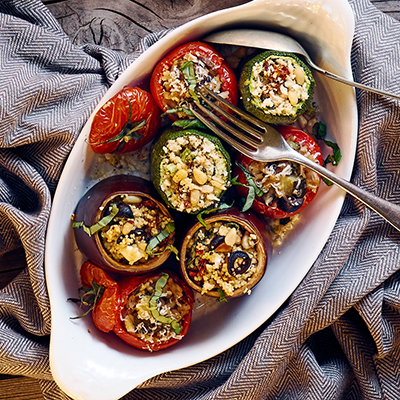 Ingredients:
6 large salad tomatoes
25g risotto rice
2 tsp olive oil
1 spring onion, finely sliced
25g courgette, roughly chopped
25g chestnut mushrooms, sliced
125ml vegetable stock
½ tsp dried mixed Italian herbs
4 fresh basil leaves
2 tsp Parmesan (or vegetarian alternative), finely grated
Salt and black pepper, for seasoning
Method:
Slice the tops off the tomatoes. Hollow out the centre of each tomato using the appropriate sized drill (being careful not to go all the way through to the bottom) and stand them upright in an ovenproof dish. Reserve the tomato pulp and seeds from the inside.
Fry the rice in the oil on a low heat for 2 minutes, stirring frequently to stop it from browning. Add the spring onion, courgette and mushrooms and fry gently for 2 more minutes.
Preheat the oven to 190°C/Gas 5. Pour the stock into the rice and add the herbs and reserved tomato pulp and seeds. Cook gently for 10-15 minutes, stirring frequently, until the rice is tender and the stock has been absorbed.
Remove from the heat, tear in the basil leaves and scatter with Parmesan. Season with salt and black pepper and stir well.
Fill each of the hollowed out tomatoes with the risotto. Grate a little extra Parmesan over the top and bake in the oven for 15 minutes until tender.
Tags:
food
,
Food and drink
,
Lakeland
,
Recipes
,
Tomatoes