Ricotta cake is hugely popular in Naples. This dish must be left to cool completely. I find it is better if you leave it to cool overnight in the fridge before eating. Add a spoonful of pine nuts for a different texture.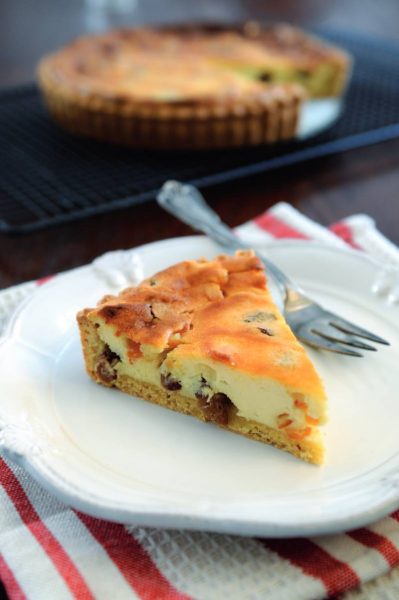 Recipe and photo: Mario Matassa
• MAKES One 24cm tart
• PREPARATION 15 minutes
• BAKING 40-45 minutes
Ingredients
• 400g shortcrust pastry
• 500g fresh ricotta cheese
• 1 free-range egg
• 2 free-range egg yolks
• 60g golden sultanas
• 60g candied peel
• 125g caster sugar
Method
1. Preheat oven to 170°C/Gas Mark 3 and grease and line a 24cm, deep tart tin.
2. Roll the shortcrust pastry to fit the tin and carefully line it with the pastry. Place the pastry in the fridge while you make the filling for the tart.
3. Force the ricotta through a sieve into a large bowl to remove any lumps. Add the eggs and sugar and stir together well. Finally, fold in the sultanas and candied peel.
4. Fill the pastry case with the ricotta filling and bake for 40-45 minutes. Remove from the oven and allow to cool completely before serving. It will keep for 3-4 days in the fridge.