These Costolette d'agnello con crosta di pistacchi are the perfect midweek meal.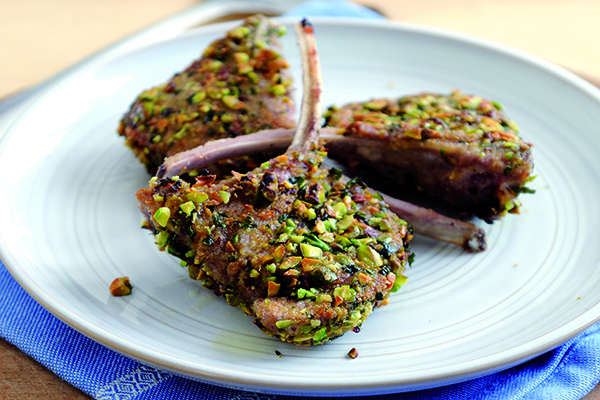 Serves: 2       Prep: 10 minutes     Cooking: 10 minutes
Ingredients:
6 lamb cutlets
40g pistachio nuts, roughly chopped
2 tbsp fine breadcrumbs
1 tbsp finely grated mature pecorino cheese
1 tbsp finely chopped flat-leaf parsley
1 small free-range egg
2 tbsp olive oil
salt and freshly ground black pepper
Method:
Begin by trimming any excess fat off the lamb cutlets. To make the crust, mix the pistachio nuts in a bowl with the breadcrumbs, pecorino and parsley. Crack the egg into a separate bowl and whisk.
Season the lamb cutlets with salt and pepper, then dip the cutlets individually, first into the beaten egg,making sure to coat both sides, and then into the crust mixture. Apply light pressure to make sure the coating sticks well. Coat the cutlet on both sides and repeat this process until all the lamb cutlets are covered.
When you are ready to eat, heat the oil in a large heavy-based frying pan and fry the lamb cutlets over a medium heat (not too hot as the nuts will burn) for about 3 minutes on each side. Serve immediately.