We review an assortment of Italian olives to find the best variety and flavour

Much of the landscape in Italy has been shaped by olive groves, making it one of the defining characteristics of the country. Indeed, the Mediterranean as a whole has had a long love affair with these humble fruits. The four main types of Italian olives to look out for are Liguria, Ponentine, Gaeta and Lugano. There is a simpler distinction by colour ? green and black ? which also have separate traits. The only difference between the two is ripeness; unripe olives are green, whereas fully ripe olives are black. There is more to look out for, however. When buying green olives, you should seek a smooth appearance, glossy texture and firm attachment to the stone. Black olives, on the other hand, should be shiny yet wrinkled, have a strong, liquorice flavour, a slight bitterness and pull away from the stone easily. Olives plucked straight from the tree are ? we can assure you ? not as pleasant as their preserved counterparts. Because they have an inherent acridity, olives are nearly always placed in brine or oil before being sold. Of course, a great deal of Italy?s olives are turned into olive oil ? but for those lucky enough to escape, they are packaged, seasoned and sent over to us instead.
Editor's Choice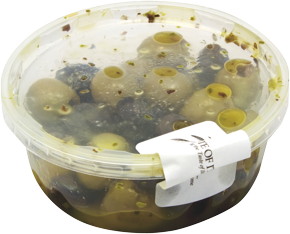 Olive Mix
From Taste of Italia, www.tasteofitalia.co.uk
Price ?2/100g
Although these olives were (rather controversially) the only pitted variety in our selection, they were also the first to be gobbled clean by our taste testers and for that we have to pick them as our favourite. They have a clean, fresh flavour and are undeniably moreish ? that?s down to the ease of consumption, we?d imagine, and being just the right size to be served as antipasti. When you order them, they are unceremoniously plonked in a plastic tub, but we?re not too concerned by the appearance. These are a good, scoffable variety of mixed olives ? with a slight floral quality ? which would sit well on anyone?s table.
VERDICT *****
These tasty mixed olives have a clean flavour and are popular all rounders ? with outstanding good value for money, too.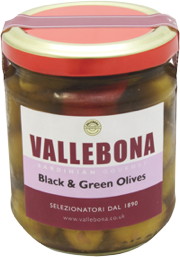 ………………………………….
Black and Green Wild Olives
From www.vallebona.co.uk
Price ?4.80/200g
We?re not entirely sure what makes these olives ?wild?, but we did enjoy this small, powerful variety that really packs a punch. The oil is infused with chilli, bay leaves and rosemary sprigs, giving each olive a real depth of character and complex flavour. They look particularly pretty poured into a bowl ? the colourful mix needing no extra attention from the avid chef. The only addition we?d like is a bit more spice from the chillis.
VERDICT ****
These small, infused olives have a powerful flavour and a significant amount of salt.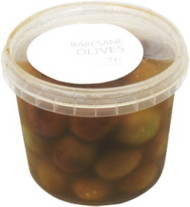 ………………………………….
Baresane Olives
From www.natoora.co.uk
Price ?2.95/370g
The colours of these large Italian olives are quite unusual, with an autumnal change from fresh green to nutty brown throughout the selection. There?s a smell of rustic cider about them, but a real variation when it comes to taste. Some of us found the skin a little dry and papery, whereas others thought they were juicy and succulent. On closer inspection, we discovered there was a slight inconsistency between olives ? perhaps due to being marinated for different lengths.
VERDICT ***
A slightly inconsistent mixture, but when it?s good it?s really very good!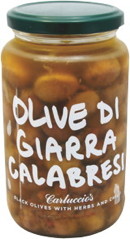 ………………………………….
Olive Di Giarra Calabresi

From www.carluccios.com
Price ?5.95/500g
Quite a monster of a jar, this Calabrian selection would be a good investment to keep in the cupboard. The olives themselves have a sweet and sour contrast to them ? one minute all vinegar and the next a mushy, sweet mouthful. They are quite an intriguing colour, with a mottled brown, apple-like skin, and look wonderfully authentic. But overall we weren?t quite convinced by the flavour, and it was tough to eat more than one at a time.
VERDICT ***
This large jar didn?t deliver on flavour, but had a wonderful mottled-brown look.
………………………………….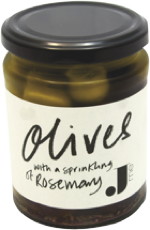 Olives with Rosemary
From Jamie?s Italian Deli
Price ?3.95/250g
You can find these olives online, too, so don?t panic if there isn?t a deli on your doorstep! We loved the delicate addition of rosemary which gave it a light, aromatic quality, followed by a pleasantly firm and crunchy skin. The flavour isn?t too strong or salty, so can be enjoyed by most people, and we liked the mixture of lighter green ones and darker, bolder black olives. Bit pricey for the amount, but a tasty choice.
VERDICT ****
Sweet rosemary balances the flavour ? perfect with a couple of martinis.
………………………………….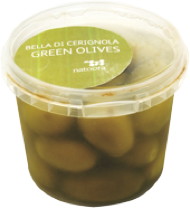 Bella Di Cerignola Green Olives
From www.natoora.co.uk
Price ?3.95/370g
By most accounts, these were more appealing than the other offering from Natoora ? and such huge, rotund green olives are quite a sight to behold. There?s a hint of anchovy when you bite into them, and a young, clean taste that can?t help but please. Firm flesh, a sweet taste and simple saltiness follow. The only downside was the very sharp stone at the centre, which came as a surprise to us all.
VERDICT ****

A classic green olive: juicy, young and ultimately satisfying to eat.
………………………………….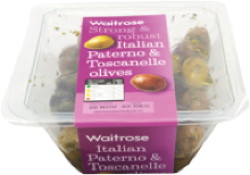 Italian Paterno and Toscanelle Olives
From Waitrose
Price ?2.99/200g
This mixed selection had a very bitter skin, which prompted some quite severe reactions from our taste testers. We?ve all had much better olives from Waitrose before ? so this is by no means a usual sample ? but these were a little too ?strong and robust?, as it touts on the label. The marinade, with flecks of red chilli and green herbs, doesn?t really overcome the strong, heavily concentrated flavour of the olives.
VERDICT **
This selection was just too bitter for most tastes ? perhaps perfect for some
Tags:
food