This frittata uses whatever is to hand, but always the Neapolitan staple of dried pasta. It is a great way to use up yesterday's pasta and is often taken on Sunday picnics.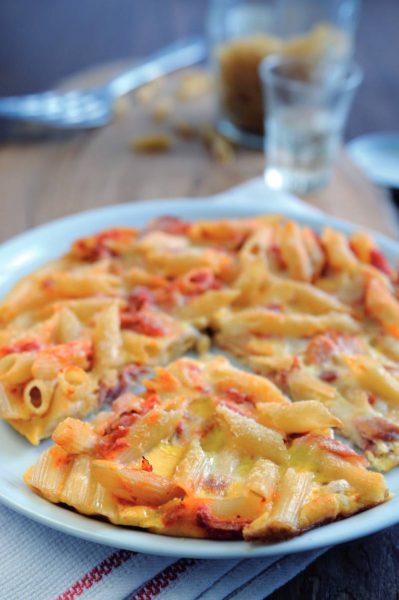 Recipe and photo: Mario Matassa
SERVES 4
PREPARATION 5 minutes
BAKING 15 minutes
Ingredients
• 125g mozzarella
• 100g cooked ham
• 2-4 tbsp chopped tomatoes
• 200g cooked pasta
• 2 tbsp extra-virgin olive oil
• salt and pepper
• 4 free-range eggs
Method
1. Preheat the oven to 180°C/Gas Mark 4. Dice the mozzarella and ham and place in a bowl with the tomatoes, the pasta and the olive oil. Season generously with salt and pepper.
2. Crack the eggs into another bowl and whisk. Pour the eggs into the first bowl and stir everything together.
3. Pour the finished mixture into a lined baking tin and bake for 15 minutes, or until the egg has set. Serve hot, warm or cool.