In the restaurants of Santa Lucia this recipe is a daily fixture. The clams are delivered by small fishing boats to the restaurants in the harbour. You can add mussels or shrimps too, or have a combination of all three.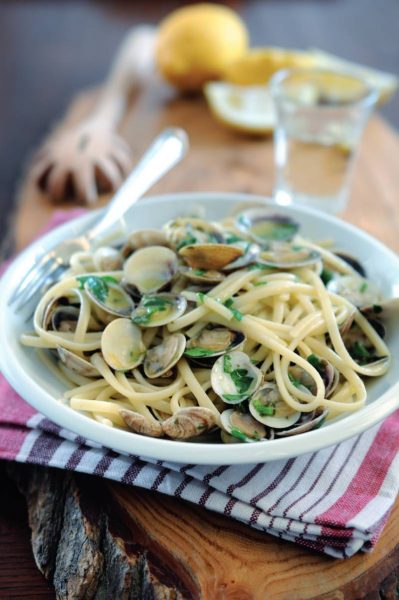 Recipe and photo: Mario Matassa
• SERVES 4
• PREPARATION 10 minutes
• COOKING 15 minutes
Ingredients
• 300g linguine
• extra-virgin olive oil
• 2 garlic cloves
• 600g fresh clams
• 150ml dry white wine
• a large bunch of flat leaf parsley
• salt and pepper
Method
1. Bring a large pot of salted water to the boil and add the pasta. Cook until al dente and then drain.
2. In a separate, deep-sided frying pan, which has a tight-fitting lid, add 3 tbsp of olive oil and the garlic cloves. Allow the oil to take on the flavour of the garlic for 30 seconds, then add the clams and wine. Place the lid on the pan and allow to cook for 3-4 minutes, stirring the contents once or twice.
3. Remove the lid from the pan to check that all the clams have opened. If they haven't, place the lid back on and cook for a further minute. Then remove any clams that haven't opened.
4. Drain the pasta and add to the pan with the clams. Add finely chopped parsley, a good drizzle of extra-virgin olive oil, and season with sea salt and freshly ground black pepper. Stir together well and serve immediately.