Early summer vegetables such as beans and courgettes are joined this month by a variety of fruits and fish as the year's main harvest really begins come in…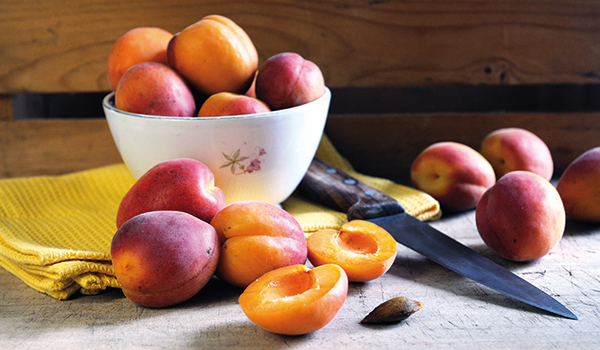 Apricots – albicocche
In the peak of its season during the summer, the apricot, with its peach-like tang and pale orange skin, is a flavoursome, colourful ingredient to add to your cooking. Though it originates in China, Italy is now one of the world's largest producers of this luscious summer fruit, harvesting around 200,000 tonnes per year from sunny regions such as Campania and Emilia-Romagna. There are many different ways to enjoy the apricot; it can be eaten raw, preserved in alcohol or syrup, or even used to make a deliciously refreshing juice beverage called nectar, 'the drink of the gods'. It is also an ideal ingredient in sweet cocktails and makes a rich sugary jam, perfect as a glaze for patisseries and to cover fruit tarts such as the Italian crostata di cugna.
Courgettes – Zucchini
Grown all over Italy, the courgette boasts culinary versatility and can be used in a variety of delicious dishes; grated and eaten raw in salads, or fried, grilled and served as a side vegetable sprinkled with melted butter, salt, extra-virgin olive oil or lemon juice. Most distinctively, the courgette also develops edible flowers, which are popular stuffed with mixtures of spinach, ricotta and parmesan cheese.
Aubergines – melanzane
The aubergine, with its distinctive purple exterior, is a cherished vegetable in Italian cuisine. Grown in southern Italy during the summer, aubergines particularly appear in Sicilian recipes such as parmigiana di melanzane, or are dipped in flour and egg, then fried. Perhaps the most unusual recipe originates from the Amalfi coast – an 'aubergine sandwich', which sees aubergine slices coated with nuts and candied peel, then dipped in chocolate.
Scallop – Cappa Santa
Claimed to have been used in cooking for thousands of years, today scallops are a popular variety of shellfish that are considered to be of particularly good quality when found in the waters surrounding the UK. One of the best Italian varieties, known as canestrello, is commonly found in the sandy sea beds of the Venice lagoon, and is frequently used in popular recipes of the region, such as seafood salad and risotto ai canestrelli, an Italian version of Spanish paella, ideal for a light summer lunch.
Samphire – finocchio marino
Named after the patron saint of fishermen, samphire is an edible plant that grows wild along coastal rocks and cliffs. In season from now until September, the plant comes in two varieties: marsh and rock, the latter offering a distinctively spicy taste. Traditionally, the stems, leaves and seeds are pickled in vinegar but the succulent stalks are delicious lightly steamed and eaten fresh with garlic and lemon butter, and also make a perfect partner for fish.
Runner and green beans – Fagiolini
Available from the end of June, the runner bean and willowy green bean can be treated in the same way. Highly popular in the UK and Italy, both varieties of bean are valued for their high protein levels and edible pods, and once cooked these small vegetables are bursting with flavour. It can be argued that there are few better ways of serving runner or green beans than as a side vegetable alongside roast lamb, potatoes and gravy, but they also lend themselves perfectly to summer soups and light salads.
Also in season:
Artichokes – Carciofi
Beetroot – Barbabietole
Cherries – ciliegie
Cucumber – Cetriolo
Crab – Granchio
Fennel – finocchio
Nectarines – nettarine 
Peas – piselli
Potatoes – Patate
Tomatoes – pomodori