Once the go-to Italian white with mediocre credentials, now is the time to take another look at Pinot Grigio – the fine examples being produced today are worthy of our attention.
Grown throughout northern Italy, the Pinot Grigio grape is most widely found in Friuli-Venezia-Giulia, Veneto, Umbria, Trentino and Emilia-Romagna. Not that long ago, any wine with Pinot Grigio on the label would be parked firmly at the bottom of the fridge in your local corner store. It was mass-produced and cheap, an acidic and lacklustre wine. But happily for us, times have changed. Once viewed as the poor relation of a decent French white (the grape is native to Burgundy), those days are over – now Pinot Grigio commands prices that befit its quality; it's enjoyed by those in the know and is a firm fixture on the best wine lists.
But how did this shift in perception come about? Mainly, it was down to money. Producers in Italy realised that making lakes of the wine in return for European cash actually wasn't working out all that well.
Producers made the effort to slim down their production, invest in modern machinery, take on oenologists who knew what they were doing and to treat their vineyards with respect.
Standards improved and demand increased as a result, proving that quality really is better than quantity. Slowly, these higher quality wines started to trickle out of Italy. Importers of Italian wine saw Pinot Grigio as one to watch and progressively minded buyers working for the supermarkets started getting in on the act, buying good wines that they could sell for around the magic £7 mark.
If you're willing to go off the beaten track, you can find serious wines of the quality that Italians drink. Take a look at our picks..
Discover of the month: Villa sandi pinot grigio veneto IGT 2015
From: Villa Sandi 
Price: £8.99

Better known for their range of premium prosecco and champagne-method sparklers, Villa Sandi also have a wide range of still wines, including this rather splendid Pinot Grigio. Delicately golden in the glass, it is delightfully bright and refreshing, with citrus, apple blossom and almonds on the nose. Well-rounded and smooth, with textured flavours of ripe apricot and crisp pears, it has a delicate acidity which mellows into a rich, mineral finish.
Great with: A lazy summer platter of antipasti: soft, creamy cheeses, delicate Parma ham, slices of fresh melon.
Alpha Zeta Terrapieno Pinot Grigio 2016
From: Liberty
Price £17.50

Matt Thomson's gorgeous single vineyard Pinot Grigio has great intensity and balance, thanks to the hot and dry summer that led to this vintage's harvest of high quality grapes. Pale golden in hue, with a zesty aroma of crisp orchard apples and pears, you'll savour mellower notes of rich tropical fruits and a hint of flint in the glass. Refreshing and complex with a lingering finish.
Great with: On its own or with simply roasted chicken and salad on a warm summer's day.
Berry Bros & Rudd Pinot Grigio delle Venezie, 2015, NecOtium, Friuli
From: Berry Bros & Rudd
Price: £9.95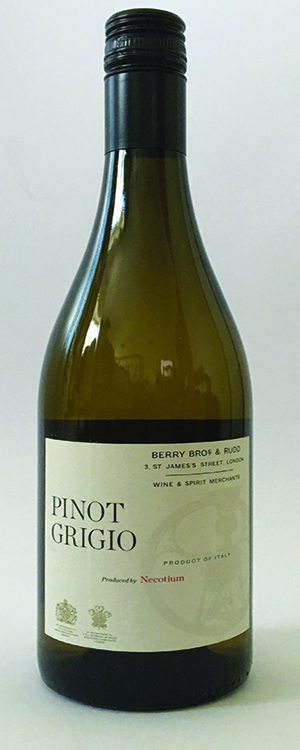 'Own label' is justly a seal of approval in this collaboration between BBR and Necotium in Friuli-Venezia-Giulia. Unoaked and with a Stelvin cap to keep in the freshness, this wine is fragrant with snappy citrus and elderflower, with richer melon and pineapple in the glass. Full-flavoured and rewarding, it also has a mineral quality that keeps the fruity, honeyed notes in line. A long, balanced, dry finish.
Great with: Light fish dishes, herby pasta sauces or soft cheeses.
Pecogna, Pinot Grigio Ramato 2015
From: AG Wines
Price: £16.75

This elegant wine hails from Specogna, a fourth-generation family-run vineyard in the premium Colli Orientali DOC zone of Friuli-Venezia-Giulia. Distinctive for its slightly coppery hue, the wine has a delicate floral and green apple fragrance, with a silky-smooth texture in the glass, with a touch of honeyed richness and tropical fruit flavours which are well-balanced and lively. Complex and bright, with just the right amount of acidity to the very end.
Great with: Plenty of elegant body to drink as an aperitif or to pair with seafood.
Majestic Definition Pinot Grigio 2016
From: Majestic Wines
Price: £9.99 (£8.99 if you buy a case of six)

This Pinot Grigio from Majestic hails from Friuli, where the high, mountainous slopes and the soil types suit the vine well, as do the cool evening breezes. Straw-coloured in the glass, it has a delicate citrus and spring blossom aroma. In the glass, you taste zingy lemon tempered by sweeter notes of peach. Dry and lighter than some of our bottles this month, it has refreshing acidity and a flinty finish.
Great with: Savoury antipasti like salted almonds or a mature hard cheese
Colterenzio, Pinot Grigio Classici DOC 2015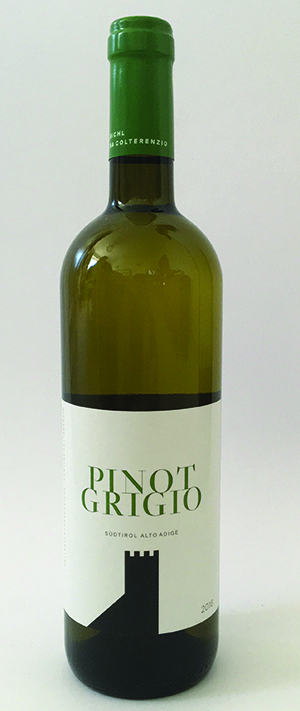 From: Great Western Wine
Price: £13.50
From the cool foothills of the Dolomites in Alto Adige comes this cool and classy Pinot Grigio. Produced by the cold fermentation method, which helps to keep the wine fresh and very aromatic, the citrus bouquet has a hint of savoury herbs. In the glass, tangy lemon and lime notes are balanced by juicier tropical fruits, creating a deliciously full-bodied wine with a well-balanced acidity and a long, satisfying finish.
Great with: Pan-fried fillets of sea bass or roasted sea bream stuffed with herbs.
Tags:
Food and drink
,
Pinot Grigio
,
Top Picks
,
Wine