From shipwrecked sailors in Norway to the tables of Vicenza, Julie Carbonara tells the extraordinary tale of baccalà all vicentina.
My mother was a good, plain home cook but fish was not her strong point, which is why Fridays were not my favourite days. You see, in the deeply religious, Catholic Italy of my youth, you were expected to abstain from meat on Friday, supposedly as penance for your sins. And indeed, most Fridays as I sat down for lunch at home in my little provincial town near Vicenza, in northeast Italy, I sometimes felt I was atoning for the whole country's sins.
There were exceptions, and those were the baccalà alla vicentina Fridays. I could immediately tell whether mum was going to serve baccalà that day because she would rise earlier than usual and would immediately get going with the preparations. The ingredients were all lined up: the fish, meticulously boned and cut into chunky squares of equal size; and then the garlic
and parsley, the onions, sardines, olive oil and milk.
When I came back from school the baccalà would still be cooking at barely a simmer, what in the local dialect is called pipare. Mum was busy making polenta, keeping her eagle eye on the baccalà pan, occasionally giving it a gentle shake to prevent its contents from sticking, but never, ever stirring – there may have been as many versions of the recipe as there were cooks in Vicenza but the no-stirring rule is the one everybody agreed on.
It was the same all over town – and no wonder. Throughout the Vicenza area baccalà was what pizza was for Naples, abbacchio for Rome: a signature dish. Vicenza, an hour inland from Venice, may be best known as the home of architect Andrea Palladio, but her staple dish, baccalà alla vicentina, characterises the town just as much as the great architect's palaces and villas.
Yet baccalà (bacalà in Vicenza, whose dialect tends to eliminate double consonants) is a misnomer. The dish's main ingredient is not salted cod, known everywhere else in Italy as baccalà, but the air-dried variety, stoccafisso, which comes from Norway's Lofoten Islands.
So why did we Vicentini choose a fish hailing from Europe's northernmost shores for one of our most traditional dishes? Why did we call it by what appears to be the wrong name? And how did this most intriguing recipe (fish cooked in milk and olive oil) come about?
First of all, the name: did we really mess up? Probably not, as the two terms, baccalà and stoccafisso, have been used interchangeably for centuries. As for its origins, the humble dish from my youth has the sort of backstory a Hollywood scriptwriter would kill for – and although Baccalà: the Movie has yet to be made, Baccalà: the Opera, or, to give it its proper title, the Querini opera, was premiered in Røst, in the Lofoten Islands, in 2012. Awarding it four stars, the Financial Times critic declared: "This must be the most moving work of music theatre ever to be written about dried fish."
The shipwreck of 1432
An island off the coast of Norway sounds like a strange place to set an opera about Vicenza's most famous dish, but Røst was where it all started, in 1432 with the shipwreck of the Querina, a merchant ship captained by Venetian aristocrat Pietro Querini.
The few survivors were rescued by local fishermen and, while recuperating on the island, Querini was particularly impressed by a type of fish he called stocfisi, which dominated the local economy, and which was air- and wind-dried until it became "as hard as wood".
When Querini left for Venice four months later, he took 60 sticks of air-dried cod with him. The Venetians were not particularly impressed, though: there was plenty of local lagoon fish to eat and leathery Norwegian cod didn't have quite the same appeal.
It was different in Vicenza, however. Inland, fresh fish was a pricey, perishable ingredient, and Querini's dried cod represented an affordable and easily stored alternative. Inventive Vicenza cooks took to the challenge, with mouth-watering results. First, as taught by the Lofoten Islanders, they pounded the brittle cod and soaked it in cold water for days to rehydrate it. Then, the now soft, moist fish was cooked slowly – the word 'slowly' is key here – with milk, olive oil and a variety of flavourings.
Admirers of the distinct dish came thick and fast. When French Renaissance man of letters Michel de Montaigne visited Vicenza in 1580, he was underwhelmed by the town's elegant palaces, but positively enthusiastic about her iconic dish; the German writer Goethe was similarly impressed and packed a takeaway on a visit.
Polenta e baccalà
But it wasn't until the late 19th century that, legend has it, the baccalà alla vicentina recipe was perfected and codified by a local restaurateur known as 'Siora Vitoria' (real name: Giuseppina Terribile in Bianco). Her trattoria in Vicenza, aptly called 'Polenta e Baccalà', attracted many an Italian gourmet.
Domestic cooks started to replicate Siora Vitoria's recipe, gradually developing their own version. By the 1950s it was customary to purchase the cod pre-soaked, a boon for busy housewives. But when women started going out to work and the pace of life quickened, the fortunes of the dish started fading. In fact it was running the risk of disappearing from homes and restaurants altogether.
But the love of food is the one thing most Italians would agree on, and in 1987 a disparate group of people – civil servants, chefs and politicians – gathered in the small town of Sandrigo, near Vicenza, to save this important part of local culinary tradition. They were to form the Baccalà Brotherhood.
"Our way of life is now more rushed, people don't have time," explained the Brotherhood's president and former local MP Luciano Righi. "My mother used to make baccalà regularly, my wife less so; my daughter won't cook it at all. Fewer and fewer restaurants had it on the menu in 1987, so we decided to go on the attack to defend and publicise the dish."
The Brotherhood developed a multi-pronged strategy that appealed to resurgent Venetian localism and a new appetite for resurrecting traditional recipes, combining it with a jocular, tongue-in-cheek approach. For the public, Brothers sport medieval-style robes in grey and yellow (reflecting the colours of cod and polenta), while new members are anointed with a stick of dried cod, brandished sword-like.
At the heart of the Brotherhood's campaign was a 'get to know baccalà' drive, as they set about identifying the original recipe, while spreading the word to local eateries. When preparing this dish, restaurants were – and still are – thoroughly tested, and only those that pass muster will receive the Brotherhood's coveted mark of approval.
Important to the Brotherhood's calendar are the baccalà-tasting events; the biggest takes place in the town of Sandrigo every September, when tens of thousands of portions are enjoyed over several days at the Festa del bacalà alla vicentina.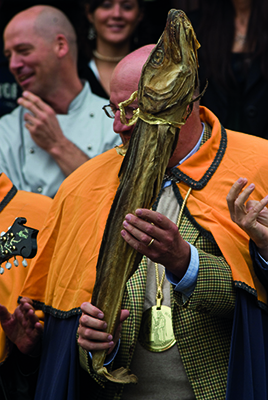 But as Italy's gourmets become reacquainted with the dish – thanks also to the well-received TV appearances of one of the Brotherhood's most high-profile members, chef Antonio Chemello, Righi and his band of brothers have been busy preaching the baccalà gospel abroad. They have already taken it to many countries where Venetian immigrants live, including the USA and Australia. All such journeys are undertaken with trained chefs in tow, naturally.
It was also thanks to their indefatigable promotional efforts that in 2010 the dish received a different accolade, when it was selected by EuroFIR (European Food Information Resource Network) as one of the five most representative traditional foods of Italy.
In 2007, to mark the association's 20th anniversary, a Brotherhood contingent sailed to Røst in Captain Querini's footsteps; in 2012 they embarked on another baccalà-themed adventure – this time retracing as closely as possible Querini's trip back to Venice. In keeping with the fun attitude that characterises the organisation, the 'Brothers' travelled in a FIAT 500 decked out in the Brotherhood's trademark colours.
This was no mere celebratory trip, though, but the unveiling of the 'Via Querinissima' (the name is from Querini and Serenissima), an itinerary that, the Brotherhood hopes, will become part of the 'European Cultural Routes' and foster gastronomic and cultural exchanges and make baccalà alla vicentina better known outside Italy.
This year, the Brotherhood's 30th anniversary, has seen the issue of a stamp dedicated to baccalà alla vicentina, making it the first traditional dish to be honoured in this way. The Brotherhood's objective has been to give baccalà alla vicentina another lease of life, and they have done this by reconnecting what was a rather humble provincial dish with its adventure-packed history.
Will baccalà alla vicentina conquer the world? Who knows? It is a love-it-or-hate-it dish and, though most people rave about it, some do complain that it's 'too fishy'. (Er, it is fish!). But take it from me: the unfortunate circumstances that led Pietro Querini to Røst have had a happy outcome for the people of Vicenza.
The Brotherhood's recipe for…
Baccalà alla vicentina
Serves: 12
Note: Most chefs have their own, slightly different, version. Many replace the sardines with anchovies and some use chopped garlic. Don't be put off by the amount of olive oil: the final result is not at all oily. 
Ingredients:
1kg dried cod (Ragno is generally acknowledged to be the best)
250g onions
500ml extra-virgin oil
3-4 sardines in salt
a bunch of parsley
white flour
500ml fresh milk
50g grated Parmesan
sea salt and white pepper
Method:
After pounding it (to tenderise it), soak the dried cod in cold water for two to three days, changing the water every four hours.
Take some of the skin off, split the fish length-wise, remove the fishbone and all the bones. Cut it into square pieces of equal size.
Slice the onions finely and sauté them (they should become translucent rather than brown) with a glass of oil.
De-salt the sardines, then chop them and add them to the onions. Then, off the heat, add some chopped parsley.
Dust the cod pieces with flour, drizzle them with the sautéed onion and sardine mixture and lay them next to one another in a terracotta or aluminium saucepan or a Pyrex dish, on the bottom of which you'll have spread some of the onion and sardine mix to stop the fish from sticking to the pan.
Cover the fish with the rest of the mixture, add the milk, the Parmesan, salt and pepper. Pour over enough oil to cover all the pieces completely, making sure they are evenly placed.
Cook on a very low heat for about 4½ hours, gently shaking the pan every now and then – but do not stir!
Serve baccalà alla vicentina hot with polenta, though it is just as delicious after a 12-24 hour rest.