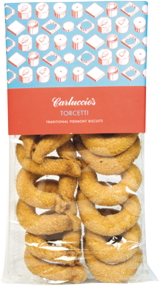 We've gathered together our favourite Carluccio's Italian food treats in a handy review guide to help you decide what to add to your Italian shopping basket
Carluccio's Torcetti
Price £3.50/180g
These biscuits are a delicious – and authentic – take on the traditional sweet snack from Piedmont. They were a universal hit with Italia!'s tasting panel – and even attracted attention from elsewhere in the office as staff got word of these moreish biscuits and gatecrashed the tasting to see what all the fuss was about. These torcetti taste really home-made, light and buttery, the texture is crisp and airy, and the layer of sugar sprinkled on top adds a perfect finishing touch. Judges – and several of the interlopers – agreed these would be perfect to dip into a cappuccino (but they are equally good to eat on their own). Ultimately these Carluccio's torcetti make for a light, authentic and very moreish sweet snack that seems to melt in the mouth. As one taster put it: "It's like taking a little bite of Italy". A reasonable price is the icing on the proverbial cake.
VERDICT *****
Everything you could ask for in a biscuit: sweet, light and delicious. And archetypally Italian to boot!
………………………………………….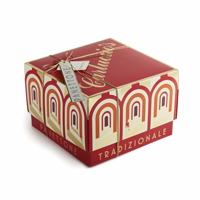 Carluccio's Panettone Tradizionale
Price £16.95/1kg
Carluccio's delivers the goods once again with this classic recipe for a successful panettone. Presented beautifully, you can expect a rich aroma inside that brings to mind a true Italian Christmas – cinnamon mingled with an edge of citrus fruit. The cake itself is buttery and light, with copious amounts of candied orange peel and juicy raisins in each mouthful. The hazelnut glaze polishes it off.
Available online and from Carluccio's food shops from early November.
VERDICT ****
Another excellent product from Carluccio's – buttery, light and well flavoured.
………………………………………….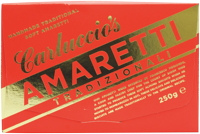 Carluccio's Amaretti Tradizionali
Price £7.25/250g
Maintaining the best tradition of almond amaretti, these soft treats have much more of a cake-like texture than other Italian biscuits. From this brand, you can expect generous portions and a well crafted product that really melts in the mouth. The doughy centre provides an apt contrast to the richly baked, golden outside – and it will certainly hit the spot for fans of marzipan. A well presented and tasty product.
VERDICT ****
A truly traditional amaretti, with a light and airy marzipan centre.
………………………………………….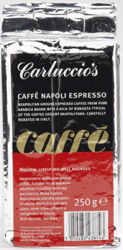 Carluccio's Caffe Napoli Espresso
Price£5.25/250g
This Neapolitan ground espresso coffee is a luxurious blend of pure Arabica beans with a kick of Robusta beans. A truly authentic variety, packed full of character, which brings the aromas of a traditional Italian coffee house in to your home. From the first sip, the blend offered more of a bite than other varieties, and a delicious nuttiness. The brewed coffee had a deeply rich, velvety texture, with sumptuous dark chocolate undertones, and an intensely alluring aroma. The Italia! tasting panel knocked back a shot of this as a mid-morning pick-me-up, relishing the intense flavour and over all well-rounded texture.
VERDICT ****
Deliciously rich and chocolatey, Carluccio's Napoli espresso left the judging panel marvelling over the sumptous, velvety texture.
………………………………………….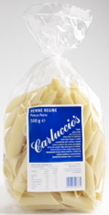 Carluccio's Penne Regine Puglia Pasta
Price £3.50/500g
These supersized penne regine or queen penne are quite a mouthful! Our tastes required them to be well cooked for 11-12 minutes for a firm but elastic pasta tube. As they're so chunky, they're suited for dishes al forno, or timbale (a kind of pasta pie) with thick tomato and meat sauces. They make quite a showy dish too, so why not 'go large' at your next dinner party with them?
VERDICT ****
Add volume with this pasta that will stand up well to rich, thick sauces.
………………………………………….
Carluccio's Pesto di Peperoncino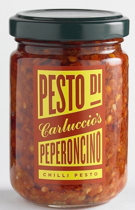 www.carluccios.com

Price £3.95/140g
For a pesto that really packs a punch, this sauce from Carluccio's provides a vibrant alternative to the traditional basil-based variety. Crammed full of fresh chillies, this provides a real kick, with a good 'front of the mouth' heat, ideal for spice lovers looking for something new. The tingling taste of chilli is clean and crisp, with a delicate sweetness, and the texture is good too – it's not too smooth, with just the right amount of chunkiness to help it stick to cooked pasta. It's pretty strong stuff and makes an easy way to spice up pasta dishes, tomato sauces or to serve thinly on crostini for a spicy antipasto.
VERDICT ****
This pesto was admired for its experimental uniqueness and lip-smacking flavour, and ranked highly with the Italia! taste team.
………………………………………….
Carluccio's Quality Balsamic Vinegar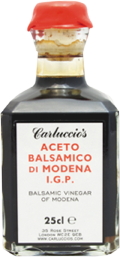 Price £19.95/25cl
Of the two vinegars that we tested from Carluccio's, this was easily the more mature and complex flavour. Whereas we had reservations about the consistency of its more modestly priced partner, this option gave us a thick, full-bodied substance with a pleasing depth. The characteristic sweet-sour of balsamic vinegar was present in all its glory, with a glossy, treacle-like quality that allowed for a lasting sweetness.
VERDICT ****
Although pricey, certainly an appealing balsamic and worth the investment.
………………………………………….

Carluccio's Mature Balsamic Vinegar
Price £11.95/25cl
This reasonably priced bottle delivers an immediate sharpness which balances into smooth and lasting caramel notes. When poured, it is perhaps a little thin – a quality reflected in a slightly lacklustre body and bold, basic flavours. It does, however, harbour some enjoyably spicy undertones – a complexity lacking in similarly priced balsamics – and would be the perfect option for a perky salad dressing, mixed with a good quality olive oil. A simple, but effective, balsamic vinegar.
VERDICT ***
Excellent value with bold flavours that would brighten any summer salad.
………………………………………….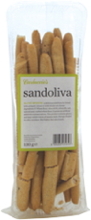 Sandoliva Olive Grissini
Price £2.10/130g
Dense and very crunchy, almost brittle. These do contain 8 per cent olives and, given the price, you'd expect these to be high-quality olives, but you don't really get the full benefit of that. They certainly pass the 'snap test', giving a very clean break, and they do leave the taste of olive on the back of your tongue. It's a subtle taste, some might say sophisticated; others, faint.
VERDICT ***
These are perfectly pleasant, but don't stand apart to justify the higher price.
………………………………………….
Olive di Giarra Calabresi
Price £5.95/500g
Quite a monster of a jar, this Calabrian selection would be a good investment to keep in the cupboard. The olives themselves have a sweet and sour contrast to them – one minute all vinegar and the next a mushy, sweet mouthful. They are quite an intriguing colour, with a mottled brown, apple-like skin, and look wonderfully authentic. But overall we weren't quite convinced by the flavour, and it was tough to eat more than one at a time.
VERDICT ***
This large jar didn't deliver on flavour, but had a wonderful mottled-brown look.
Tags:
blog
,
Carluccio's