Espresso lovers can never go wrong in Rome. Your coffee will probably be excellent in most of the bars you find.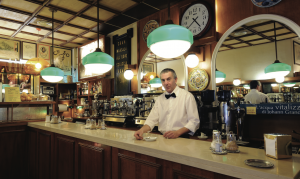 Yet, according to locals, if you want to drink the best in the city you have to head to the Pantheon: two 'temples' to the coffee bean are there, situated within walking distance of each other.
The first is Caffè Sant'Eustachio. Italians are drawn to it like a magnet. How coffee is made is a secret, though. The machines sit with their backs to you so you're unable to see what the barista is doing. Legend has it that a secret ingredient is added. The speciality here is gran caffè – a thick, creamy, double espresso already sweetened. Bar Tazza D'Oro is only a bean's throw away. It is mainly a torrefazione or a coffee-roasting house – the only one in the city centre. Apart from its flawless espresso, people come here from all over Rome for its famous granita di caffè – coffee and crushed ice topped with whipped cream. 
Not as famous but equally worth a visit is Caffè Sciascia, in the quiet Prati district, to the north of the Vatican. Aside from the delightful courtesy of the Sciascia family, the coffee is excellent – roasted and served on the spot. Try the energising caffè al cioccolato, the chocolate coffee, the speciality of the place. 
Fact File
Caffè Sant'Eustachio,
Piazza Sant'Eustachio 82
Opening times Daily 8.30am-1pm 
---
Caffè Tazza d'Oro
Via degli Orfani 84
Opening times Monday-Saturday 8am-8pm 
---
Caffè Sciascia
Via Fabio Massimo 80/A