Hannah Bellis visits the Italian restaurant in Bray to  see how Giancarlo and Kate Caldesi are bringing Italy to the Berkshire countryside
If there is anywhere outside of London that can be considered a culinary heartland, it is Bray in Berkshire. Bray has been back in the press in recent weeks too as this is where Rolf Harris lived before his sentence, and I think it was Heston's multi-Mitchelin starred Fat Duck that really put the tiny village on the culinary map. Giancarlo and Katie Caldesi have the upmarket sister to their London Caffe Caldesi restaurant and cookery school tucked away by the Thames in Bray, and they can't have been too sad to hear that the Fat Duck was closing, just for a little while, as Heston prepares to spend 6 months trading in Australia. But such is the charm and warmth of this culinary country hotspot that they have no problem filling their restaurant even while the Fat Duck is booming .
I visit on a balmy summer's evening. It is a Tuesday and I am seated by a very non-Italian 18.30, but arrived early to have a wander around Bray – which takes all of five minutes. The front of house team, all Italian and all charming are very accommodating in seating us early. We are the first diners  in their umbrellad courtyard, surrounded by green plants in pots and the happy babbling of a fountain that made conversation flow easily, even when we the only diners present. Even at this early hour, it feels authentically Italian – in the heartland of Berkshire!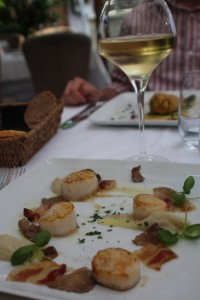 We are welcomed with a glass of cool and crisp Prosecco and a few mouthfuls of cured salmon and cantaloupe with salt. It doesn't take long for the courtyard to start filling up, and every table is greeted with this little amuse bouche, and the happy hubub of conversation and relaxed frivolity fills the courtyard. The staff greet many arrivals like old friends, and there are clearly a wealth of regulars who have fallen for the charms of the place. The staff and the setting are very easy to fall for.
For our aperitivo we try the stuffed courgette flower, Fiore di zucchina (£13) and the scallops, Capesante, pancetta nostrana, crema di tapinambur, tarufo nero (£16) both recommended by our sever. When the scallops arrive they are almost too pretty to eat – big plump and juicy specimens surrounded by delicate truffle shavings and crisp pancetta. These sit amid blobs of Jerusalem artichoke puree which can never be described as pretty but does taste rich and sweet and a great background for the scallops, with micro basil leaves in the mix, add a lovely burst of unexpected freshness to a few mouthfuls. The truffle goes well with the artichokes too, but is overpowered by the pancetta, so big and meaty are these flavours. "It would have been just as delicious without the truffle," my companion exclaims, who has managed to eat half of my starter. The stuffing in the his courgette flower is rich, savoury ,and tasty, especially complimented by the balsamic glaze artfully dotted around the plate, but I think my scallops are better. He clearly thinks so too.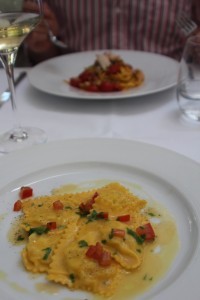 For our pasta course, I order the Ravioli ripieni di branzino selvatico, salsa di limone e burro raviolli stuffed with sea bass (£17.50), and he chooses the Tagliolini al granchio, crab and tomato topped taglioni (£17.50). Mine brings the great tang of butter and citrus that has me licking my lips for every drop of the buttery, lemony glaze that compliments without overpowering. The fish inside each raviolo had been so delicately prepared that it was flakey without being pulpy and overworked. The sauce with my companion's taglioni is is permeated with intense seafood f and a depth of flavour that is almost mushroomy in its savouriness. It is also a visually delightful dish with its crown of crab meat and oily, shiny tomato. It was a real highlight of the meal. The Caldesi kitchen are very proud of their pasta – and judging by these offerings, rightly so.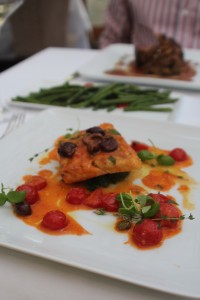 For our mains, I choose one of their specials – gurnard with tomato, capers and olives (£24.50), and my companion opts for their rack of lamb or Agnello arrosto (£26.50) with a side of green beans with garlic and chill, which at £5.50 were the only thing that felt a little bit dear. He raved about his lamb – very generously portioned with three large cutlets on the rack, piled on a stack of garlic mushrooms and served with red wine sauce that was still a little red, so stopped the plate looking too brown. Inside, the rack was still just  a little pink, as it should be. My gurnard was fine, and the fish was cooked wonderfully but didn't have the intensity of flavour in the sauce I was hoping for, and was the only dish that didn't taste quite as good as it looked.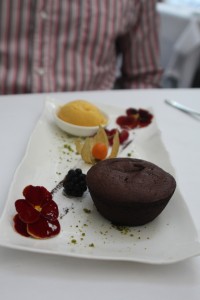 The scales were certainly balanced by the dessert menu though – or perhaps I should say the scales were most certainly upset by the great dolce on offer. I went for the Tiramisu al Vin Santo (£8.50) as this was the item on the entire menu that Giancarlo had his name next too, so there was no choice for me really.  The vin Santo was a wonderful addition – soaking the light as feather sponge and puddling at the bottom on the glass in a way that Greg Wallace would entirely approve of. My companion went for their Tortino fondente al cioccolato con gelato alla vaniglia (£9.50), as a fondant is a test no matter how experienced the kitchen. We were told we would have to wait 15 minutes for it – really not a problem in a courtyard as delightful as this with a delicious glass of Fiano wine in hand – the range of Italian wines on offer from every region of Italy in their cellar is really impressive, but the house wine starts from just £17.95  bottle. When it did arrive, it proved that the Caldesi kitchen's will not be caught out, with a melting middle or molten chocolate that was rich and intense without being overly sweet and cloying.
People may queue up to come to Bray to try the Fat Duck and its culinary theatre that has soup disguised as pocket watches, but I bet the relaxed gourmet charm of Caldesi that has people coming back again and again – which would explain why the place has so many regulars. Formal high-end Italian food served in a relaxed manner by delightful staff in a tranquil setting – it is worth making a substantial detour to try for yourself.