The New Year is when the new season's olive oils appear and buyers and consumers scramble to find the best olive oils. We put seven favourites to the test
Crudo extra virgin olive oil
From Something Italian
www.something-italian.com
Price £12.50/500ml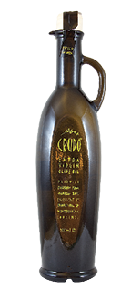 This has won medals – even before it won the coveted Italia! Editor's Choice Award. Specifically: Gold Medal (Delicate Intensity) at the New York International Competition 2013; The Best 200 Olive Oils, at Der Feinschmecker Oil Award 2013; Gold Medal (Medium Intensity) at the Los Angeles County Fair Competition 2012; and Silver Medal (Medium Intensity) at the Los Angeles County Fair Competition 2011. Gaetano Schiralli's family began producing extra-virgin olive oil in 1922 on the hills of Bitetto, to the southeast of Bari, on the road to Altamura. The small family farm has more than 8,000 olive trees spread over 20 hectares. This oil is made from 100 per cent ogliarola olives grown, harvested, pressed and bottled on site. In its region it is used drizzled over olives or fish and shellfish. Pictured here is a 500ml amphora bottle, but that's not the only purchasing possibility you have. For £25, Something Italian will provide you with a presentation gift box containing one Crudo EV Oil square bottle of 750ml, and one Crudo EV Oil amphora bottle of 250ml. (Please note that delivery charges do apply on orders under £100.) You get a really strong initial hit of ripe, fruity olives yielding to hints of other fruits of the fields. Quite exquisite.
VERDICT *****
Deliciously green with yellow undertones. Aromas of almonds and artichokes. Succulent, yet very powerful.
Casa margherita
From Casa Margherita
www.casa-margherita.com
Price €8.50/500ml
A full 95 per cent of the Casa Margherita grove is put to the classic Umbrian variety of moraiolo olives, with the remaining 5 per cent given to leccina and frantoio. Most of their oils are sold in tins, but bottles are available too. The price quoted already represents good value for money, but this can be reduced further when you buy in greater bulk. (See their website for details.)
VERDICT ***
A nicely fruity oil with a good peppery finish to it. Excellent value for money.
Barbalace
From Olio Barbalace
www.oliobarbalace.it
Price typically £9.99/500ml

This is what you'll be served if you are invited to dine with the dons on High Table at Trinity College, Cambridge. If, however, you don't think you'll be invited to High Table any time soon, but you do live near Cambridge, try one of these: Gog Magog Hills, Burwash Manor, Shelford delicatessen or the Cambridge Cheese Company. Failing that, it is also available online via www.bigbarn.co.uk.
VERDICT ****
It doesn't have the greenest colour of the oils here, but the fruitiness is all there.
Filippo Berio monti iblei val tellaro
From Filippo Berio
www.filippoberio.co.uk
Price £6.75/500ml

This up-market Filippo Berio PDO product is produced in Sicily and has the distinctive green tomato aroma typical of oils from the island. Nominally, it carries a price of £9 for a half-litre bottle – which is nearly as much as the Barbalace, and it's not as good – but actually you can buy it for £7 from Tesco, and £6.75 from Ocado. And at those prices it is good value.
VERDICT ***
Fruity, grassy and rich with Sicilian sunshine. This would not shame a good salad.
Carluccio's le due sorelle
From Carluccio's
www.carluccios.com
Price £11.25/500ml
Made from Tonda di Cagliari, Bosana and Nera di Gonnos olives, grown in the Orteu Mereu area of Sardinia. And tasting this oil is like being there. This one has a wonderful complexity of taste, with a clear pungency that helps it all come through. We have come to expect nothing but the best from Carluccio's and again they do not disappoint. Light but at the same time rich.
VERDICT ****
An aftertaste of artichoke rounds off a wonderfully layered taste experience.
Nudo olio d'oliva extra vergine
From Nudo
www.nudoadopt.com
Price £7.99/500ml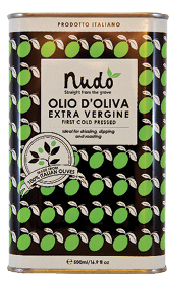 You can buy this product as part of a gift set from Nudo, or you can pop down to Waitrose for it. The olives are all mechanically collected in Le Marche and quite obviously processed with the very minimum of fuss, as you can really taste the fresh fruit here. And what's clever about Nudo is (like Casa Margherita) you can 'adopt' one of their trees…
VERDICT ***
Delicate, unassuming, yet full of flavour. A subtly bitter oil for drizzling.
Filippo Berio extra virgin olive oil
From Filippo Berio
www.filippoberio.co.uk
Price about £3.50/500ml
Filippo Berio sells an awful lot of olive oil (at Ocado, Asda, Morrisons, Sainsbury's, Tesco and Waitrose) and you will undoubtedly have tasted this yourself already and formed your own opinion. We've included it here as a benchmark – it is a blend of oils from across the Med, chosen for balance. As supermarket brands go, it is, in our opinion, a good option.
VERDICT **
Not as fruity as the others on test here, but it does offer good value for money.
Tesco Finest Tuscan extra virgin olive oil
From Tesco
www.tesco.com
Price £6.00/500ml

A benchmark for our tasting. This one is produced for Tesco by a cooperative of olive growers on the plains of Tuscany. It is our least favourite of the seven oils here. At first it seems insipid and you feel you're really going to have to draw in some air to get any sense of flavour. And then the pepper hits you, right at the back of the throat, quite hard.
VERDICT *
It is meant to be peppery, so that's fair, but at the expense of being 'olivey'?
Filippo Berio's Founder's Favourite
From Filippo Berio
www.filippoberio.co.uk
£100/500ml
You have to be a particular kind of person to spend £100 on a bottle of olive oil. This luxury, limited edition extra virgin olive oil marks the birthday of the founder and namesake of Filippo Berio. The oil is produced from the same estate where he created his signature blend almost 150 years ago. It is peppery but also wonderfully smooth with lingering olive notes, and no bitter aftertaste at all. Wonderful oil  but at this price, it had better be. Only 250 bottles are available, all individually numbered, and beautifully presented.

VERDICT *****
A lovely oil, beautifully presented – a gift for the gourmet who has everything, perhaps