Despite the name, this dish has nothing to do with Parma: it is as Neapolitan as Mount Vesuvius, but it does use Parmesan cheese. Few dishes better symbolise the cuisine of Naples. There are variations, including adding a few slices of cooked ham.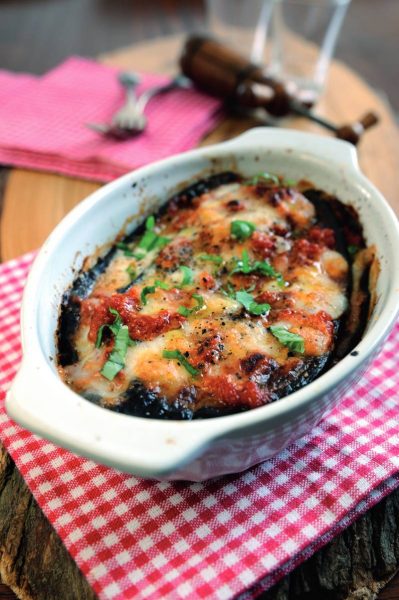 Recipe and photo: Mario Matassa
• SERVES 4
• PREPARATION 1 hour
• COOKING 1 hour
Ingredients
• 2 large aubergines
• extra-virgin olive oil
• 2 cloves of garlic, peeled
• 400ml finely chopped tomatoes
• a small bunch of basil, leaves torn
• salt and pepper
• 200g buffalo mozzarella, finely diced
• 60g grated Parmesan cheese
Method
1. Slice the aubergines lengthways into ½cm slices. Place the slices into a large colander, salting each layer as you go. Place a small plate on top and a weight (such as a tin of beans) on top of the plate. Leave to rest for 45 minutes to one hour. You don't need to do this if your aubergines are firm and fresh, but it doesn't hurt, and you have time.
2. In the meantime, make the tomato sauce. Add a few tbsp of olive oil to a saucepan with the two peeled cloves of garlic. Add the chopped tomatoes and torn basil leaves and season with salt and pepper. Set to simmer gently.
3. Preheat the oven to 180°C/Gas Mark 4. Rinse the aubergines under running water and pat dry with kitchen roll. Add 3-4 tbsp of olive oil to a large, heavy-based frying pan and heat. Add the slices of aubergines and fry until golden (about 2-3 minutes per side). You will need to fry the aubergines in batches and add extra oil if necessary. Place the aubergines on kitchen roll to remove any excess oil.
4. Remove the garlic cloves from the tomato sauce and discard. Place a layer of aubergines in an ovenproof dish and cover with a few tbsp of tomato sauce, a handful of mozzarella and a sprinkling of Parmesan. Continue layering until all the ingredients are used up. Finish with cheese on top.
5. Bake for 35-40 minutes, until bubbling and golden on top, and serve hot.