Treat your friends to this yummy Crostata alla crema pasticcera e albicocche!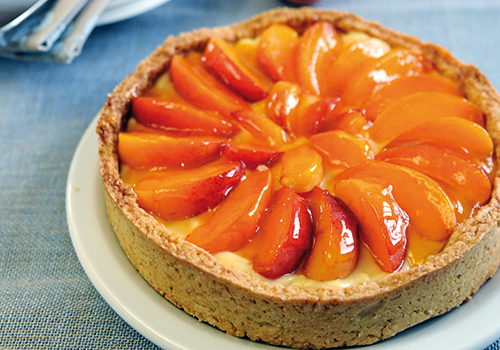 Ingredients:
600g sweet pastry
350ml whole milk
3 medium free-range egg yolks
100g caster sugar
50g plain flour
8 firm but ripe apricots, sliced
4 tbsp apricot jam
Method:
To make the cream, heat the milk in a pan and whisk the egg yolks with the sugar and flour in a large bowl. Once the milk is hot, take it off the heat and slowly add to the beaten yolks, whisking all the time. Pour the mixture back into the pan, place over the heat and stir until the cream has thickened. Leave to cool.
Preheat the oven to 180ºC/Gas Mark 4. Roll out the pastry to fit a 24cm round tart tin and line the tin with pastry. Cover the pastry with greaseproof paper and fill with baking beans. Bake blind for 20 minutes. Remove from the oven, discard the paper and beans, then leave to cool.
Once cooled, spoon the cream into the tart case and cover with the sliced apricots. To make the glaze, gently heat the apricot jam in a pan, and once runny spoon over the top of the apricots.
TIP This recipe can be used for any soft summer fruit, such as nectarines or peaches. Just treat the fruit in exactly the same way as you would the apricots.
Tags:
food
,
Food and drink
,
In season
,
Recipes