Only second to Brazil in the rankings as the most successful World Cup football team ever, the Italian team basks in the glory of its second title in 1938, in Paris.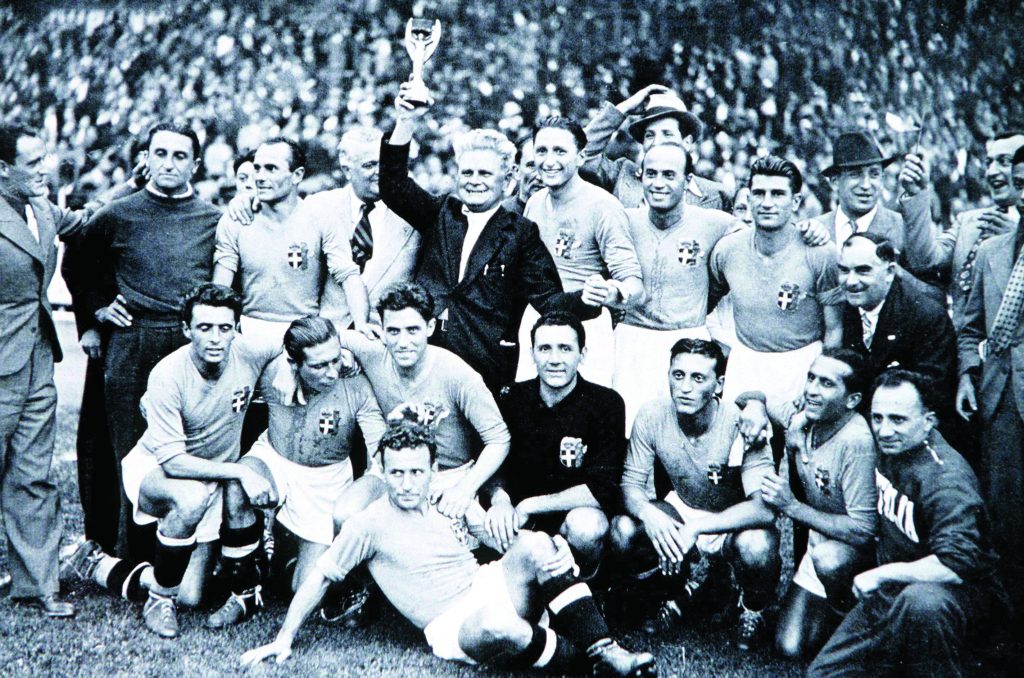 Victory on the football field seems almost second nature to the Italians. In the third staging of the Fifa World Cup, the Italian team defended the title it had won four years earlier in a nail-biting final against the Hungarian aggressors. Controversially, Vittorio Pozzo sent his team out against the host country France in the quarter-finals wearing an intimidating all-black strip – maglia nera – a tribute to Mussolini's fascist regime. Italy won the match, cruised past the overconfident Brazilians in the semis and wearing their more familiar blue strip, the 'azzurri' (blues) romped to an historic back-to-back second title, winning 4-2.
Here, the team celebrates with the Jules Rimet trophy on 19 June in Paris. Some say that Hungary's defeat was contributed to by the concerned Hungarian goalkeeper, Antal Szabo. Apparently, he heard that the players on the Italian side had each received a telegram from Il Duce, on the morning of the match, warning: 'Vincere o morire' (win or die). Was the Hungarian searching for a way to justify his poor defence of the goal, or did he naively believe that Mussolini's memo was a real death threat? We'll never know. The slogan was, however, known to be a phrase of encouragement during the fascist regime, and would best have been interpreted as a substantially less menacing 'Give it your all'. For the next 12 years the tournament was suspended due to the outbreak of World War II, meaning that Italy remained reigning champions for 16 years; a world record.