Penny Wainwright visits three Umbrian destinations – Spoleto, Trevi and Bevagna – to see how tourism initiatives are breathing life back into Italy's heartland
Photos by Penny Wainwright
Following the earthquakes in central Italy in 2016, I was keen to see how the region of Umbria was recovering from the devastation. Most of Umbria is now open again for tourism (as I discovered during several tourism workshops in the region – read about my journey here), but the tourist associations recognise that they need to be enthusiastic in encouraging visitors to come back. I explored three beautiful Umbrian towns that are welcoming visitors with open arms…
Spoleto: the most romantic city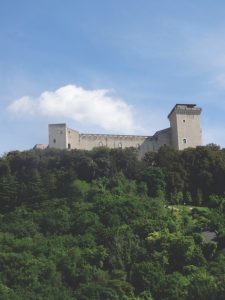 Shelley called Spoleto 'the most romantic city I ever saw'. On my first morning in Spoleto I headed for the castle, La Rocca Albornoziana, and was surprised to travel there by a lift. To protect the town from traffic, car parks have been built to hold 1,500 cars on the outskirts of Spoleto. Tourists use a system of air-conditioned lifts, escalators and moving walkways which have been constructed underground. They were completed about two years ago and withstood the earthquakes well. It is felt that the tunnels are reinforcing the hill, and they are a great way to get around – especially to get away from the hot sun of summer.
Arriving at the castle we walked around the Giro dei Condotti, with views of the Ponte delle Torri and aqueduct leading to Monteluco. There is a museum at the castle, plus exhibitions, and the salone is used for weddings, conferences and gala dinners. In the courtyard music and theatre performances take place. A collection of art on display during my visit had been rescued from the churches that had collapsed in Norcia and Cascia, and hopefully they will soon be able to return home.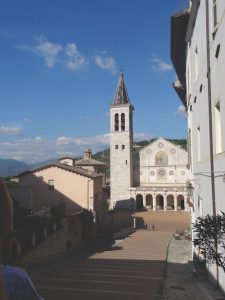 Walking back down into town, I followed the Via dell'Arringo, a wide, shallow slope leading into Piazza del Duomo. The piazza is a quiet place where children played on their bikes while parents sat chatting in the shade. I heard music coming from Casa Menotti, which is the home of the Festival of Spoleto. The Festival was created by Giancarlo Menotti in 1958 and takes place every June and July. In 1962 'Sculptures in the City' were commissioned. Several are still in position and they stand out as an intriguing contrast to the old buildings.
Where to eat and stay in Spoleto
Hotel Ristorante La Macchia
Located in a forest setting just outside Spoleto, La Macchia has 11 rooms as well as a restaurant, osteria and swimming pool.
Località Licina, 11 – Spoleto
+39 0743 49059
Agriturismo and Ristorante Collelignani
Working organic farm with rooms, restaurant and a range of outdoor activities.
Via dei Pini, Località Eggi, near Spoleto
+39 0743 49676
Hotel Dei Duchi
Lovely 4-star hotel right in the historical centre of Spoleto.
Viale Giacomo Matteotti, Spoleto
+39 0743 44541
Don't miss in Spoleto…
Spoleto Festival
Spoleto's Festival dei Due Mondi, Festival of the Two Worlds, runs every summer for two weeks from the end of June to mid-July.
+39 0743 221689
Casa Menotti
Relive the excitement of past summers at the official documentation centre for the Festival dei Due Mondi.
Via dell'Arringo
+39 0743 46620
Casa Romana
An excavated and restored 1st-century house with mosaic floors and fragments of frescoes. A fascinating insight into what life was like here 2,000 years ago.
Via Visiale, 9
+39 0743 234350
spoleto@sistemamuseo.it
Museo Archeologico Nazionale
The National Archeological Museum is kept in the former monastery of St Agatha.
Via di Sant'Agata
+39 0743 223277
Teatro Romano
The Roman Theatre is accessed through the Archeological Museum.
Museum of Textile and Costume
An extensive collection comprising donations from prominent Spoleto families.
Palazzo Rosari Spada, Piazza Sordini
+39 0743 45940
Palazzo Collicola Arte Visive
Contemporary arts centre under the artistic direction of Gianluca Marziani.
Piazza Collicola
+39 0743 46434
Rocca Albornoziana
Spoleto's famous fortress stands on top of Sant'Elia hill and offers splendid views over this beautiful city.
Piazza Campello, 1
museoducatospoleto@sistemamuseo.it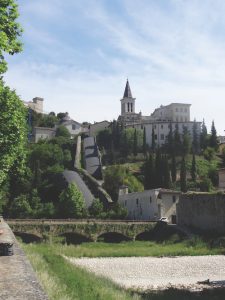 Il Duomo di Spoleto
The Duomo of Spoleto is a Baroque church dedicated to Santa Maria Assunta. It was built on the foundations of a small 8th-century church and the original church's mosaic floor can still be seen. A letter believed to be from St Francis is kept here and is viewed by pilgrims following the Via San Francesco.
More Spoleto information
Spoleto Card
The Spoleto card website has useful information on the museums, in addition to information on obtaining the card. Valid for 7 days, covering 6 museums, €9.50 per adult
+39 0743 46434 
info@spoletocard.it  
Car parking
SpoletoSfera is open 07.00-01.00, prices €1.20 for the first hour, to a maximum of €8 per day; Ponzianina is open 24 hours, prices €1 per hour to a maximum of €5 per day; Posterna is open 24 hours and prices are as SpoletoSfera. Hotel guests pay €5 per day. The mechanised lifts system is in the ZTL (Zona a Traffico Limitato).
Trevi: the most beautiful village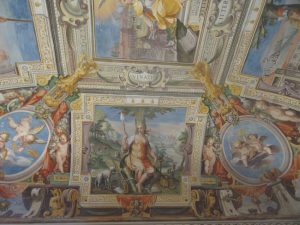 Trevi is one of the 'borghi più belli d'Italia', the most beautiful villages of Italy, with streets curving around Mount Brunette. The village can be seen from a distance, with the church of Sant'Emiliano at the highest point. The mayor, Bernadino Speratino, met us at Villa Fabri (now the tourist information office). Villa Fabri was built in 1585 as a place of pleasure for Girolamo Fabri. All the rooms are decorated with frescoes relating to human virtues (right). In 1980 it was bought by the council and a three-year period of restoration has taken place in the villa and gardens. From the terrace there are far reaching views of the Spoleto valley.
The mayor showed us the Museo della Civiltà dell'Ulivo, which shares the story of olive oil production in the area. Trevi is at the centre of Umbria's DOP olive oil production today. It was fascinating to go in search of what is believed to be Umbria's oldest olive tree: Sant'Emiliano's tree in Bovara. At around 1,700 years old, the tree is still producing oil each year and has survived the destruction caused by insects two years ago, when Umbria saw a loss of two million euros worth of oil. Another of the village's treasures – Trevi's black celery – is celebrated at a black celery and sausage fair in October.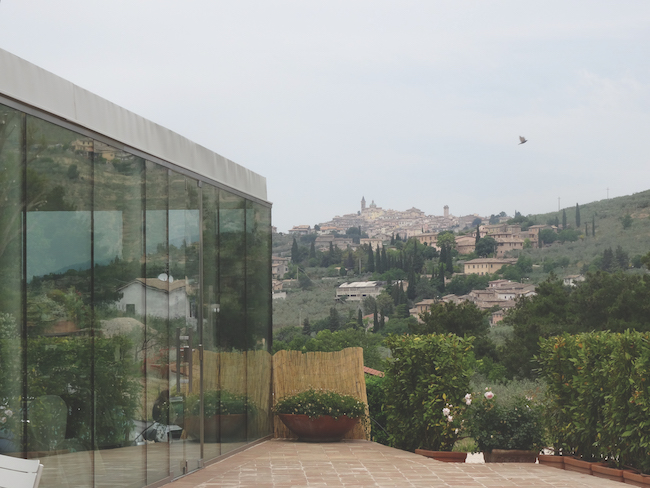 Lunch took place at Corte Fratini (above), an old mill which has been restored and is just three kilometres from Trevi. With an outside cooking station, a modern glass restaurant set in the hillside and small swimming pool outside (all with views of Trevi and the surrounding countryside), this also makes a wonderful modern wedding venue.
Don't miss in Trevi…
Villa Fabri
Girolamo Fabri's pleasure palace is now home to the tourist office.
Via delle Grotte, 2
+39 0742 718084 
Museo della Civiltà dell'Ulivo
The Olive Oil Museum tells the story of oil production in Umbria through the centuries.
Largo Don Bosco
Centro per l'Arte Contemporanea
The Centre for Contemporary Arts is located in the Palazzo Lucarini.
Via Beato Placido Riccardi
+39 0742 381021
Temple of Clitumnus
Just south of Trevi is the Tempietto del Clitunno (left), next to the river Clitunno. It is also alongside the route of the Via Flaminia. The small chapel has a classical appearance in the shape of a temple, with a small sanctuary and frescoes inside.
Teatro Clitunno
This Theatre has hosted the town's cultural activities since 1875.
Via del Teatro
+39 0742 381768
Corte Fratini
This is the perfect place to book for weddings and other special occasions.
Via Cascia, Pigge near Trevi
+39 3490 823577
More Trevi information
Tourist Information is based in Villa Fabri, Via delle Grotte.
+39 0742 332269
infoturismo@comune.trevi.pg.it

Bevagna: a trip to the country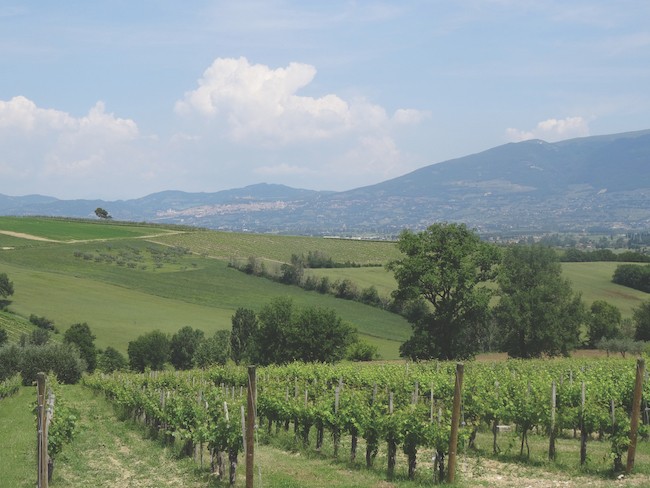 The third medieval town we visited was Bevagna, situated on the Via Flaminia between Rome and the north. The entrance through Porta Foligno in the town's walls leads to the main square of Piazza Silvestri. Here there are three churches, a fountain and the Palazzo del Consoli, inside which is the Teatro Francesco Torti. This is also where the Mercato delle Gaite is held, which celebrates the town's medieval trades each June.
There is evidence of the Roman period in Via dell'Anfiteatro, where the curve of the amphitheatre can be seen. Also in Via dell'Anfiteatro is the reconstruction of a medieval merchant's house. In Via Porta Guelfa, part of the floor of the Roman baths shows a mosaic of sea monsters, lobsters and sea horses.
Don't miss in Bevagna…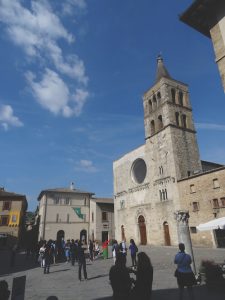 Church of San Francesco
The church and convent of St Francis was built in the 13th century and houses paintings and frescoes from the 16th.
Vicolo San Francesco
Church of Santa Margherita
The church and convent of St Margaret was renovated in the 17th century and also contains paintings and frescoes from the century before.
Via Santa Margherita
Cantina Dionigi
As well as excellent wine-tastings, they also organise balloon rides!
Via Madonna della Pia
+39 0742 360395
For more about the Umbria region's recovery from the 2016 earthquakes, check out Penny's Back to Life in Umbria article.