Following three extremely successful shows the

Quintessentially Weddings

Atelier returns to Somerset House, home of London Fashion Week, on 10th and 11th April.
Considered the world's most luxurious wedding planning event, the Atelier offers an exciting, immersive experience, which showcases some of the world's most talented designers and artisans. The event is curated by Quintessentially Weddings, planners of the world finest weddings and they would love to invite you to the next show.
Discover the unrivalled list of couture designers in the Atelier's little black book. The Atelier will provide brides with insider access to the finest experts in a magical setting. You will have the rare chance to receive one-on-one advice from these industry connoisseurs, including premium designers, florists, jewellers and gastronomes. There will be a series of interviews with hand selected experts in the fashion and wedding world to offer you insights into every element of your wedding.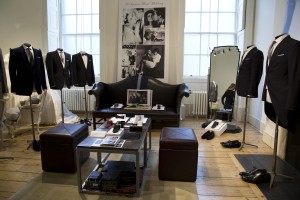 Quintessentially Lifestyle Members are invited to enjoy cocktails and canapés as they experience a number of immersive and interactive elements. Whether it be a private consultation with Chanel, an intimate tea in Quintessentially's 'vintage tea room' or enjoying a once in a lifetime collaborative catwalk – The Quintessentially Weddings Atelier is the highlight of your bridal calendar.
Quintessentially Weddings would love to offer you and your guests complimentary tickets – Please register you interest by emailing atelier@quintessentiallyweddings.com or call: 0207 760 2310
Confirmed Brands:
Chanel – Jimmy Choo – La Perla – Mikimoto – Laduree – Matthew Williamson – Abigail Bloom Cakes – Ambreen Make-up – Cutture – Domino Purchas Cakes – Eight Ray Music – Farley – Foyle Fireworks – Gillian Million – Grosvenor Stationery Company – Holy Water – John Nassari – Lavender Green – Limoz Logli – Little Eglantine – Mary Jane Vaughan – Megabooth – Mr and Mrs Smith – Nyetimber – Olivia Von Halle – Phillipa Lepley – Quintessentially Wardrobe – Quintessentially Wine – Raj Tent Club – Rosalind Miller Cakes -Ruth Kaye Design – Sammy Aki – Scabal – Shane Connolly – Sophia Schorr – Kon – St Pancreas Renaissance – Suzie Turner – The Admirable Crichton – The Ambassador Aegan Hotel – The Couture Gallery – Twilight Trees – Waddesdon Manor – Wow Grass – Zaeem Jamal