Internationally renowned sculptor Rod Dudley is Australian, but the heart of his art is in Besozzo on Lake Maggiore. Lifelong friend Rosalind Milani Gallieni pays him a visit…
Photos by Rosalind Milani Gallieni unless otherwise stated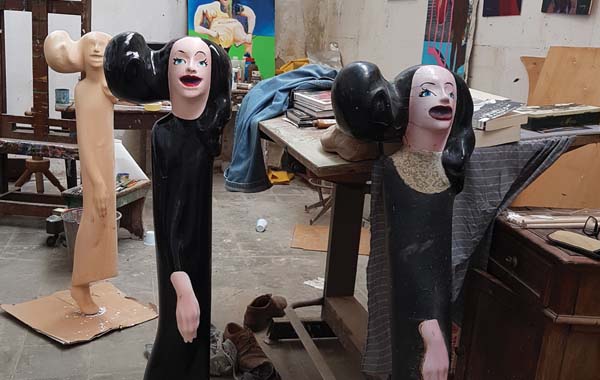 In fondo! In fondo, giù a sinistra…" I take the turning as instructed by the local Besozzo messo, who was conveniently directing the traffic at a junction near a derelict old warehouse, once a renowned cotton factory. I drive on in my small, lentil-orange Fiat 500 and head down a bumpy track full of deep pot-holes, and turn left, hanging onto my steering wheel as I bump along. I drive into a dead-end inside the factory, through an old rusty entrance, and see the word DUDLEY scribed onto the wall in rusty red paint. A driveway invites my 500 to drive up a high ramp, and I do the hill climb and pull up outside the top-floor entrance to Rod Dudley's studio.
He stands on the balcony in dapper red shorts and invites me into his workshop, which is immense! I walk about in amazement and admire his works hanging on the walls. Artefacts are strewn on the floor, waiting to be cast or soldered, and there are many pairs of shoes here and there, which he wears according to where he has to go in the vast 360 square metre warehouse with sixmetre- high ceilings. It's not really a studio as we would imagine it: it's a space any artist would love to work in, with natural daylight flooding in from the top of the building, wall space and workbenches everywhere. There is also a caravan in the far corner where Rod works if the Besozzo winter is too harsh – unless, of course, he runs off to Melbourne, his hometown in Australia. He tells me this is a better option in winter in any case!
CARVED ARTWORK
The day I drop by, Rod is enthused by a new process he has finally managed to work with, recreating one of his original figurative group sculptures with computerised wood carving, or a copying machine, which means he can be considerably more refined in creating his signature models. Usually each single character is painstakingly hand-carved out of wood, using the natural wood grain as a design to create depth and shape in the carved artwork.
Rod, who was born in Melbourne in 1935, had a happy childhood. His father was an engineer with the State electrical company and his mother was a dance teacher. Rod vividly remembers the times when, as a five-yearold, he waited for his mother to finish her classes, and how he would watch her students standing tall at the barre, with their long legs and their perfect posture. He tells me that from those days he still feels small (he isn't actually all that tall) and that looking up at those dancers is a memory that has stayed with him in the way he implements his work today.
Rod is still very fond of figurative art and wants to maintain a focus in that area. The first exposure he had to real visual art was his initial encounter with the Cairns family of art collectors. This experience created a hunger for visual art and, later on, Rod started training to become an art teacher. After his training he was hired at Bairnsdale and Camberwell high schools, and at Wesley College, which kept him in Melbourne. Then, unexpectedly, one day a note reached him from Italy offering him an Italian Government Travelling Scholarship. While he wasn't able to accept this intriguing offer straight away, he knew that a change of life would come with this opportunity.
It's a space any artist would love to work in.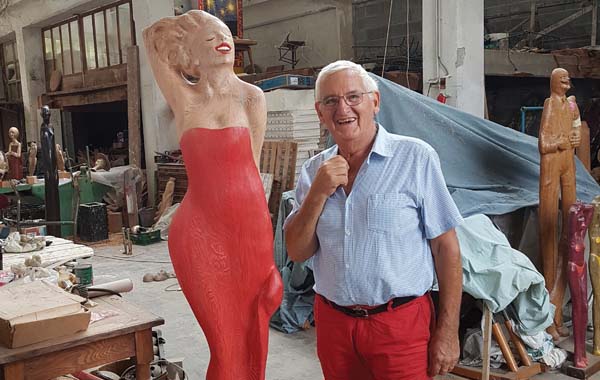 SMALL CHAPTERS
He walks around the studio telling me small chapters of his life, prompted by a sculpture or a piece of memorabilia, and then he stops and turns to me, and with an enthusiastic smile starts off on another tangent: "Italia!" He beams. "I left Australia in 1965 and set off on the SS Galileo Galilei, which was running a service between Australia and Naples. From Trieste, I then made my way on the map to Milan's Brera Academy, L'Accademia di Belle Arti di Brera. Every time I said these words they were like music to my ears. The price of the trip was a king's ransom for me then, and the first few months were spent in a cold and wintery Milan with nothing but bread and milk to keep me going."
But a new dawn broke with spring and Rod began working for Giancarlo Sangregorio. Now the name is tied to his foundation, but then he was a well-known sculptor based in Sesto Calende on Lago Maggiore. The lifestyle of the lago, and Sesto Calende in particular, became a focal point for many exceptional artists, such as Lucio Fontana and Enrico Baj. Rod got to grips with his work and the new materials of Italy. His first stone and wood sculptures showed the influence of Henry Moore and Marino Marini, his maestro at the Brera Academy.
Rod is still very fond of figurative art and wants to maintain a focus in that area
His first stone and wood sculptures showed the influence of Henry Moore and Marino Marini
LASTING FLAME
Rod met Christina Connor when she was returning home after a trip – a tour of Europe with her sister. It took only a few days' company to ignite a lasting flame, and for the next year and a half the two wrote to each other consistently to maintain their friendship, as work now called Rod back to Milan. Wedding bells chimed in due course in London, where they met up again, and it was here that Rod began to paint his "heroes, and subjects from the turn of the century" using the inspiration of English pop artists Peter Blake and David Hockney (then exhibiting at the Tate), who were working around him at this time in London. In these paintings, he would find characteristic styles of hyperrealism and expressionism, which really grounded his love for art.
Rod has been featured in many prestigious exhibitions and events, and has been awarded many prizes for his works. Some of his bestknown shows include the prize exhibition in the San Fedele Gallery in 1971, an exhibition awarded by the Australian Visual Arts board in the newly renovated Triennale in 1973, and a one-man exhibition in Manfred Schönbrunn's Gallery's stand (Portrait of a Family) at the Cologne Art Fair in 1975. He features in many of Como architect Ico Parisi's shows of the mid-1970s, including the Venice Biennale, and took part in the Adelaide Festival in 1981. The most impactful pieces that were included in these shows are his group sculptures.
I ask Rod why he chose the female subject in so many of his works.
"The female figure, she presents herself as a media icon, which I know has very little to do with what she is like in flesh and blood. As an angry young socialist, I was haunted by another reality: the blatant show of wealth and power as seen in glossy magazines at the time. I had escaped from Australia's love of Tachisme and the New York School and sought the opposite: a certain realism. I loved David's hand by Michelangelo, the audacity of Warhol's soup can, or the liquid cool of a Hockney pool."
The setting, the people, the spaces and the seasons of this region are a constant inspiration to Rod.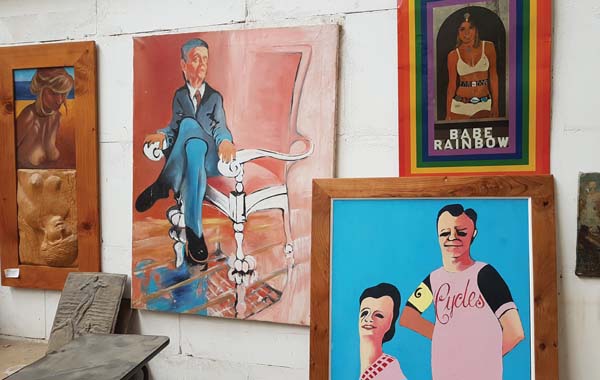 THOUGHTS OF HOME
Rod often struggles with the thought of returning home to Australia permanently, and of whether he made the right decision moving to Italy, but he is then reminded of all that it has done for him and how he is intrigued by the insecurity of life in Italy.
Rod and Christina now live near Milan, close to the beauty of Lago Maggiore, which is a few minutes away from the studio in Besozzo. At lunchtime or after work, he often meets up with Christina in his salotto, which is a heavenly, quiet sandy beach with 180-degree views of splendour onto the lake and of the Alps beyond. A small baretto for a coffee and a chat with the locals is all it needs, while the skies are filled with swallows and swifts, white swans a-dabbling and the gulls, all reminding him of home in Queenscliffe, the oceanside borough of Melbourne.
He says he leads his life as a contented hermit.
The setting, the people, the spaces and the seasons of this region are a constant inspiration to Rod. His workshop is never really quiet, as he works with the studio full of the triumphant sounds of Beethoven, Chopin and Stan Getz accompanying his creative flair. He says he leads his life as a "contented hermit." Next he discusses hosting a summer pop-up cocktail party in amongst his pop stars and totems. He stops at nothing and the abundance of enthusiasm and energy is a source of inspiration in his works, which are collected by the likes of the Missoni family, Krizia and Elton John.
The very same characteristics I remember daunting me slightly as a young girl, when my parents would have Christina and Rod over, but now I see the consistency of their drive and admire the dedication to the choices they have made. They still live in the most beautiful town of Besozzo, which is steeped in history and surrounded by period villas with their secular gardens.
FIND OUT MORE
NEAREST AIRPORT
Milan Malpensa
WHERE TO STAY TO SENSE THE PLACE
Casetta delle Palme, Besozzo www.airbnb.co.uk/rooms/16773798
WHAT TO DO DURING YOUR STAY
Lunch on Isola dei Pescatori, Lago Maggiore, and a dinner in Rod's studio
VISIT ROD'S WEBSITE
www.roddudley.com