The Vatican Museums are by far the most visited art galleries in Italy. And so they should be. There are more than 20,000 items on display at any one time – and sometimes it feels as if there are just as many people seeing them.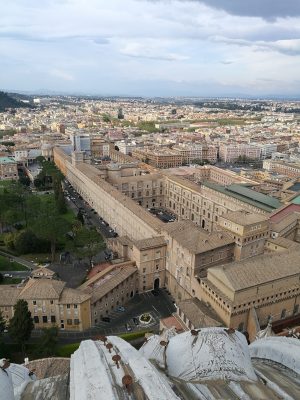 The Museums house the collections of five centuries' worth of Popes and trace their history back to the acquisition of The Laocoön Group (see last month's Past Italia!) from the owner of the vineyard in which the magnificent ancient marble sculpture was discovered.
Most people, of course, come to see the Sistine Chapel, which we would have a photo of here if we'd been allowed to take one… but we weren't. (We did try to ask them "if they knew who we were" but they weren't having any of it.)
You must also see the Raphael Rooms; but to see both, if it's at all crowded, which it is, you'll want to take the long route, so you see the Raphael Rooms first and the Sistine Chapel after, otherwise you will be washed on the tide of tourists round the Sistine Chapel for a second viewing. And no, you can't take a photo this time either (though lots of people do).
You also can't talk, eat, stand or sit in the wrong place, or wear shorts. But you are in the presence of some of the greatest art ever made, so you can live with that. Just don't go on a Monday. Almost everything else in Rome is closed on Mondays, so the Vatican is packed.
Information:
Open Monday to Saturday 9am to 6pm (doors close 4pm), and every last Sunday of the month – unless it's Easter Sunday, St Peter and Paul's Day (June 29), Christmas Day or St Stephen's Day (December 26) – from 9am to 2pm (doors close at 12.30pm). For more information head to: www.museivaticani.va
SaveSave