You can go and see the Trevi Fountain for free, it's just there, but it will cost you money if you ever want to see it again…
Words and image by Jon Palmer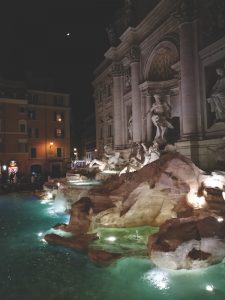 There are actually lots of things you can do for free in Rome – especially if you happen to be around on the first or last Sunday of the month – but few sights are quite as iconic as the Trevi Fountain.
There has been a fountain here, or hereabouts, since Roman times, but construction on the present one, the famous one, began in 1732 and took until 1762 to complete. It takes its name from the Tre Vie (Three Roads) that lead to it, but whichever way you approach it, you will feel like Anita Ekberg in La Dolce Vita wandering about with her cat through the dark, narrow lanes that surround it while Marcello searches in vain for milk. Until, that is, you come out of the shadows and into the light.
Nobody comes to Rome without seeing it, and many people spend hours here, sitting, chatting and taking photos – usually of themselves tossing a coin over their shoulder. You are allowed (if you can find room) to sit on the fountain's edge and croon the song from Three Coins in the Fountain, but there are strict rules to stop you going full-on Anita and taking a shower in it.
Most people just toss a coin. (The fountain earns a cool €1m a year for the city.) If you toss one coin over your shoulder (right hand, left shoulder, even if you are left-handed) you will return to Rome. If you toss two coins, you will fall in love. Three, and it's a happy marriage ever after for you both. It's a small price to pay when you think about it, even at the current rate of exchange.
More information: 
Piazza di Trevi, 00187 Rome.
Always open, nearly always packed.