This serenely beautiful region burst onto the foreign-buyer scene less than twenty years ago and swiftly became a favourite. It's still one of the most coveted rural property spots in the country, says Fleur Kinson
On the map, Le Marche forms the shapely calf muscle of the Italian leg. So it seems rather fitting that this region should be so attractive and well-proportioned down on the ground, too.
There aren't many similarly small corners of the world that offer such a diverse wealth of lovely landscapes. Le Marche's eastern edge is a long line of clean, honey-gold beaches dipping into the warm and shallow Adriatic. Step back from the friendly seaside and you enter a tranquil world of green and gold hills – a prettily undulating landscape where soft rises in the land are crowned with handsome old towns and villages. Head toward the region's western edge and the hills become wooded mountains, with arresting vistas and wonderful hiking trails.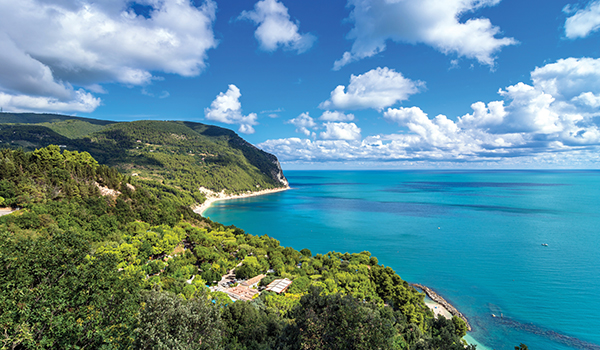 Physical beauty isn't Le Marche's only appeal, of course. There's a delightful way of life here too. The pace of living is easy-going and sustainable, but the infrastructure solid and reliable.
The region is rural yet prosperous, orderly yet relaxed. Le Marche's population density is low, its crime rate is very low, and its communities are warm and supportive. Many small ancient towns enjoy a surprisingly lively calendar of festivals and events that bring everyone together.
Homebuyers from abroad – quite a few of whom are retirees – invariably report that they've been swiftly embraced into the social fold by local people, and made to feel thoroughly part of the community. All in all, this is a great place to be.
Market past and present
To properly assess a property market and its possible future, it often helps to consider its recent past. Le Marche first came to foreign buyer attention about twenty years ago, initially as a lower-priced alternative to its better-known neighbours, Tuscany and Umbria.
It became an especially popular place to restore old, abandoned rural homes (and today many of Le Marche's once-tumbledown country properties stand lovingly revitalised by foreign owners). As initial obscurity quickly ceded to fashionability, Le Marche's property prices understandably rose – but not so rapidly as to form any kind of dangerous, burstable balloon (that's not really the Italian way with property anyway).
When the international financial crisis of 2008 onwards arrived, the number of overseas buyers in Le Marche (and across Italy) dropped dramatically, but property prices drifted down only very slowly over the following years.
Eventually, depending on the area, prices were as much as 15 per cent lower than they had been in 2008. By 2015, foreign buyers seemed to be trickling back into Le Marche; the panic-paralysis of the international financial crisis no longer seemed a good enough reason for property-buying dreams to stay forever on hold, and anyway, the British pound and American dollar were pretty strong against the euro. Then, in 2016, came the British vote to leave the European Union, followed by a series of medium-sized earthquakes in Le Marche which damaged buildings and, to a degree, buyer confidence.
So what of the market right now? Jane Smith of Magic Marche says that, "Following the Brexit vote and the earthquakes, we were expecting the market to be sluggish in 2017. Certainly there have been fewer clients making speculative visits, but those who are visiting are serious buyers. They've done their research and know that the earthquake zone is up in the Apennine Mountains and that anywhere within 20km of the sea (in my view the prettiest zone of Le Marche) is considered safe.
"Across the region, some prices have softened in the light of 2016, but generally prices will anyway be at least 30 per cent less than in Tuscany and Umbria. Interest in old ruins has strengthened in the last twelve months. There are some real bargains to be had here. Ruins with the potential to become three- or four-bedroom houses generally sit at prices somewhere between €70,000 and €130,000."
Shake it off
As Jane Smith suggests, it's important to bear in mind that only the mountainous part of Le Marche has been affected by the recent earthquakes and that areas nearer the coast are highly unlikely to experience any future ones. Seismologists agree that, while Italy is among the most seismically active countries in Europe, the risk of earthquakes is generally greatest up in the central Apennines, and much lower elsewhere.
Italians have long learnt to live with earthquakes in their country, and thankfully the majority of these are very minor. But occasionally there is a spell of more serious and damaging quakes, as there has been in central Italy over the last decade or so. Seismologists say that this recent cluster is likely to be the result of a particular stress which has been slowly working its way northward through the Apennines. Whether that stress has now worked itself out or has more shaking to do further north is, unfortunately, anyone's guess.
Always remember, however, that since the 1980s Italian law has required every newly built or restored old property to employ anti-seismic reinforcement techniques in its construction, and that these do an excellent job of protecting buildings from damage when they are in place. If you restore an old house, do not under any circumstances be tempted not to bother employing such techniques.
It would be foolish as well as illegal. State-of-the-art earthquake-proofing is often most easily achieved by knocking down an old ruin and rebuilding it using its original materials, incorporating the best anti-quake engineering technology from the bottom up as you do so. With old ruins representing someof the best-value prices in Le Marche these days, this can be a good route to go down.
Find your place
We've already mentioned the wonderful diversity of Le Marche's landscapes – its golden beaches, rolling hills and mighty mountains. Chances are you already feel drawn to one type of area over another. But let's look a little more closely at the region's various parts to help narrow down where might suit you best.
Le Marche's long, beautiful seaside is full of pleasant, family-friendly beach resorts. There are plenty of nice, modern-built apartments in and around the beach towns, and these generally go for between €100,000 and €240,000. You can find older properties, too, in the centres of these towns. As everywhere in Italy, prices are higher the closer to the water you are.
Note that any property within a dozen miles of the sea is likely to cost at least 10 per cent more than a similar-sized home in most areas further inland. You might want to consider buying a place about twenty or thirty miles from the sea. This gives you more property for your money, but also gives you the advantage of easy access to both coastal and mountainous areas.
You might also benefit from being at a slightly higher elevation than down on the coast and thus enjoy wide landscape views. The hills of inland Le Marche have no shortage of charming small towns to buy in or near, and the countryside of this area is extremely pretty. You might like to know that the southern half of Le Marche has generally proven to be the most popular, with overseas buyers choosing its hinterland hills.
The Apennine Mountains area of Le Marche's western edge is the least expensive part of the region for property, but alas, this is also where there is some lingering visible earthquake damage to buildings in certain places. This is not to say that you shouldn't look around Le Marche's mountains and find areas that are unspoilt by damage – and there are many – but if you do buy up here, make sure that any ready-restored property you look at has been adequately earthquake-proofed, and proof it yourself if you're the one doing the restoring.
The Sibillini Mountains area of southern Le Marche deserves a special mention at this point. This range is a particularly beautiful offshoot of the Apennines, with a look and feel all its own. It's a lovely area generally, with pretty towns and very good-value property, but again you should take care to incorporate anti-quake techniques if you're doing a restoration here.
Holiday rentals success
The years following 2008's financial crisis may have seen a drop in foreign buyers in Le Marche, but they saw no such drop in foreign visitors. Ever since word got out twenty years ago that Le Marche was something special, there has been no diminishment in the number of people who want to come and see the place for themselves. Jane Smith of Magic Marche notes that, "The rentals market has continued to be strong in Le Marche with many owners confirming 100 per cent occupancy for July and August 2017. This is great news for those thinking about earning extra income from their properties."
Leisure visitors are drawn to all three of Le Marche's main landscapes – the beaches, the rural hills and the majestic mountains – and you could reasonably expect to attract interest from holiday rental clientele on a property in any of them. However, as you'd expect, some areas see more interest than others. The seaside is, naturally, the chief recipient of summer holidaymakers in Le Marche, and you could expect to fill all the summer weeks in a property's rental calendar if you wished to.
The usual advantages apply: most clients favour a home with two bedrooms, with an outdoor space of some kind (a balcony, patio, terrace or courtyard), and as near the shore as possible. But the rentals market is still very strong for homes a little further inland – say, within 40 minutes of the sea. Again, an outdoor space is an advantage, as is a pool, and ideally some sort of attractive vista. Mountainous locations receive fewer visitors, but still enough of them to give a property here reasonable holiday rental prospects. Inland areas can attract visitors in spring and autumn as well as the summer.
SaveSave