Cathy Heald finds out about the most exclusive cricket club you'll ever see: St Peter's at the Vatican…
Photos by Cathy Heald unless otherwise stated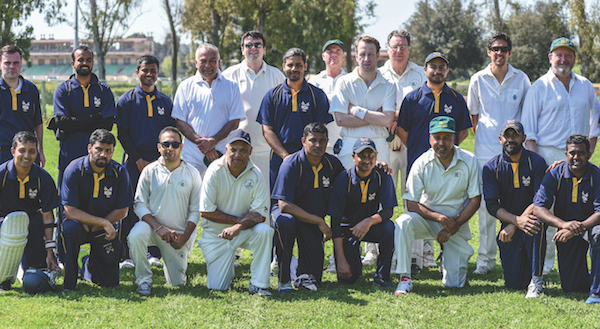 There are a multitude of things that we all associate with the Vatican: the Pope, the Swiss Guard, St Peter's Square and stunning architecture to name a few. What might be less well known is that, for the past four years, the Vatican has also had its very own cricket team.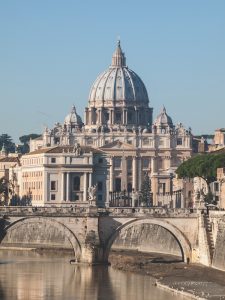 Originally the idea of Australia's Ambassador to the Holy See in Rome, John McCarthy, the St Peter's Cricket Club played its first match in May 2008, losing to the 'Serie A' team Roma Capannelle Cricket Club prior to their very first, somewhat ad-hoc, 'international' match in September of the same year against the brilliantly named Dutch Fellowship of Fairly Odd Places Cricket Club. It appears to have been a fairly one-sided encounter, with the Vatican team cruising to a 10-wicket victory in a 35-over game.
John McCarthy's vision was to create a vehicle that could help build bridges across different religions in different countries – particularly those where Catholicism is not recognised but cricket is. Sport has often been used to break down barriers where prejudice and misconception lie; McCarthy used what he knows well, cricket, to do just this. It seems to be working.
The team did not become an official entity until 2014, but now practises and plays regularly, with their annual tour the highlight of the calendar. They have come a long way in a short period of time and last year saw them play at Edgbaston and Headingley – something most amateur cricketers would love to be able to do. This year, Lord's and Windsor Castle may well be hosting two of their tour matches.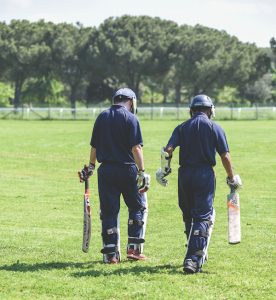 Multicultural team
Generally known as 'The Vatican Xl' or 'St Peter's XI', the team is not actually drawn from citizens of the Vatican itself, but from among the 300 seminarians and priests housed at Catholic Colleges and seminaries around Rome. It is a truly multicultural team and this year boasts players from Sri Lanka, Pakistan, Australia, New Zealand and the UK, as well as having an Irish Team Manager in Father Eamonn O'Higgins.
All the players have been, in some way or another, involved in the sport since their youth. Brother José Mathew, the team's Communications Manager, has fond memories of playing in the classroom at school with a screwed-up piece of paper as a ball and an exercise book as a bat! 
While they all take their cricket seriously, José is keen to point out that although they love their chosen sport, they are all, first and foremost, priests – something that is reflected in their pre-match routine. On match days, they start their preparations with a Mass at 7am followed by a period of meditation before breakfast. They will then arrive at the venue of the game at about 10am still wearing their clerical collars before beginning the metamorphosis into cricketers. Immediately prior to the start of the match, Father Eamonn will lead the team in a short prayer – the clerical equivalent of a pre-game pep-talk.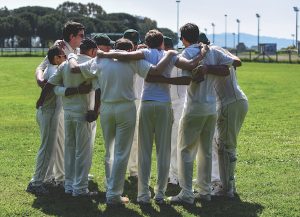 I was privileged to be invited to watch them practise on the Friday night and then see their match against Barnes Cricket Club last summer. St Peter's ran out winners by 85 runs in the 20/20 match. Do not be fooled into thinking this is a gimmick! They are a good team playing a decent level of cricket and they are all dedicated to their craft. They are, unsurprisingly, no different to any other sports team full of young men. They are enthusiastic, determined, skilful and competitive, yet possess an inner calm and understated attitude that many other clubs and players could learn from.
They play their home matches at the Capannelle Stadium in Rome from April to October. They would love to welcome you at one of their matches. 
Fixtures in Italy 2019
28 June: Stonyhurst College
4 July: The Archbishop of Canterburys's XI.
Follow the team
You can follow the team on social media on Facebook or on Twitter