With a tangible history dating back to Etruscan times, Perugia, the capital city of Umbria, had more than enough to keep Lorenza Bacino busy for a long weekend…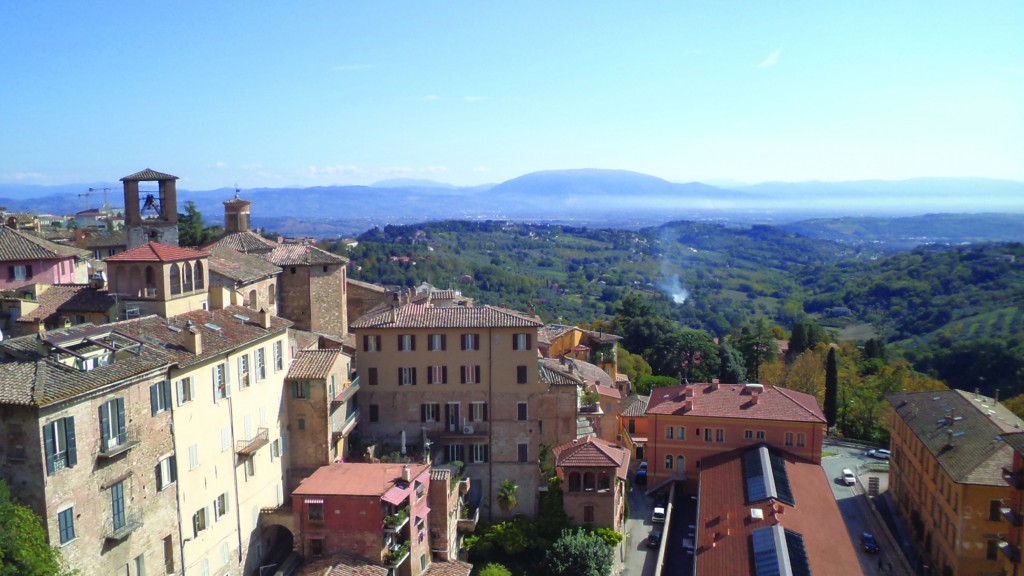 Sitting on the marble steps of the centrally located San Lorenzo Cathedral, soaking up the sun and the atmosphere while enjoying a traditional piadina with prosciutto, was the perfect way to begin my visit to Perugia. As I gazed across the Piazza IV Novembre, I felt as though I was watching a United Colours of Benetton advert with groups of beautiful young people from around the globe congregating, chatting, laughing and eating in the pedestrian main street, Corso Vannucci. They're here to study. Perugia has had a university since 1308 – making it one of the oldest university towns in Europe. Since 1921 there has also been a University for Foreigners, which was initially set up to teach Italian art and culture. In 1992, this became an integrated part of the University of Perugia and now, as a consequence of this elevation in status, boasts a much wider and varied studies programme.
Today, there's a particular buzz in the air as frantic preparations for the annual Eurochocolate Festival are under way; the sound of hammering echoes through the streets, and stalls are springing up at an alarming rate.
Laying aside my map, I decide I am going to wander through the back streets, to see what I can find and to escape the chaos and noise of the city centre at the same time.
I soon stumble across the charming Via della Viola, a narrow street and clearly a hub of cultural and artistic creativity. Contemporary graffiti and paintings adorn the walls, among all sorts of fun artistic creations – some hanging, others protruding.
And I thoroughly enjoy the edgy feel it gives this Etruscan and Medieval town. And the silence… I am the only person traipsing the streets on this sunny morning.
Perugia perches on a high hill, which was typical of the way the Etruscans – who were the people who originally founded Perugia, some time before the Romans arrived – chose the locations for their towns. And it's still a higgledy-piggledy kind of place, multi-layered in its structure, with cobbled streets leading down to arches and towers, some of which do actually date back to Etruscan times. It's easy to navigate, however, and there are various spots where you'll be able to glimpse the surrounding Umbrian hills and cities, such as the beautiful Assisi, in the distance.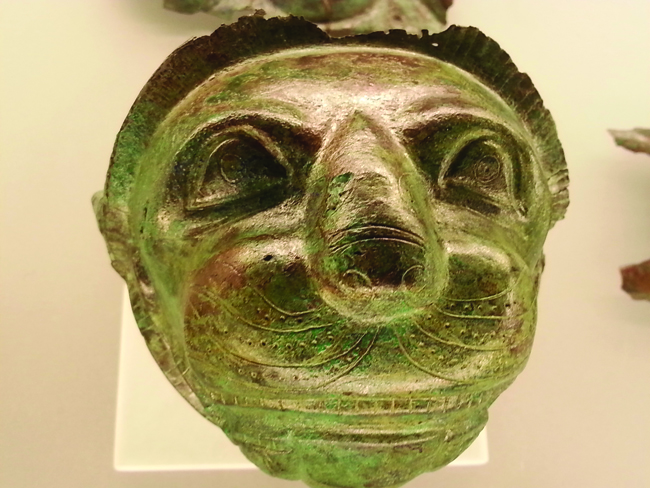 The best views I found are from Via Indipendenza, Porta Sole and the terrace of the Mercato Coperto (the Covered Market).
Perugia is best explored on foot, with access from the car park below, in Piazza Partigiani. A modern escalator runs from the piazza, up through the ancient Rocca Paolina, before bringing you eventually to Piazza Italia in the centre of town. This is a remarkable way to appreciate the building skills of the Etruscans as you can wander through underground passages. To me it feels such an unusual way to reach a city, and yet for the inhabitants, who use the route on a daily basis and are apparently oblivious to its uniqueness, it's just the way you get around town.
From the Piazza Italia, you can find your way to the top of Corso Vannucci, from where you can begin your walking tour of Perugia…
la Galleria Nazionale dell'Umbria
There are two levels of 20 rooms in this impressive collection, housing works from the 13th to the 19th century. There's something eery yet pleasurable about wandering these rooms alone, admiring such significant works by artists such as local 'Il Perugino', (Pietro Vannucci), Pisano and Raffaello, to name but a few.
il Nobile Collegio del Cambio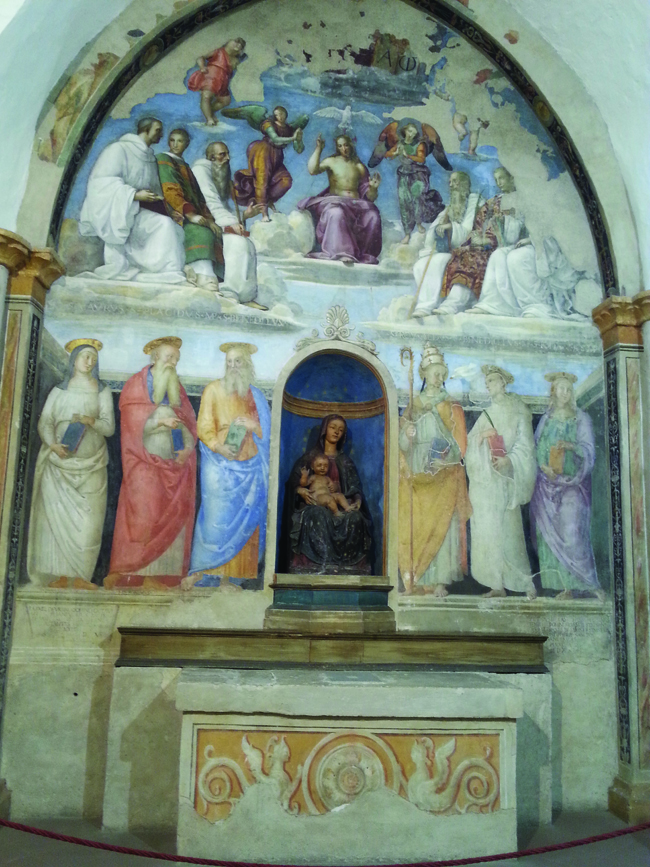 The historic seat of the Exchange Guild is right next door to the National Gallery of Umbria. What's really interesting in here are the significant frescoes by Il Perugino, but also of note are the collections of ancient and medieval silver and gold coins, and the scales that were used to weigh them.
Perugia is protective over its Perugino frescoes and you are not allowed to photograph them. They are lovely to admire from close up though, and I managed to secure an official photograph for the purposes of this piece.
il Palazzo dei Priori (The Town Hall)
Just in front of the Cathedral, overlooking Piazza IV Novembre, this Gothic-style palazzo was built in the early 1300s. Facing the piazza you can see the carved emblems of Perugia: a griffin and a bronze lion. Inside is the gorgeous Sala dei Notari, with its painted arches and frescoes retaining surprisingly bright colours.
San Lorenzo Cathedral and Fontana Maggiore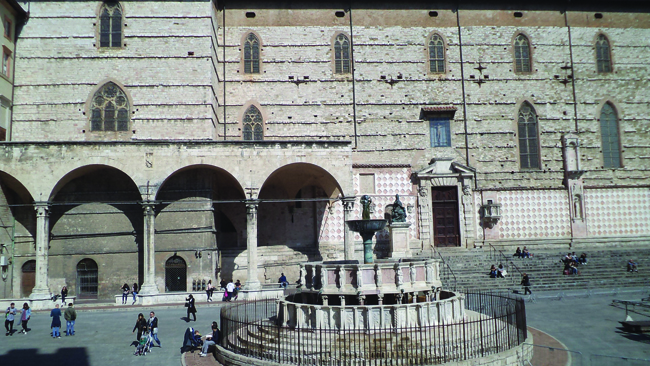 Descending the steps of the Town Hall, you'll find yourself at the Fontana Maggiore and San Lorenzo Cathedral. This medieval fountain was built between 1277 and 1278 as part of Perugia's independence celebrations. It has 25 sides, depicting saints, signs of the zodiac, Biblical scenes and events from Roman history.
To the right of the Cathedral, there's a small entrance which takes you to the Pozzo Etrusco, the Etruscan Well. It's narrow, dark, dank and quite an amazing feat of hydraulic engineering. The date is a bit uncertain but is thought to have been built around the 4th or 3rd century BC. It's 37 metres in depth and five metres in diameter and supplied the whole city with water during Etruscan times. Your ticket also allows you entrance to the San Severo Chapel a short walk away. The tiny chapel is well worth a visit as it houses a wonderful fresco by Raffaello and Il Perugino, and you'll probably be able to contemplate it in private as it's a bit off the main drag.
Casa Museo di Palazzo sorbello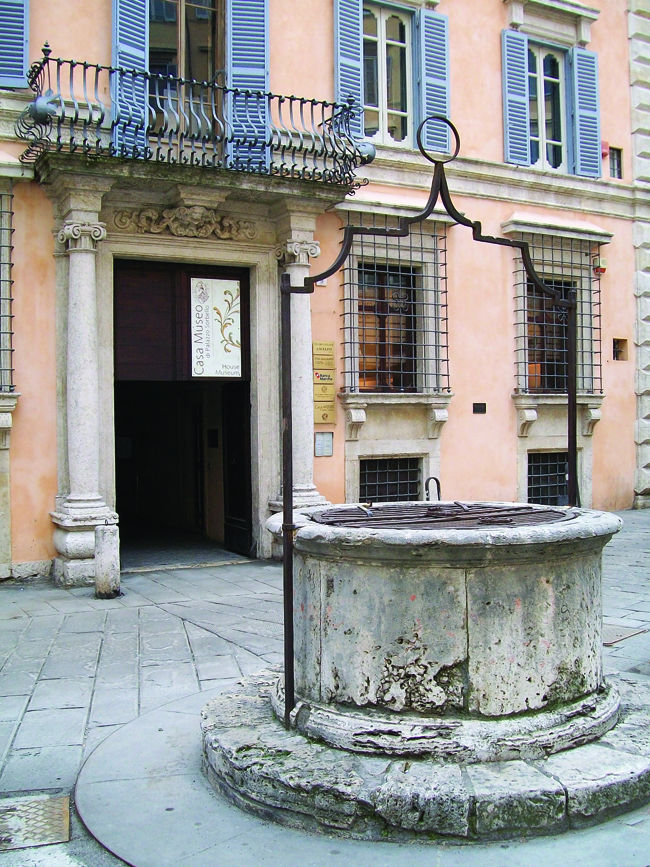 This was one of my favourite places in Perugia. Dating from the 16th century, the Palazzo Sorbello is a beautiful private house which has belonged to many different Perugian noble families in its time. In 1780 it was purchased by the Marchesi Bourbon di Sorbello. It has an impressive library with frescoed ceilings. One of the reasons I loved it so much is because, completely by chance, I stumbled across one of my father's books in the historic private collection – he was a war correspondent, and Uguccione Ranieri (1906-1969) collected such works as he too was involved in the War, and was decorated by the Allies in 1945 for his contributions. This aside, there are many rare editions, manuscripts, private papers and collections here. Furnishings and lamps date from the 18th century and there is an impressive porcelain collection including Chinese porcelain from the Qianlong era (circa 1775). Upon arrival, you're welcomed into the main foyer, where there's a bookshop, and a terrace overlooking Perugia and Assisi.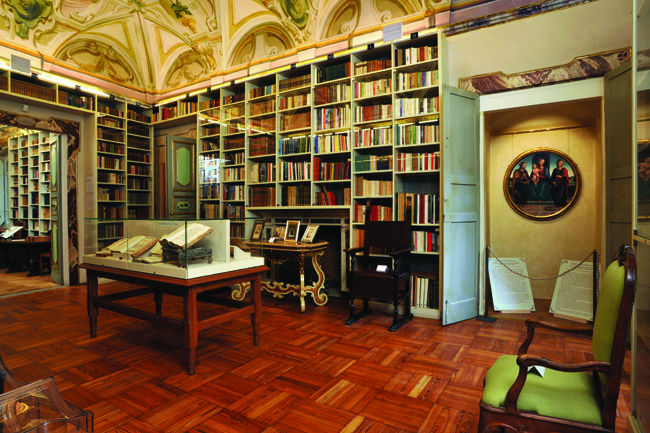 Palazzo della Penna
Your ticket from the Galleria Nazionale dell'Umbria also gets you into the modern art gallery, Palazzo della Penna. Here you'll find temporary and permanent art collections from the 1960s to the 1990s. Check what's on here at www.perugiacittamuseo.it/it/palazzo-della-penna.html.
Oratorio di San Bernardino
The Oratory has a gorgeous Renaissance façade and was built in honour of San Bernardino of Siena. The interior is Gothic and the altar is formed by a 4th-century paleochristian sarcophagus.
Perugia is extremely rich in ancient history. There aren't many places where the Romans are thought of as relatively modern! But there are contemporary surprises too. There used to be, for example, a textile workshop for women embroiderers in Umbria between 1904 and 1934, run by Romeyne Robert Ranieri Marchesa di Sorbello.
For more travel (and property!) inspiration for Umbria, here's our archive
SaveSave
SaveSave
SaveSave
SaveSave