Angie McNee is living the dream ? after? relocating to Rome she was inspired by the use of seasonal ingredients and started her own dessert chocolate company, Squisitezza?
When did you first fall for Italy?
I was offered a job in Rome in 1994. I had only anticipated a brief six month stay, but by the time that had gone by I felt like I had only been there for a few minutes. I liked the new lifestyle I had found, I loved the food, the culture, and living so close to the Colosseum. I knew that I had barely scratched the surface of Italy?s history.
What was it like to live in Rome?
Rome is a crazy, infuriating city. If you go out to do ten things, it will be a miracle to achieve two. The bureaucracy will drive you to distraction, and the rudeness of those supposedly there to serve will drive you mad. They place a heavy emphasis on having the correct documents for everything, and as a foreigner I always got it wrong. But then Italy has more sunshine than rain, and when it does rain it is a dramatic spectacle, not the grey drizzle of the UK. We all know the food is great, but what felt like a chore at first of going to market to buy fresh food every day soon became a joy to see the bright colours and varied shapes of seasonal fruit and vegetables.
How did you set up your company?
One of the first things I found in Italy was la sagra, the harvest festival. There is a sagra for something on every weekend of the year. My first was the sagra of the soup in Sezze near Naples. The village had dressed itself up, held a market in the town square and all of the townsfolk welcomed everyone who came to visit. It was since this first sagra that I wanted my own business to embrace these celebrations. The first plan was to set up in Frascati, one of my favourite towns in the hills surrounding Rome. I wanted a cantina where I would sell wines with simple local food. But, as with everything in Italy, to do this was complicated, and ten times more so for a foreigner, and another bit more as a single woman. After several years of dreaming, and with a reluctant move back to the UK, I simply brought the concept of la sagra with me.
What inspired you to sell Dessert Chocolates?
I wanted to develop a range of seasonal chocolates to share and match the flavours of the pallet. I made them suitable to serve for dessert, either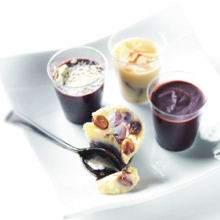 straight from the pot, chilled to slice, or warmed to make the sexiest fondue ever. And I wanted them to live up to their name Squisitezza, meaning exquisite.
How often do you visit Italy now?
I go back to Rome about every two months. By the time a trip is due I am desperate for Italian coffee, proper parmigiano, and great simple food. As soon as I feel the warm sunshine and smell a strong coffee, I feel I am back with an old friend. As a business owner whose soul is in Italy, I visit Rome to source key ingredients for my chocolates. I am proud to report back from the Italians who have tried my Squisitezza chocolates. They were hesitant as they tried, then they smiled and passionately declared that they are indeed squisitezza!
Squisitezza dessert chocolates are made by La Sagra in the UK using key ingredients from Italy.
They are available to order online at www.la-sagra.com and you can also follow Angie?s company on Twitter (@SquisitezzaTM) and Facebook.
Tags:
blog
,
Business