Novelist Janette Griffiths re-visits the source of her inspiration on Lake Como, and embarks on a celebrity spotting mission with a difference?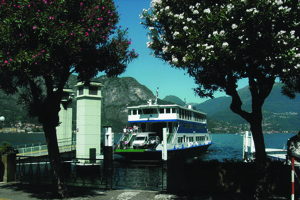 A man desired by women the world over has set up home on Lake Como. He?s got a woman in tow and on these warm autumn days, the lake is abuzz with talk of their comings and goings. When he passes by on his boat, binoculars are raised in the hope of a glimpse of his elegant profile. Some locals feel that his presence has lowered the tone and raised property prices. But this is 1837 not the 21st century. The furore is not being caused by a certain handsome Hollywood star. When this man appears in public, his female admirers fight for one of his velvet gloves or a silk handkerchief which they often tear to shreds in their frenzy.
Franz Liszt, the Hungarian piano virtuoso and composer, came to Bellagio on Lake Como in September 1837 with his French mistress, Marie d?Agoult. He was the biggest heart-throb of the 19th century. He had come to the lake to retreat from the fevered public eye. In a letter written that first month, Liszt said, ?When you write the story of two happy lovers, set it on the banks of Lake Como. I do not know of any place which is more demonstrably blessed by heaven; I have never seen another one where the charms of a life of love can appear more natural.?
That overwhelming sense of romance has never left this loveliest of Italian lakes. Shelley was beguiled by Lake Como, renting a villa near Torno. The Villa Pliniano had belonged to Pliny the younger, and was built around a waterfall but, as Shelley acknowledged, was half in ruins with vast, ill-furnished apartments. Any shortcomings in his lodgings were, however, compensated by his travels along the lake with ?the chestnut, myrtle, bay fig, olive and laurel that overhang the caverns and shadow the deep glens which are filled with the flashing light of waterfalls.?
Finding Inspiration
Flaubert stayed, like Liszt, in lovely little Bellagio and described the scenery as ?Shakespearean?. In the 1995 film, A Month by the Lake, Vanessa Redgrave found late-blooming love with Edward Fox at the Villa del Balbianello on the western shore of the lake on the Lenno peninsula. The same villa would be used by Daniel Craig?s James Bond to convalesce in Casino Royale.
I first came to Lake Como 20 years ago when I was looking for a setting for the fictional home of Leo, the legendary opera singer who is the hero of my novel, The Singing House. Great performer that he is, Leo appears regularly at La Scala in Milan. He needs a base not far from that operatic mecca. When I boarded the ferry that meanders around the lake sailing from the genteel bustle of Como to the pretty towns that line its shores, I knew that Leo had found his home.? Just 30 miles north of busy, serious, hard-working, money-minded Milan, I had stepped back into an elegant belle ?poque world where the ghosts of opera divas and composers, writers, painters and a few exiled kings and queens floated across the lake?s royal blue waters. Leo would inhabit a villa in Bellagio, ?the pearl of the lake? as the little town is known.
The Immutable Lake
Lake Como is shaped like an upside-down ?Y? with Bellagio, surrounded by water, at that central point where the two arms, or rather legs, meet.
A recent campaign by the local tourist office transformed the lake into a delicate ballet dancer, walking on points, with Bellagio at the centre. Because of its location, it makes a good destination for a visitor who can only manage a day trip to the lake. The ferry, Gestione Navigazione Laghi? (www.navigazionelaghi.it) leaves from Como, has a bar on board, and takes just over two hours, stopping at Torno, Lenno, Cernobbio and other lovely towns along the shore.
A flurry of interest in making my novel into a film brought meback to Lake Como this spring after a 20-year absence. The town of Como is the jumping off point for any visit but only hints at the beauty that lies beyond. I had an early morning cappuccino on the Piazza San Fedele, about 50 yards past the cathedral. The half-timbered buildings on this little square are a reminder of the close proximity of northern European, Germanic culture. The border with Switzerland is just a few minutes away by car. The Piazza San Fedele also hides a bit of true Italian surrealism in the shoe shop on the corner under the arcades. Loud music plays, shoeboxes are piled to the ceiling and indifferent sales assistants stand next to the remains of a Roman arch in the back of the store.
The lake was calling ? actually, the ferry was due to leave. I was anxious that I would find the place changed but had failed to realize that Lake Como?s location does not allow too much transformation. It is the most beautiful and romantic of the lakes because of its geography. The mountains are closer here. Snow-capped alps can often be seen from the water. The sides of Lake Como rise up higher and more dramatically than either Lake Maggiore or Garda. There is little temptation or opportunity for the property developer to deface Como?s dense green slopes. The little towns that line its shores and climb its foothills retain their higgledy-piggledy air. Waterfalls still appear out of nowhere. Villas still float in and out of the morning mists. And what villas they are.
A Filmic Beauty
One of the first stops is Cernobbio, where the Villa Erba is located. This villa is right on the lake and was the home of Italian film and opera director, Luchino Visconti. He was the son of Duke Giuseppe Visconti so it?s not surprising that so many of his films like Death in Venice, The Leopard and Ludwig look back on an older world of elegance and beauty that is disappearing forever. The Luchino Visconti rooms in the villa contain an exhibition devoted to his work.
Just above the town of Cernobbio is the restaurant Il Gatto Nero. Built into the hillside with a cosy, wooden, rustic feel and views out across the lake, this is a favourite with locals.
Another villa appears along the shore. We?re approaching Moltrasio and this is the Villa Passalacqua. Now it is a luxury villa rental with some of the most beautiful gardens on the lake, but Napoleon stayed here as did Churchill and in 1829 opera composer Vincenzo Bellini lived here. His favourite diva, Giuditta Pasta, had her own villa just across the lake and local legend claimed that Bellini could hear her voice echoing across the water while he composed. Her villa still stands and is now a spa and hotel, named after Bellini?s most celebrated aria, ?Casta Diva? from Norma.
Villa del Balbianello approaches on a small headland. With its two turrets, ivy-covered walls and ornate stone staircase leading almost into
the water, this villa is said to be the most photographed in Italy. In addition to being the setting for Vanessa Redgrave and that late love on the lake, it was also the scene for the wedding between Anakin and Padme in Star Wars Episode II.
Sci-fi doesn?t quite seem to belong in this sedate procession of elegant homes from another era. I was waiting for our arrival at Villa Carlotta further along the lake near Tremezzo. A 17th-century villa that has belonged to various European princes and princesses, it is famous for the spectacular azalea displays that turn the lake shores magenta, orange and scarlet in springtime. But an Italian ferry passenger who speaks perfect English has engaged me in conversation.?That?s his villa,? he says, pointing to an elegant, smaller villa on the western shore. ?He?s lowered the tone by coming here,? he sighs. ?All that Hollywood riff-raff, and all those women stalking him. And he?s sent property prices through the ceiling.? Nevertheless, he raises his binoculars to see if he can get a glimpse of George Clooney on his terrace. And so do I.
GETTING THERE
By Plane, Train & Foot
Malpensa airport is about 25 miles south of Como. Travellers who want to go directly to the lakes should take a train (www.lenord.it) from Malpensa airport to Saronno where they can pick up a train coming up from Milan to Como Lago station. This is right on the lake and
a short walk to the ferry.
British Airways and easyJet both serve Malpensa. A third airline, Monarch,
flies from Gatwick to Malpensa. A recent search online shows that they often have fares that fall in the middle range between low cost and scheduled airlines so are worth remembering.