For a true taste of Italian Christmas, you can?t beat a classic slice of raisin-filled panettone ? so we tasted seven to see which one you should serve for dessert this year?
For many in Italy, the festive season just wouldn?t be the same without a proud panettone sitting at the heart of seasonal confectionary. With its distinctive tall dome shape ? created by the plentiful air inside the cake ? it is most often eaten toasted or with a generous glass of vin santo after an evening meal. The name is generally believed to hail from the word panetto, which means small loaf, but a rather more fanciful explanation suggests that it derives from the Milanese phrase pan del ton, meaning luxury bread. Indeed, the sweetened dry loaf is synonymous with the city of Milan, although families all across Italy now enjoy it as part of a Christmas and New Year tradition. There are multiple variations to try ? among them chocolate chip, almond, hazelnut, fig, liqueur and even cream ? but the most traditional filling consists of raisins and sweetened orange peel. It should be dry and springy to the touch, with the most successful panettone retaining a moisture that gives it a wonderful melt-in-the-mouth quality. They can be glazed to varying degrees, although a simple sugar crust is most common. We tasted seven of our favourite brands to see what?s on offer this season.
Editor's Choice
Sainsbury's Taste the Difference Drunken Panettone
From Sainsbury's
Price £10/750g
Now it?s not just the alcohol that attracted us to this traditional-style panettone, but the musky Moscato-soaked aroma sure didn?t put us off! Before you even enjoy the first mouthful, the thick scent lingers on the nose and is a clear sign of good things to come. The alcohol allows this cake to retain its moisture by acting as a layer around the usually exposed top. Whereas other panettone seemed to wither once opened, this one stayed buoyant and delicious for days ? and it probably would have lasted even longer had we not eaten it all. Some of our tasters mentioned the texture to be slightly too stodgy and dense for them, but others positively preferred this to the airy counterparts. It?s indulgently sweet, too, with treacle-like qualities and a sticky crust. The amount of fruit has been well balanced ? with every slice receiving ample raisins ? and the cake itself has plenty of kick to it. A resounding success.
VERDICT *****
A great gift for the festive season ? flavoursome and indulgent but with an airy lightness that every panettone should have.
………………………………….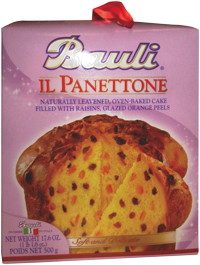 Bauli Panettone
From www.something-italian.com
Price £7.50/500g
If you want a panettone that is available to buy in Italy, you can?t go wrong with Bauli. The recognisable purple box contains an Italian Christmas icon, and the panettone itself is light and pleasantly spiced, with a non-cloying texture and a good distribution of soft raisins and glazed orange peel. You can taste the butter in this preservative-free bake, which belies a six month shelf life, but it?s not one to choose if you favour a moist panettone.
VERDICT ***
This popular brand delivers a classic taste, with a light and pleasant spice.
………………………………….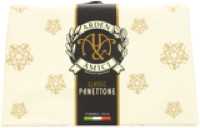 Arden & Amici Classic Panettone
From Waitrose
Price £7.99/750g
The initial ?wow? factor of this neatly-boxed panettone is more than just visual, as once opened you are met with a delicious Christmas-infused aroma. From there, sticky chunks of orange and plenty of raisins can be found encased in a light, fluffy sponge. Just what we want! Plus, the prevailing hint of vanilla adds to the flavour and the texture is moist enough to suit most palates. There are some great special offers to be found for this, too.
VERDICT *****
A fantastic quality and bold aroma make this a top choice at Christmas.
………………………………….
VALLEBONA PANETTONE TRADIZIONALE
From www.vallebona.co.uk
Price £11.50/500g
This beautifully-wrapped cake delivers a mildly spiced aroma once opened, and on closer inspection boasts a healthy abundance of fruit. In the mouth you can expect a light flavour with good citrus notes in the aftertaste. Most notably, there are plenty of raisins and orange peel that give this a varied texture. It?s a little bit dusty and dry in places, but would work well if accompanied by a glass of vin santo.
VERDICT ****
Beautiful packaging reveals a good panettone with plenty of raisins and orange.
………………………………….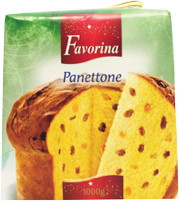 Favorina Panettone
From Lidl
Price £3.99/1kg
We were pleasantly surprised with this panettone from Lidl, which offers a distinct vanilla flavour alongside a springy, light sponge that melts in the mouth. In the aroma ? aside from creamy vanilla notes ? you can expect a slightly floral element. You can certainly taste the Christmas spices, although they aren?t too overbearing at all. Again, there isn?t much fruit and the distribution is a little uneven, but overall a cracking dessert.
VERDICT ***
Good value for money and strong hints of vanilla in this supermarket version.
………………………………….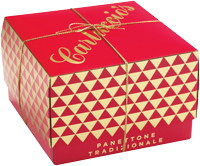 Carluccio's Panettone Tradizionale
From www.carluccios.com
Price £16.95/1kg
Carluccio?s delivers the goods once again with this classic recipe for a successful panettone. Presented beautifully, you can expect a rich aroma inside that brings to mind a true Italian Christmas ? cinnamon mingled with an edge of citrus fruit. The cake itself is buttery and light, with copious amounts of candied orange peel and juicy raisins in each mouthful. The hazelnut glaze polishes it off.
VERDICT ****
Another excellent product from Carluccio?s ? buttery, light and well flavoured.
………………………………….
Luxury Hazelnut Encrusted Panettone
From Aldi
Price £8.99/750g
We would have liked to have seen a few more hazelnuts, as the sugary glaze was a little lacking. Still, there was a good fruit content to this cake overall and the crunchy exterior gave it a good textural contrast. It is obviously factory-made ? as the slightly synthetic aftertaste reveals ? but it would be perfect fodder for bread and butter pudding, steeped in rich custard.
VERDICT **
Widely available, although not quite as hazelnut-heavy as we would have liked.
Looking for the perfect drink to accompany your Panettone? How does some Prosecco sound? See our top Proseccos tried and tested here.