Dawn from Appassionata talks about the moment they began viewing properties that would lead them to fulfilling their dream….
Our weekend in Florence was over in a flash and we reluctantly flew back to London Stansted airport. Low grey cloud and drizzle welcomed us with open arms. We drove home through the gloom and heavy traffic.  I was now on a mission to return as soon as possible, my heart was still in Italy…..
I spent my evenings trawling through the internet. Searching properties for sale, contacting agents and familiarising myself with the region.
Four weeks later we returned to explore the area of Tuscany. Beautiful it certainly is but something was missing. We were attracted to Italy, the culture, the lifestyle, the language. Walking around the streets we were engulfed by large groups of tourists and their coaches. We wanted more Italianness, is that an actual word!
We were not down hearted, but more determined to find our perfect place.
I am a great believer in fate. A week later Michael phoned me from work. He had just had lunch with a couple of business associates, one of whom was David Scacchetti, a co-founder and CEO of  Mamas and Papas. He was married to a beautiful girl from Le Marche, in the heart of Italy, and owned a house in Civitanova Alta. Michael had talked to him about our love affair with Italy and our plans to buy a home. David made Michael promise to visit the region of Le Marche before we made a decision. I was intrigued, although I had never heard of Le Marche, David has impeccable taste, it would definitely be worth a visit.
I spent the next couple of hours researching everything I could about the region. The close proximity to both the sea and mountains was a great plus and the air quality would be amazing!
Once I have an idea in my head I'm like a dog with a bone. I wanted to get the ball rolling. By the time Michael returned home that evening I had booked our flights to Ancona. The hotel booking in Pedaso was confirmed and appointments  set up with a couple of agents to view various properties.
A couple of weeks later, clutching maps and a pile of property details we flew into Ancona. We descended the plane steps and I gazed around. Airports are never the most attractive places, but I instantly liked this one. It was small and neat, even I wouldn't get lost here. I turned to Michael, "it smells lovely here, warm and flowery" he raised his eyebrows and shook his head. To me it was obvious, places have a particular aroma, it's one of the first things I notice when I arrive somewhere new.
We picked up the hire car and headed to the coast road. The motorway is a much quicker route, but we wanted to explore.
"This is it" I said to Michael. "This is what?" We had been on the road for about thirty minutes, but I knew. A gut instinct, that special connection, when something just feels right. Michael gave me a strange look and we continued our journey. Beautiful white sandy beaches on the left, ancient hill top towns rising up on the right. We stopped for lunch at a beachside restaurant in Civitanova. After a light lunch of fresh mussels and a glass of chilled Passerina, Michael was beginning to agree with me.
We pulled up outside Hotel Villa Ricci in the small coastal town of Pedaso. I always love to stay somewhere which represents the country I'm visiting. I avoid staying in large modern skyscraper hotels. The furnishings are modern and minimalist and often quite boring. Villa Ricci was everything I loved and more. From the moment we walked through the door. Exquisite pieces of Italian antique furniture were carefully arranged on the marble floor. Beautiful crystal chandeliers caught the light of the afternoon sun. Beyond the reception was a large door leading out into an enchanting walled garden with the scent of orange blossom.
An elegant staircase took us up to our first floor bedroom which was just as beautiful. A lovely glazed sun terrace led off the bedroom with views over the Adriatic Sea, bliss.
We unpacked quickly and changed into something a little more summery. We went for a walk, the sea was so close, I needed to be closer. I kicked off my shoes and rolled up my trousers. The water was wonderful, refreshing but not too cold. We walked along the promenade and smiled at the locals, who greeted us warmly.
That evening we had arranged to meet up with one of the agents in our hotel bar. Fabio was half English, half Italian, so language would not be a problem. We arrived early and ordered a bottle of prosecco. We chatted to the barman, in sign language and charades, as he brought over a selection of olives and cheese.
The agent arrived, he was very friendly and knew the area well.  His mother's family had lived there for generations and he seemed well connected. We discussed in more detail what we were looking for, the classic Italian farmhouse which we would loving restore over time.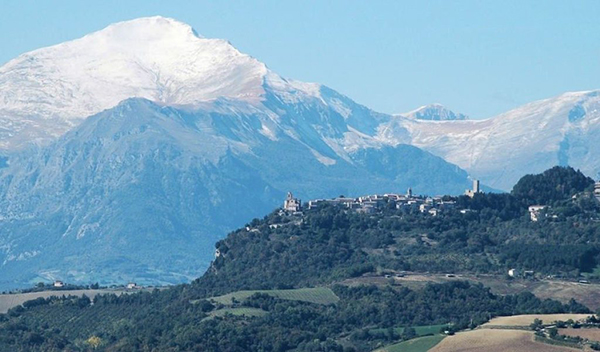 We mentioned we were also meeting another agent the following morning to view properties further in land, closer to the mountains. He tried to dissuade us, but we wanted to explore everywhere.
The following day, we drove inland in search of our dream. Amandola and the surrounding villages were lovely, but a little too remote.   I was going to be spending time alone here overseeing the restoration. I didn't want to feel too isolated and become the mad English woman living in the mountains! It was important to be within walking distance of a town with shops, bars and restaurants. The coast was also an important factor and we felt it was too far away from the water. We didn't want to be spending long periods of time in the summer driving backwards and forwards to the beach.
The next day we met up with Fabio again to view properties closer to the sea. I had already seen my dream home on the internet a few days earlier. A dilapidated farmhouse with sea views and a fenced off paddock, ready for my horses! We pulled up outside. "I don't think this is the right house Fabio, where's the sea view?" He said if we drove a few minutes down the hill and round the bend we could get a glimpse! I focused on the paddock and asked how many acres were included. Fabio shuffled around awkwardly and told me the paddock belonged to the house next door! We spent the following few hours driving around the rolling hills of Le Marche. The views were breathtaking and the sense of stepping back in time was beginning to wash over me. Acres of vineyards and olive groves surrounded us. I felt my shoulders drop, totally relaxed, as I scanned the countryside.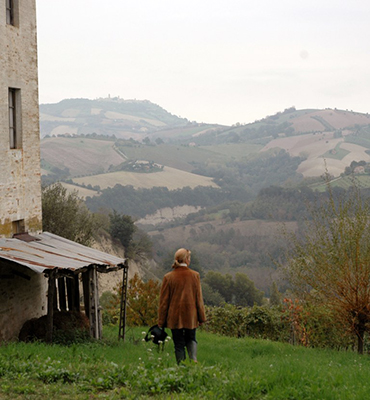 We were taken to see a large pile of bricks and stone in the middle of a field, listed as a partially renovated house! We drove on. Another 'house' was eventually found a half mile walk uphill with no road access. The details stated this property needed minor building work, but something was missing, the roof!
I know the agents in England like to exaggerate on the details of the properties they are selling, but here in Italy it was a whole different level!
I tore up the remaining house details I had printed off, took a deep breath and opened my mind to more possibilities.
Michael was flagging so it was time to get him fed and watered in the nearest bar/cafe. I didn't want him to go all negative and logical.
We stopped off at a beautiful restaurant, Casa de Mar, in Campofilone. Situated right on the coast, with the sound of crashing waves on the rocks and a beer in his hand, Michael was happy. We ordered sea food pasta and a bottle of  pecorino from the local cantina, Centanni in Montefiore dell'Aso. The three of us sat and talked for a couple of hours. We tried to give Fabio a clearer picture of what we wanted, but to be honest, like most people, we didn't know what we wanted until we saw it. Michael told Fabio that unless Dawn gets that special feeling about a property, we move on to the next. Fabio looked a little perplexed and gave me a nervous smile. With everyone watered, wined and fed we set off again.
We viewed our first occupied house. We were warmly welcomed by a lovely, elderly couple with very few teeth. They proudly showed us round their home, which had been in the family for three generations. We were shown the strawberry plants in the allotment and the oak tree planted by her great grandfather. The bathroom facilities were a little lacking. There was an outside toilet in a shed and inside a shower head was loosely attached to a couple of wall tiles.
It certainly had possibilities but it didn't have the wow factor.
We drove on, to be honest I had no idea where I was by now, but it didn't matter, everywhere was beautiful. We were taken to another farmhouse, a promising location, until we stepped out of the car and inhaled. Looking down the valley we saw a long low building. Fabio informed us, rather reluctantly, that it was a pig farm.  We moved swiftly on. The next house we saw was lovely, a complete renovation but it certainly had potential. The owners greeted us and took us into a small out building with a rather interesting aroma. There were glass bottles lined up along a rather lopsided wooden shelf nailed to the wall. The owner opened a bottle and poured out a thick, red/brown liquid into a few plastic cups. Homemade vino cotto he informed us proudly.
Vino cotto, literally means cooked wine and is famous in the Le Marche region. It is a strong ruby-colored wine, usually semi-sweet, and traditionally drunk in small glasses with puddings and cheese.
It is produced from the must of the local grapes, heated in a large copper vessel until reduced to a half or third of its original volume, and then fermented. It can be aged for years and barrels can be topped up with each harvest.
It tasted and smelt a little like sherry and reminded me of my grandmother getting rather tipsy every Christmas. We sipped politely as we took a tour of the house. He was very keen to top up our cups, usually when our backs were turned. After the wine during lunch, the hot sun and the long drive I was beginning to feel a little light headed. I think the plan was to get us drunk and shake hands on the purchase of their home! We thanked them kindly for their hospitality and made a swift getaway to the sanctuary of our hotel…. to be continued.
For more information and to visit us on a discovery trip please contact us at ifh@appassionata.com or +39 331 5413225  
Tags:
Appassionata
,
Fractional Ownership
,
Le Marche