Check out the latest Italian products and treat yourself to a slice of la dolce vita?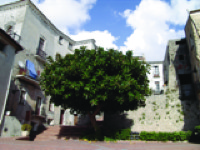 Learning a language can be tough, as the Italia! team well know, but now there?s a new way to learn that is suitable for everyone. Learn Italian in Kent is a bespoke service offering long or short courses tailor-made to suit individual requirements. All levels and abilities are catered for, from absolute beginners to advanced, with particular care placed on achieving your own personal learning goals within a realistic time frame. Whether you just want the basics to get by on holiday, need some intensive tuition prior to relocating to Italy, or are looking for some back-up for GCSE or Language Degree exam preparation, this company can craft the course that?s right for you. They also use a mixture of techniques, depending on what works best.
For more visit www.learnitalianinkent.co.uk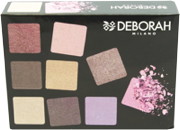 Ever wonder how Italian women are so effortlessly stylish? With these chic make-up collections from Deborah Milano you can imitate the look in one fell swoop. Each pack contains nine complimenting eyeshadows, a multicolour blush, powder, two applicators and a mirror. These high quality colours ? each carefully put together to create the different collections ? would make a lovely present or treat for yourself.
You can order for ?25 each from www.something-italian.com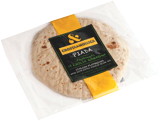 Crosta & Mollica have just introduced these Piada flatbreads, fresh from the bakeries of Emilia-Romagna. We think this new range of flatbreads is perfect for dipping in a pool of aged balsamic vinegar or, if you?re feeling more peckish, filling with a mozzarella salad to make a simple lunchtime snack. They are best served hot:

simply place over a dry frying pan for a couple of minutes on each side. Each flatbread is sourced from a regional bakery in Italy, ensuring the most genuine flavours of the country are captured. They are available from Waitrose for ?1.79, which gets you a pack of three.
Fresh from the latest season of harvesting, Fattoria La Vialla present their superb organic olive oil. For an authentic, home-grown bottle of goodness there really is nothing that can quite compare ? serve simply with bread, salted and smothered in garlic, with a selection of antipasti. It?s an essential ingredient, so we?d suggest stocking up and ordering a box.
To order online, visit www.lavialla.it

Creating a Masterpiece
MasterChef finalist Sara Danesin has been concocting her own recipes with the authentic pasta from Garofalo and spicy Calabrian sausage ?Nduja. This spreadable ingredient ? which more closely resembles paste than meat, but don?t let that put you off ? has recently become a firm favourite with chefs the world over for its rich flavour. Sara simply adds crushed garlic to extra-virgin olive oil, then fennel seeds, coriander seeds, peperoncino and ?Nduja before incorporating tinned tomatoes to create a sauce. Then, she adds to a pan of al dente Calamarata pasta and serves with Pecorino Romano. The Garofalo pasta that she uses is made from the finest durum wheat in Gragnano near Pompeii, and although they?ve been making artisan products for over 300 years you can also find them in UK shops. Order the pasta from Ocado or visit www.pastagarofalo.it for more information.
New Ambassador
The prestigious guide to luxury hotels, Relais & Chateaux, have announced their new ambassador as Salvatore Ferragamo, founder of Il Borro spa, resort and winery in Arezzo, Tuscany. His appointment coincides with the addition of six new members from across Italy, including Ch?teau Montfort in Milan, Palazzo Manfredi in Rome, Petra Segreta in Sardinia and H?tel Londra Palace in Venice. Relais & Chateaux prizes itself on collecting and promoting the most exclusive places to stay in the world ? and the best, Michelin-starred chefs alongside ? so the addition of Salvatore Ferragamo is set to continue the tradition. As the name suggests, he is the grandson of the world-famous fashion house.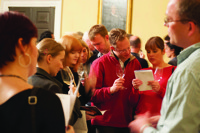 Bath Gets Boozy
Late October saw Great Western Wine, part of the Enotria world of wine, host its annual portfolio tasting at The Assembly Rooms in Bath. There were more than 110 wines on offer, including over 25 classic and modern Italian tipples. Indeed, given Enotria?s status as the largest importer of Italian wine into the UK, there was something of a focus on Italian wines, including one tasting table entitled Stars of Italy. On it were nine wines, including one of our favourite dessert wines, Anselmi?s I Capitelli, and one of the Brunello di Montalcino wines from Fattoria dei Barbi reviewed on pages 86 and 87 of this very issue of Italia!. In total, 420 paying guests attended the evening, which lasted from 6pm until 8.30pm, many redeeming the cost of their ticket against wine orders on the evening (a massive 96 different wines were ordered on the night). Look out for the date of next year?s tasting to gain an insight into the world of wine for yourself.
See the websites ? www.greatwesternwine.co.uk and www.enotria.co.uk ? for more information on tickets and ordering wines.