This simple ingredient has always been important for the Italian cook, so we embarked on a mission to discover the best Italian passata possible with these seven candidates.
At the end of summer, when tomatoes are at their ripest and most tempting, growers all over Italy will be harvesting and cooking them into passata to keep the summery flavour preserved for the coming year. It's a tradition that makes economic and gastronomic sense, a relatively cheap ingredient, passata di pomodoro, provides the best flavour for use in a range of pasta sauces, casseroles and stews, long after the fresh salad tomatoes have gone out of season. The quality of this base ingredient invariably relies on the freshness and standard of the tomatoes themselves. A popular choice is the Roma variety, which you may recognise as the oval-shaped plum tomatoes, these are less watery and benefit from a firm flesh. However, some chefs adamantly prefer San Marzano tomatoes (the heirloom variety that gave its genetic base to the Roma), but these are rarely used on a commercial level. Luckily, there is plenty of good mainstream passata. It's not always easy to determine the quality when choosing between jars at the supermarket, so we tested seven branded favourites for you.
Editor's Choice
Mutti Passata

From Taste of Italia
www.tasteofitalia.co.uk
Price £2.50/250g
We've only just discovered this online Italian shop, but already we thought this passata was head and shoulders above the rest. With an instantly rich aroma, this had a bright colour and thick consistency once poured from the bottle. It continued to please with a fresh taste, that of tomatoes snapped straight from the vine, and a good texture which could easily stand alone on bruschetta or spread generously over a pizza base. The listed ingredients are simply tomatoes and a hint of salt (not too much for those watching their levels), which suggests very little tweaking would be needed in the kitchen. This makes it a brilliant cupboard standby, which is of course what passata is all about. And the use of salt, rather than citric acid, which is used in most of the supermarket brands, makes for a much more natural, rustic flavour. For the quality of the product the price isn't bad, either; depending on how often you cook with it, I would imagine a jar could last you around a week. It's worth checking out the Taste of Italia shop for other finds, too, as it seems to have an excellent choice of products online.
VERDICT *****
A flavoursome passata straight from the vines of Italy, with a rich texture that could easily stand alone.
………………………………….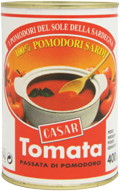 Casar Passata di Pomodoro
From www.vallebona.co.uk
Price £1.17/400g
Well it's always going to be less exciting from a tin, but packaging aside, this passata di pomodoro is actually pretty good. There is the inevitable metallic tinge, of course, but it is probably only noticeable when comparing it with bottled products. With a very reasonable price, this would work best in a slow-cooked stew or a delicious arrabbiata sauce when paired with some fiery red chillis. A good staple to have in the cupboard.
VERDICT **
Slightly metallic due to its packaging, but otherwise a strong basic sauce.
………………………………….
Spinelli Passata Pomodori
From www.natoora.co.uk
Price £2.65/500g
This top-quality passata had us greedily reaching for seconds, which is always a good sign. The clean-cut flavour has plenty of potential in the kitchen, as the essential tomato flavour has been well captured and preserved. With a texture that is much chunkier than the others, we'd recommend this for a hearty ragu or large dish of pasta and cheese. It has a soft and satisfying aftertaste that lingers beautifully, like a slow Tuscan evening.
VERDICT ****
A very high-quality product, made with 100 per cent fresh, sieved tomatoes.
………………………………….
Sainsbury's Italian Passata
From Sainsbury's
Price £1.20/700g
A smooth and blended product with no superfluous water. The initial flavour is quite tangy and fruity, with a good thick consistency that lends itself to basic pasta sauces, and it offers excellent value for money. There's nothing too surprising in the texture or depth of flavour, but it certainly beats the more common concentrated pastes that most shoppers will opt for. A little addition of crushed garlic and chopped basil would work well.
VERDICT ***
As you'd expect, a standard level passata which can be easily adapted.
………………………………….
Cirio Passata Rustica
Price 96p/500g
The chunky texture of this passata gives it a more authentic Italian feel, and the vibrant colour is appealing on the plate. It could easily be made into a succulent pasta dish with the addition of chunky peppers and mushrooms, but also not a bad option for serving on its own with pasta, if needed. There are some great offers on at the moment, too. An excellent branded sauce, with great potential.
VERDICT ****
This has an authentic feel, with a pulpy texture and an appealing colour.
………………………………….

Waitrose Organic Passata
From Waitrose
Price £1.35/680g
When opened, this bottled passata has a sweet and intense tomato smell, which continues through to a smooth flavour. It is a slightly more viscous product than the others we tested, which means it might take some reducing down in recipes and sauces. There are no preservatives lurking (we're always a fan of organic where possible) that results in a clean flavour that is easily adaptable. As usual, Waitrose presents a high standard.
VERDICT ***
Another good organic product, with a reasonable price to match.
………………………………….
Napolina Sieved Tomatoes Passata
Price £1.00/500g
The great thing about Napolina is that you can find it in most shops now, it's a fantastic brand that is well worth buying on a regular basis. This passata is no different, offering a deep flavour and smooth consistency. The taste is somewhat tainted by the Tetra Pak box, but otherwise the portion is generous and offers good value for money. The tomatoes are sourced directly from Italy, making this an authentic choice.
VERDICT ****
A passata that is easily found, and just as easy to enjoy at home.