Named after the region in which it is produced, delicious Parmigiano Reggiano is by far Italy's most popular cheese. We test seven and give you a flavour of our findings…
The recent earthquake in northern Italy has deeply affected the production of Parmigiano Reggiano. During the disaster, high stacks of shelved cheese wheels – each weighing around 38kg – came crashing down all across the main production region of Emilia-Romagna. Now farmers must attempt to recover from the loss of profits while still adhering to the strict quality control required by law.
Within the EU, Parmesan enjoys protected designation of origin (PDO) status, meaning that similar hard cheeses from other regions – and of varying quality – cannot use its trade name. However, imitations in North America especially can differ greatly and often lack the production values. As a general rule, Parmiggiano Reggiano DOC will boast a grainy texture, nutty aroma and a rich umami flavour. If you can't see the rind, which is always officially branded, then look for the yellow logo (seen here in all our samples) that should reside on the packaging. We tested a range of premium and supermarket cheeses that met this criteria, in search of the perfect Parmesan.
Editor's Choice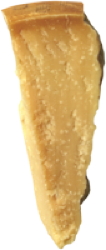 Scaglia D'oro Parmesan
(24 months)
From Natoora
www.natoora.co.uk
Price £12.50/500g
This arrived as a true Parmesan should: cut roughly from the wheel, crumbling at the edges and wrapped loosely to prevent the cheese from sweating. It gave the impression of coming straight from the Italian mercato – and luckily had an equally remarkable flavour. With a sturdy and clearly branded rind, this cheese easily fell into chunks and would make for a delicious antipasto course when paired with Prosecco. It has a chalky, light texture that is very dry to the touch. Once in the mouth, however, there is a great richness of flavour and a bright, clean taste that lingers lightly on the palate. Aged for 24 months – often considered to be the optimum maturation period – this cheese is granular but without the abrupt salt crystals that were found in younger samples. It would pleasantly spruce up a risotto or pasta dish, or sit well atop a sweetly dressed salad. Scaglia D'oro is a restaurant-quality product (indeed this brand is used by Michelin-starred chefs in Rome), so to buy a large piece of this for use at home is a sound investment.
VERDICT *****
A top quality Parmesan with just the right balance of nuttiness, granular texture and refreshing clean flavour.
………………………………….
Luigi's Parmigiano Reggiano
(24 months)
Price £12.50/500g
Another cheese well served by its packaging, this arrived in pristine condition. We loved the crisp flavour that, although not the strongest, was certainly one of the most pleasant. It would make a great cooking partner as it boasts a light, creamy texture – perfect for a simple bowl of pasta with garlic oil and chilli. A healthy yellow custard colour also belies its quality.
VERDICT ***
Great value for a well-balanced cheese, with all the expected nuttiness.
………………………………….
Parmigiano Reggiano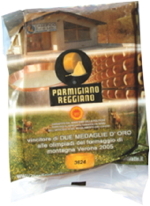 (24 months)
From www.mediterraneandirect.co.uk
Price £11.93/550g
This is a smooth cheese: easy to eat, with a caramelised flavour that balances well with its saltiness. We thought the texture was more rubbery than the others – but this makes it wonderfully versatile in the kitchen. There is a delicious mustiness to its flavour that adds to the classic nutty notes you would expect. Excellent value for money, considering the age of the cheese.
VERDICT ***
Great value for a well-balanced cheese, with all the expected nuttiness.
………………………………….
From www.something-italian.com
Price £6.50/300ml
For those who appreciate a grainy texture, this is a good choice. This Parmesan is initially rough and dry on the tongue due to the salt crystals, which progresses to a flavour that errs on the side of sour. When paired with a sweet balsamic vinegar, however, this sharpness is balanced into a satisfying mouthful. The aftertaste is warm with deep umami notes – almost alcoholic in nature – and it leaves a prominent saltiness.
VERDICT ***
A grainy and often crunchy Parmesan that would pair well with balsamic vinegar.
………………………………….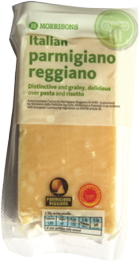 Morrisons Italian Parmigiano Reggiano
From Morrisons
Price £2.41/150g
This was less potent than the other cheeses by far – a mild, younger Parmesan that would be most useful grated atop a flavoursome bowl of pasta. The vacuum-packaging gave this cheese a moist outer layer, which is not ideal for preserving a crumbly hard cheese. For a store cupboard staple, we would suggest investing in a better quality block that has more flavour.
VERDICT **
Not overly impressed with this supermarket brand, which has a rubbery feel.
………………………………….
Sainsbury's Italian Parmigiano Reggiano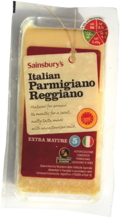 From Sainsbury's
Price £2.60/150g
There is a bit more character and zest to this Parmesan than you might expect – it harbours quite a potent flavour and has the recognisable saltiness you need. As with other supermarket brands, it is perhaps more suited to grating than eating in chunks, because it soon feels cloying in the mouth when eaten alone. We thought this product could benefit from better packaging.
VERDICT **
A suitably salty cheese, which has a strong and characterful flavour.
………………………………….
Waitrose Parmigiano Reggiano
(22 months)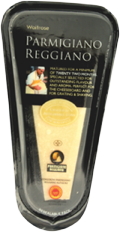 From Waitrose
Price £5.75/200g
A very dynamic Parmesan, this offering from Waitrose is probably the best you'll be able to find on the high street. The initial flavour is mild before reaching a gradually strong crescendo in the mouth, and then thinning to a soft, pleasant aftertaste. The main aromas are of cedar wood and must, with a prevailing crumbly texture. For a quality 22-month Parmesan, this is a great find.
VERDICT ****
One of the best supermarket Parmesans, with a complex taste that develops in time.
Tags:
blog