Laura Thayer invites us to a Christmas in Amalfi…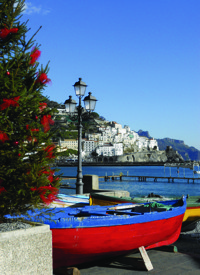 The holidays are a magical time to be in Italy. The Christmas lights twinkling across piazzas and narrow streets, the colourful decorations, the scent of cinnamon and chocolate floating out of bakeries and the surprise of coming across a band making its way through the village with handmade instruments ? these are just a few of the seasonal joys on the Amalfi Coast.
Above all, the holidays are a time for family. The best moments are spent around the table sharing big meals and celebrating being together. There?s always laughter during the Neapolitan card games like tombola, which is a traditional Christmas game similar to bingo but with classic Neapolitan characters and symbols associated with each number. Another fun game uses unique playing cards to create a horse race across the table with each person rooting for a particular suit to win. It?s festive, loud and very fun when the whole family gets going.
Along with the games come the traditional desserts. While panettone is a Christmas sweet bread popular all across Italy, the local bakeries often make a delicious variety called panettone al limone featuring a creamy filling made with the famous lemons of the Amalfi Coast or the potent lemon liqueur called limoncello. Just like much of Campania, torrone and the smaller torroncini are popular Christmas sweets. This nougat is made with honey, sugar, egg whites and toasted hazelnuts, almonds or other types of nuts. It comes in many different varieties ? soft, crunchy, chocolate covered, flavoured with citrus or liqueurs ? and everyone has their favourite type. I enjoy the process of taste testing them all to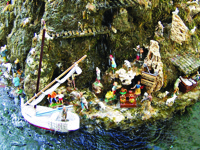 try and decide my favourite each year!
The Christmas dessert table in Amalfi isn?t complete without the crunchy cookies that appear just in time for the holidays. Named after their ?s? shape, the distinctive flavour of the esse di miele cookies comes from the honey made from the chestnut trees that cover the mountains high above Amalfi. The roccoc? cookies are similar, but are shaped like flat donuts and instead of chestnut honey are flavoured with cinnamon and spices. For chocolate lovers, the mostaccioli are rhombus-shaped spiced cookies dipped in dark chocolate. The final, and often colourful, touch is a large tray of struffoli ? tiny little fried donut holes covered with honey, candied citrus, cinnamon and sprinkles.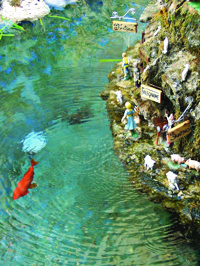 After a big dinner and all those sweets, it?s time to bundle up and take a stroll through Amalfi. During the Christmas season, I look forward to seeing the elaborate presepi ? the Christmas nativities or cribs ? that locals create in two of Amalfi?s fountains. The nativities depict Amalfi in miniature with local shops, caf?s and even fishing boats. It may be small, but for me they capture the joy of the holidays on the Amalfi Coast. Buon Natale!
THE WRITER
LAURA THAYER is an American writer and art historian living on the Amalfi Coast. She writes about daily life, history and culture in southern Italy at www.ciaoamalfi.com
Tags:
Amalfi
,
blog
,
Travel