Italia magazine is delighted to have had won two different awards at the Italian National Tourist Board awards evening. The event was celebrating journalism and guide books covering Italy that were published throughout 2013 and the awards evening took place on Tuesday 11th February at Getti restaurant in London.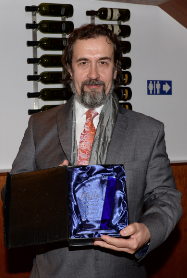 Adrian Mourby's 48 hours in Busetto, published in Italia 107 in September 2013 won the prestigious  Best Magazine Article award. Adrian said of his win, "I have written a lot about Italy this last year but this particular article was a labour of love and I am delighted it won."
Italia's regular photographer, Marina Spironetti was also recognised for excellence, receiving runner up in the category of Best Travel Photography for a piece on aperitivo in Milan which was published in Italia 109 in December 2013.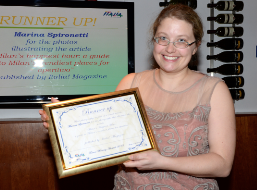 Marina tells us  "I could not attend the ENIT Travel Awards in London  but was pleased to find out that I was awarded 2nd prize in the Travel Photography section. Very good news!" The award was collected by Italia's editor Hannah Bellis on Marina's behalf.
The Italia Guide to Rome and the South was also nominated in the Best Travel Guide category, and Italia magazine was nominated in the best overall publication category, but did not win. "Perhaps next year," says editor Hannah Bellis. " We are so happy to have received awards in two of the six categories. The Italian National Tourist Board awards are a real reflection of quality in the industry, and we are pleased to be able to celebrate with our talented contributors and see the quality of our articles awarded."
The full list of winners for 2013 is below

1 Category: Best travel article published on a travel or lifestyle website

Runner-up: Lucie Shelbourne for the article "An Italian Diary of Feasts and Festivals" which appeared on www.theluxurychannel.com
Winner: Peter Morrell for the article "Genoa-Private splendour with public purpose" which appeared www.theculturalvoyager.com

2 Category: Best travel guide

Runner-up: (Dorling Kindersley) DK Eyewitness Family Guide to Rome
Winner : Liguria by Rosie Whitehouse and published by Bradt

3 Category: Best photography as part of a travel article on Italy

Runner-up: Marina Spironetti for the photos illustrating the article "Milan's happiest hour: a guide to Milan's trendiest places for aperitivo", published by Italia! Magazine
Winner: Stefano Scata' for the photos illustrating the article "Beyond Borders" on Ciociaria, published by Food and Travel

4 Category: Best travel article published in a magazine

Runner-up: Antonia Quirke for the article "A profile of the Mysterious City of Naples" published by Conde' Nast Traveller
Winner: Adrian Mourby for the article "48 hours in Busseto- a visit to Verdi's home town" published by Italia! Magazine

5 Category: Best travel article published in a newspaper

Runner-up: Sarah Dunant for the article "My ideal tour guide-corrupt, brutal, lethal" on the towns that where conquered by the Borgias, published by The Mail on Sunday
Winner: Simon Calder for the article "In the shadow of Vesuvius" published by The Independent

6 Category: Best overall publication for the number and quality of travel articles on Italy

Runner-up: The Daily and Sunday Telegraph
Winner: The Times, Sunday Times and Sunday Times Magazine
Tags:
blog