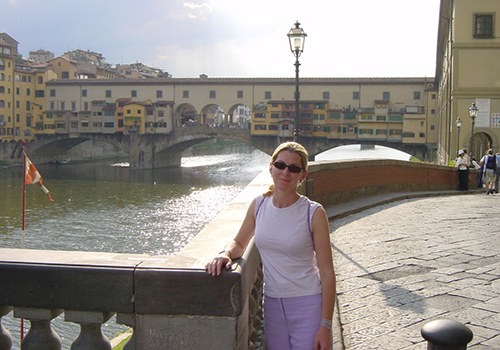 Over the past few years many people have asked me to write a blog, me, I'm not even on Facebook! But, I do like writing and relish the opportunity to share our Italian adventures with you.
Was it the classic midlife crisis move, maybe, maybe not, I like to think of it as making the most of life. In 2001 we had reached a cross roads in our lives, and the desire for adventure and change were strong. With four children almost grown up, we saw a window of opportunity, and jumped!
People frequently ask me why Italy, why Le Marche, quite simply we fell in love. Let me explain, up until a few years ago I had never visited Italy, we had travelled extensively around Europe and lived in America for a few years, but Italy remained undiscovered.
Out of the blue my husband, Michael, was invited on a business trip to Florence, and asked if I would like to join him, of course I jumped at the chance to visit the one country I had been longing to see.
I was so excited, landing in Pisa and catching the bus into the centre of Florence, I was finally in Italy for two whole days. As with every weekend, at home or away, there is always an important game of rugby on TV.  Michael searched out a bar with sky TV to watch the game that afternoon. I was determined to make the most of the short time we had, plus I knew the shops were fabulous. I have a terrible sense of direction, no inbuilt compass, no natural feeling of north, south, east or west. Sometimes I get hopelessly lost, but these are the times I discover hidden gems.  Florence was no exception, I was lost in minutes, wandering the crowded narrow streets which often led onto a beautiful piazza. I found a little café in the heart of the city, and ordered a cappuccino, my first lesson in Italian etiquette, don't order cappuccino after 11am, it's bad for the digestion!
Dawn Cavanagh-Hobbs
To be continued…….
Tags:
Apppassionata
,
blog
,
Le Marche