A buyers' favourite, this central Italian region enjoys great weather, glorious geography and a high quality of life. Homes in Le Marche offers particularly good value for money right now, says Fleur Kinson…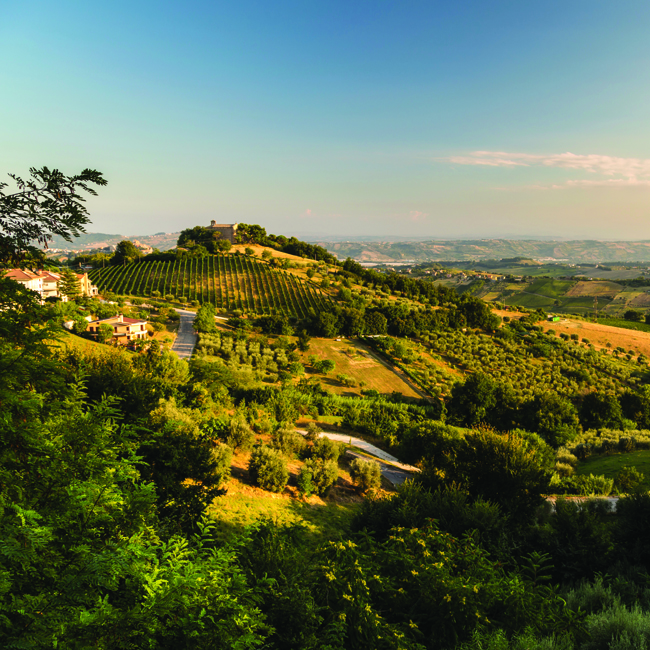 Le Marche's fame and reputation has gone from strength to strength over the last dozen years or so. Once quite unfamiliar to non-Italians, this attractive region that makes up the shapely calf muscle on the leg of Italy has grown into one of the most desirable places for foreign buyers to secure themselves a rural bolthole. And thankfully, because of how the international financial climate has progressed during Le Marche's climb to popularity, property prices here are still surprisingly reasonable. In fact, they represent excellent value for money – especially at the moment with prices still recovering from the recent market-slump and a weak euro conferring great advantage on buyers in pounds and dollars.
So what are the charms of the place? Well, there's geography for a start. Few corners of the world can offer quite such a variety of lovely landscapes across a relatively small area. Lapped by the warm, shallow Adriatic, Le Marche's eastern edge is a long line of honey-gold beaches – a high proportion of which have been awarded the EU Blue Flag for cleanliness. Step back from the seaside and the landscape buckles into green and gold hills – a tidy, well-proportioned sort of landscape, where soft rises in the land are crowned with ancient, well-kept towns and villages. Move towards the region's western border, and the gentle hills cede to steeper, wooded mountains. Wonderful hiking routes offer mighty vistas and small ski-resorts encourage winter fun.
But physical attractiveness isn't Le Marche's only appeal. The region is culturally beguiling, too. Like its neighbours Tuscany and Umbria, Le Marche enjoys the distinctive feel of central Italy. It's rural yet prosperous, orderly yet relaxed. The population density is low, the crime rate very low, and the sense of community strong. Friendly locals ensure you'll meet with a warm welcome. Settlements might be small, but they have a lively calendar of events and festivals that bring people together. The region's food and drink are superb, the pace of life is healthy and sustainable, and there's an all-round sky-high quality of life to enjoy.
MARKET EVOLUTION
Le Marche first started attracting foreign buyers as a cheap alternative to its neighbouring regions, Tuscany and Umbria. Early buyers noticed that it offered much of the geographical beauty, fine buildings and civilised delights of those places, but with properties at much smaller cost. Rural houses needing restoration were especially popular, and there are today many fine country homes available which have already been lovingly restored as well as tumbledown properties ripe for restoration. As Le Marche became better known, its property prices rose a fair bit, but the international financial crisis of 2008 onwards caused a drop in overseas buyer numbers and a subsequent plateauing of prices and, in real terms, slight lowering. Mostly this was a matter of increased negotiability on asking prices. (Note that Italian real estate is remarkably stable when it comes to price fluctuations, and destabilising sudden 'booms' and 'busts' are extremely rare. This is one of the things that make Italian property such a safe place to put your money, as far as that can be said about anything.)
So what's the current state of the market and where might it be going now? Kevin L. Gibney of PropertyForSaleMarche.com notes that, "The market has chugged along on a fairly stable basis for a few years, with houses selling for 5 to 10 per cent off asking prices. Now we're seeing some confidence taking hold on the selling side."
Jane Smith of Magic Marche has also noted recent improvement: "The market has really strengthened through 2015," she says. "There were more buyers from the UK and a big influx from the USA – courtesy of the advantageous exchange rate against the euro for both these nations. Global confidence is bringing many players back into the market and I don't see this changing for a while. This is good news if you are selling, and even better news if you are buying in a strong, non-euro currency. Value for money for such buyers hasn't been this good since 2006."
So what kind of prices are you likely to find people asking in Le Marche today? Well, old ruins in the countryside needing full restoration can ask as little as €50,000, and you can find quite large ones commanding great views for about €90,000. Similarly, a fully-restored apartment in a village might ask as much: €60,000-€90,000. For between €100,000 and €200,000, you could consider a standing house to complete or restore, a small country cottage or a seaside apartment. For €250,000 to €400,000, you might get a beautifully restored three-bedroom farmhouse with a pool, a large townhouse or a villa on the coast.
WHERE TO BUY
Location is always a big factor in property prices, and homes in Le Marche are no exception. Some parts of the region are, of course, cheaper than others. As you might expect, the least expensive areas are the more remote and mountainous ones, because they are harder to access and generally offer less proximity to shops and services.
"Someone who seeks solitude can make a very good deal," as Kevin Gibney points out. On the subject of mountains, do note that the Sibillini Mountains area in the southwestern corner of Le Marche is especially attractive and has beguiled quite a few foreign buyers over the last dozen years.
Le Marche's priciest area is its seaside and anywhere within a dozen miles or so of the sea. Here you'll have buyer-competition from Marchigiani themselves, second-home-seekers from big Italian cities, and of course fellow northern European nationalities such as Norwegians and Germans. Property prices are roughly 10 per cent higher on the coast and its immediate hinterland than they are further inland. Holiday rental prospects are at their best in coastal areas, however, and you might find that that can mitigate some of your expense.
To maximise value for money, and get an accessible home for a good price, you might want to consider the large 'Goldilocks' zone that lies neither too close to the sea nor too close to the mountains. This area has the added advantage of putting both kinds of landscape within easy reach, of course. And the holiday rental prospects in such areas are good. Kevin Gibney recommends anywhere between 10 and 30 miles from the sea. "For example, in the provinces of Macerato and Fermo," he says, "you get good value, there's a good range of choice, and you get all Le Marche has to offer in terms of access to sea and mountains."
RENEW, RESTORE, REBUILD?
When it first arrived on the foreign-property-buyer scene, Le Marche held a particular appeal to those who wanted to restore an old tumbledown home in Italy. The region had lots of old, abandoned rural properties ripe for conversion into bespoke country idylls with glorious views. With the passing of the years, many of those properties were beautifully restored by foreign buyers and have now come onto the market as fully habitable homes. Thus Le Marche offers today's buyer not only an abundance of old country properties to restore but also an abundance of ready-restored homes to enjoy straight away.
Only you can know how much or how little restoration you want to undertake. If you don't want to undertake any, but still want an old property full of character, then consider a ready-restored home. These often represent very good value for money in Le Marche these days. However, if what you really want is to bring an old, neglected home back from the dead and to imprint your own taste and requirements on it, then consider something on the wide spectrum of 'needing restoration' – which can range from total ruins that need to be knocked down and rebuilt from original materials to standing houses that require only modest work. Let's look in closer detail at the kind of projects you might opt for, and the pros and cons of each type.
The advantages of ready-restored houses are obvious: you can move in straight away, and there's no further expense on building work for you to worry about. On the downside, you have to accept the previous owner's ideas for how the house should look and function. Sure, you can change the décor and update things like the kitchen and bathroom fittings, but you're unlikely to re-form the structure, layout or internal systems of the house – as you might with a home needing a lot of restoration.
At the opposite end of the scale is the total ruin, which you can demolish and completely rebuild. The advantages of this are that you can completely customise the property to your requirements, and get great creative satisfaction. You can end up with a house that has state-of-the-art structural elements, energy systems, damp-proofing and earthquake-proofing, but an externally very traditional appearance. The downside for some people is the time this takes – typically one to two years. Whether or not it's cheaper or more expensive to do a full restoration project like this compared to a property needing less or no work is a moot point. Much depends on the individual property in question.
Buyers seeking to imprint their taste on a property without rebuilding should consider purchasing a standing house to restore. Such properties are still upright and the building work required just reinforces the structure, changes the layout where possible, and installs new plumbing, heating, electrics and damp-proofing. Such houses allow for the preservation of architectural character and period details, and will take months rather than years to finish. Note that there are also some structurally-restored houses requiring finishing work. Typically these will have been re-built from a ruin and sold with all the major structural elements completed. The rigours of planning approvals and heavy construction work are already complete and you will be able to move on to enjoyable things such as deciding room divisions and choosing décor.
Tags:
Holiday Homes
,
HomesItalia
,
Le Marche
,
living italia
,
Property