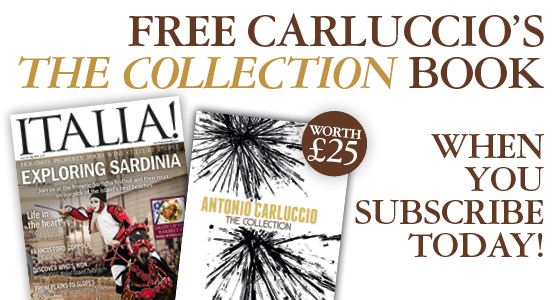 This month we have a fantastic FREE GIFT offer – subscribe to Italia! and receive your hardback Carluccio's The Collection book worth £25, PLUS save 25% off the cover price.
The Godfather of Italian food, Antonio Carluccio has, for the first time, brought together over 300 of his best recipes to form this ultimate compilation. Capturing Antonio's simple, joyful and no-fuss approach to cooking, this lavish book provides a unique culinary journey. The Collection is bound to become the most significant Italian cookbook of its generation. Yours with a subscription to Italia! magazine!
As well as receiving your free gift, you will also save 25% on the cover price, paying just £41.40 on annual Direct Debit (UK only). Sorry, gift only available to UK subscribers.
Take advantage of this great subscription offer!
Offer ends 30 June 2016
*The gift offer is only available to UK subscribers paying by annual Direct Debit (12 issues in a year). 25% saving is based on buying 12 print copies in a UK shop. Gift is subject to availability. We reserve the right to replace the gift with something of similar value if stock becomes unavailable. Please allow up to 28 days for delivery of the gift. Click on the link above to see overseas prices. USA/Canadian customers please go to our USA subscriptions page.
**************
Enjoy 2 years for the price of 1**
Spring is in the air! To celebrate the milder weather and lighter mornings we are offering 2 years for the price of 1 when you subscribe this Spring. That's a saving of 50% on the shop price!*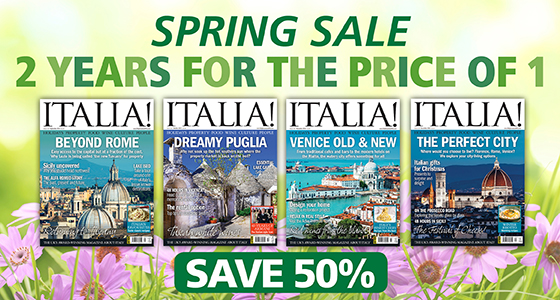 **2 for 1 offer only open to UK, Europe, USA and Australia in local currency. Offer is based on the cover price multiplied by 2 year's worth of issues divided by 2, thereby saving 50% off the shop price. Your subscription will start with the next available issue. Closing date is 31st May 2016.
**************
GET THE APP!
We also have a fantastic Italia! app where you can download the latest issue of Italia! Or you can get the desktop/Android version here.